Boy Scouts Troop Evicted From Church in Pennsylvania After Policy Change to Allow Gay Members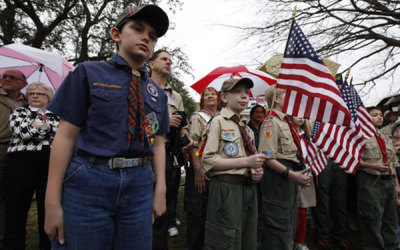 After operating at a Pennsylvania church for 93 years, a Boy Scouts troop has been informed that its members are no longer welcome to use the church location for its meetings because of the organization's recent change in policy to allow gay members.
Aldan Union Church pastor denied that the church's decision was based on "homophobia" but instead asserted that it was simply acting in accordance with its faith and biblical beliefs.
"We're not homophobic. We just believe that we should follow the teachings of the Scriptures," Rev. Paul Thompson told The Philadelphia Inquirer.
"We try to have the authority being in the Scriptures rather than ourselves. We believe that among those sins is the sin of homosexuality," he added.
In May of this year, approximately 1,400 voting members of the Boy Scouts of America's National Council approved a resolution to allow gay scouts.
"The Boy Scouts of America will not sacrifice its mission, or the youth served by the movement, by allowing the organization to be consumed by a single, divisive, and unresolved societal issue," Boy Scouts of America said in a statement about the decision.
The vote among the 21 members of Alden Union Church's board of elders was nearly unanimous, said Thompson, who also mentioned that leaders were also frustrated by how the decision was made.
"We had a problem with a decision, the decision-making process, and what future decisions would reflect," said Thompson.
The local American Legion post will be the new host for the Pennsylvania scouts, though it has presented new problems, including a lack of storage for gear, as well as the fact that the concurrent programming for girls, which has remained at the church, will make it inconvenient for parents accustomed to dropping off their kids at one location at the same time. Space constraints also mean that Cub Scouts and Boy Scouts will not be able to be hosted on the same night anymore.
Gregory Daniels, the Cub scoutmaster for Pack 2, who does not attend Alden Union Church, said that although the change may be logistically difficult for him, he understands where the church is coming from.
"I'm all for the integration and the nondiscrimination against the boys who are gay," Daniels, who voted both to allow gay scouts and gay leaders, told The Philadelphia Inquirer. "I don't fault the church for their views. That's their views. Unfortunately, their views no longer coincide with the Boy Scouts of America."
Some troops which have disgreed with the Boy Scouts of America's decision to allow gay members have switched to an alternative program called Trail Life USA. A "Christian adventure, character, and leadership program for young men," its vision is to "be the premier national character development organization for young men which produces Godly and responsible husbands, fathers, and citizens."