Brad Pitt, Angelina Jolie 'Didn't Leave Each Other's Side' at Wrap Party in Australia (PHOTOS)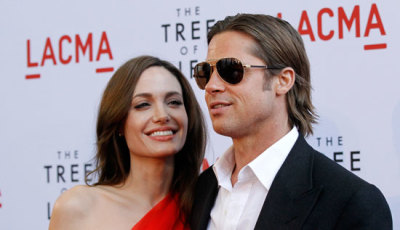 Brad Pitt and Angelina Jolie were reportedly inseparable while attending a wrap party with the cast and crew of the actress' latest film.
TO SEE PHOTOS OF BRAD AND ANGELINA IN AUSTRALIA CLICK HERE
The Hollywood couple were photographed arriving at the Shipwreck Bar & Grill in Airlie Beach on Tuesday night, where they reportedly dined with 130 of Jolie's cast and crew members. The actress, 38, relocated to Sydney last year to direct her second feature film "Unbroken" which is set to debut later this year.
"They didn't leave each other's side the whole night. They were holding hands when they walked up … and even though they were mingling, they were pretty close together the whole night," Adele Blakemore, who owns the restaurant, told Daily Mail U.K.
"She's really, really sweet and he's just gorgeous as you know. It was all very relaxed and we left them alone and we told our staff to leave them alone," she explained. "They were just ordinary lovely people and they all just had lots of fun."
The engaged pair, who share six children, took time out from parental duties to unwind after spending some time apart. Pitt, 50, has been filming his wartime movie "Fury" in London in recent months, while Jolie has been working on "Unbroken."
The film is based on the story of World War II aviator Louis Zamperini, who was stranded in the Pacific Ocean for 47 days after his plane crashed and later sent to a Japanese POW camp.
Jolie, who along with Pitt greeted fans outside of the seafood restaurant, wore head-to-to black paired with gold heels while the actor opted for a cream-colored shirt, pants and combat boots. The restaurant was reportedly closed to the general public in preparation for the Hollywood stars and some suspect that they may have chosen the eatery for privacy reasons.
'The [room is] so private, there's only one door in and one door out and you can't take photos from downstairs," Blakemore said, adding that Jolie and Pitt looked "just beautiful" and "absolutely" in love.