Brazilian President Dilma Rousseff's Impeachment Inspired by God, Opponents Say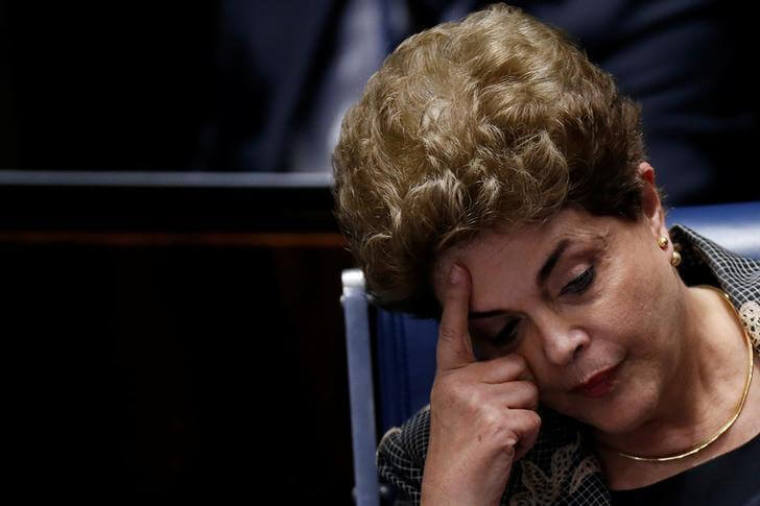 Brazilian President Dilma Rousseff was officially impeached on Wednesday by the senate, which voted 61 to 20 to convict Rousseff on charges of manipulating the federal budget and attempting to conceal the country's economic crisis.
Rousseff, a Roman Catholic, faced opposition by prominent evangelical Christian Eduardo Cunha, while the author of the impeachment request claimed that she had been inspired by God to take on Brazil's first ever female president.
BBC News reports that Rousseff was removed from her seat for breaking fiscal law, specifically for moving funds between government budgets, which is illegal.
While Rousseff argued that moving money between budgets was common practice among previous Brazilian presidents, critics said that she plugged deficit holes in popular social programs in order to improve her chances of being re-elected for a second term in October 2014.
Brazil's lower house of Congress had voted 367 to 137 back in April to impeach the president, with seven deputies abstaining.
Cunha, the former speaker of the House, who initially led the charge against Rousseff, has faced troubles of his own, and in July was forced to resign from his position due to corruption charges.
PMDB Party's Michel Temer, who served as vice president under Rousseff, is expected to take office as Brazil's president for the remainder of Rousseff's second term, until January 2019.
"This moment is one of hope and recovery of confidence in Brazil. Uncertainty has ended," Temer said in a speech after his departure for a G20 summit in China, Reuters reported.
Temer later added that he will not tolerate divisions in his coalition, amid talks of a split within his party on the issue of austerity facing Brazil.
The New York Times reported that Janaína Paschoal, the law professor who penned the impeachment request against Rouseff, claimed that she had been 'inspired by God,' and that she was seeking to remove the now former president for the "good of her grandchildren."
José Eduardo Cardozo, Rousseff's attorney, said she had never been accused of using public funds to benefit her family, and in an emotional speech said: "If you want to condemn her, go ahead, but don't mock the honor of a dignified woman."
Still, Rousseff's administration faced major protests in several Brazilian cities this past year, with her approval ratings falling heavily from a high of 79 percent in March 2013, down to only 10 percent in March 2016.
Rousseff said that her removal was a "parliamentary coup," and insisted that an economic elite was seeking to crack down on social programs that had helped millions of poor Brazilians over the past decade.
"They think they have beaten us but they are mistaken," the former president insisted, vowing to fight the senate's decision using every legal means. "At this time, I will not say goodbye to you. I am certain I can say 'See you soon.'"
The impeachment prompted strong international responses as well, with the leftist governments of Venezuela, Bolivia and Ecuador withdrawing their ambassadors in protest, while Cuba's Communist government argued that Rousseff was ousted as part of an "imperialist" offensive.
The U.S. State Department said, however, that Brazil's democratic institutions had acted within the constitutional framework, and expressed confidence that strong bilateral relations with the South American country will continue.