Breitbart Editor Says Milo 'Pedophilia' Video Is 'Coordinated Hit' by the Left, GOP Establishment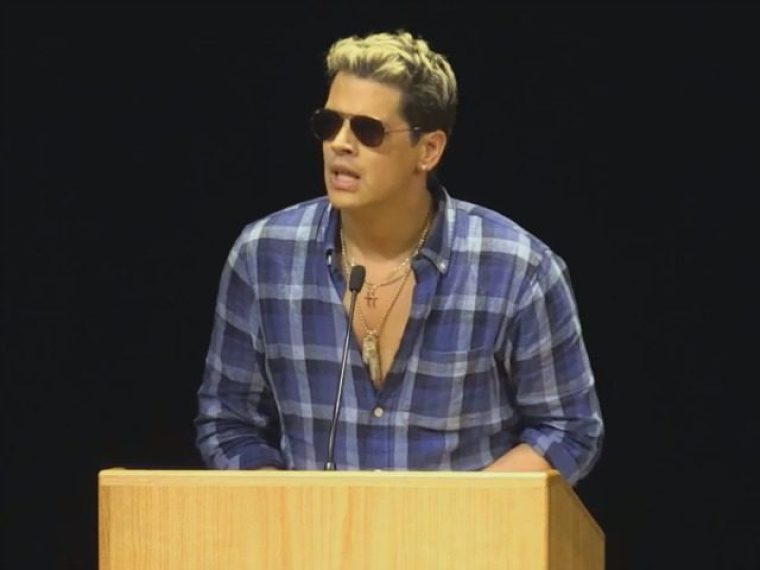 Breitbart Editor-in-Chief Alex Marlow has commented on the recent controversy surrounding the news outlet's senior editor Milo Yiannopoulos, who was shown defending sexual relations between adolescent boys and older men in an old video that emerged on Sunday.
Speaking on Breitbart's Sirius XM radio show on Tuesday morning, Marlow touched on the video published by The Reagan Battalion that features Yiannopoulos saying in jest that sexual relationships with older men can be "hugely positive experiences" for boys. In light of the video, Yiannopoulos has been accused of condoning pedophilia. 
The video comes after it was announced that Yiannopoulos, who has made a name for himself as a brash, gay conservative free speech advocate who frequently makes crude and controversial statements, was invited to be the keynote speaker at the annual Conservative Political Action Conference outside Washington, D.C. on Saturday. The revelation of the video led the American Conservative Union to rescind Yiannopoulos' invitation to speak at CPAC.
Additionally, the video led the publishing company Simon & Schuster to cancel its book deal with Yiannopoulos, even though it became a best-seller months before it was published.  Yiannopoulos, who has become known in recent years as a champion of free speech as he toured the nation's college campuses to incite far-left liberals and urge conservative students to speak out, was scheduled to release his book, Dangerous, in June.
Even at Breitbart, some are not happy with Yiannopoulos. Another Breitbart senior editor  told The Washingtonian's Elaina Plott that at least a half dozen Breitbart employees have threatened to quit their jobs if Yiannopoulos is not fired.
Although Breitbart has not yet made any decision about Yiannopoulos' future with the company, Marlow explained on the radio program that "we have been going through things and trying to figure out what's the best way to handle this.
"The bottom line: the comments on the video are not defensible," Marlow asserted. "They're appalling."
Although Marlow called Yiannopoulos comments "troubling," "upsetting," and "disappointing," he did seemingly offered defense of Yiannopoulos.
"He seemed to be speaking from personal experience as a gay man. He also revealed that he is a victim of child abuse himself. He, himself, has told me that he has never had any inappropriate contact with a minor since he has been an adult," Marlow said. "So, the situation has been reversed, further complicating things."
Marlow explained that he will have a better idea of what the future holds for Yiannopoulos after Yiannopoulos speaks at a press conference on Tuesday afternoon.
"He is going to talk about his future with Breitbart and he is going to talk about a bunch of different things," Marlow added. "You will get some answers today, just not right this second. The comments are absolutely indefensible, appalling and very disappointing that those came out. However, there is context. Some of the context is Milo is a gay man who was abused as a child. These are not irrelevant."
In a lengthy Facebook post on Monday, Yiannopoulos denied ever suggesting that pedophelia was OK and added that it is not acceptable for a grown man to have sex with a 13 year old. Yiannopoulos also asserted that the video was "edited deceptively."
In the radio segment, Marlow also argued that The Reagan Battalion's releasing of the video was a "coordinated hit."
"More important context, which is very unfortunate, that it does look like a coordinated hit. The problem is that the video is a real video with horrible things said on it," Marlow said. "But it still is unfortunate that it does look like the forces of the Left and some of the Republican establishment and of this sort of "Never Trump" movement. There seems to be growing evidence that this was all coordinated to wait for a peak moment when Milo was red-hot, coming off of his Bill Maher appearance and CPAC."
"They sat on this story and they held if for maximum political damage — which is really sort of sickening that they would keep this from the public if they had it and instead — to try to wait until they could do the most damage to his career and to Breitbart and by proxy, people like [Donald] Trump and [Steve] Bannon and stuff like that," Marlow continued. "It is a political war out there but the video does speak for itself and its something very terrible."