Britain's Coptic Bishop Says He's Forgiven ISIS for Beheading 21 Egyptian Copts; Says He Doesn't Forgive the Act but the Killers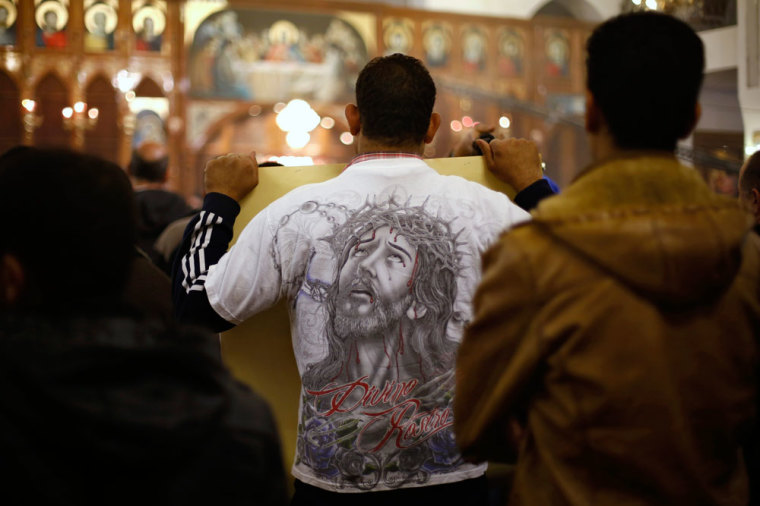 Bishop Angaelos, leader of the Coptic Orthodox Church in the United Kingdom, said he has forgiven the Islamic State terror group, which is responsible for the recent brutal beheading of 21 Egyptian Copts in Libya, explaining that "anger and hatred" only lead to "a spiral of violence."
Bishop Angaelos, who was in Washington last week, spoke to CNN and admitted that the killings were indeed shocking, maintaining that the act still needed to be forgiven.
"It may seem unbelievable to some of your readers, but as a Christian and a Christian minister I have a responsibility to myself and to others to guide them down this path of forgiveness," he said. "We don't forgive the act because the act is heinous. But we do forgive the killers from the depths of our hearts."
After ISIS released the video showing militants in Libya executing 21 Copts, Bishop Angaelos tweeted, using the hashtag #FatherForgive.
The video showed the Copts whispering the name of Jesus as their heads were being hacked off their bodies.
The bishop said without forgiveness "we would become consumed by anger and hatred. It becomes a spiral of violence that has no place in this world."
Angaelos added that the beheading was not just a crime against Coptic Christians. "It is a crime against humanity, and if there's anything we should stand for as human beings, first and foremost it's the sanctity of all human life."
Asked why the Copts were killed if he and other prayed for their safety, the bishop replied he also prayed they would have the peace and strength to be able to go through that extremely difficult situation. "It doesn't change my view of God that these 21 men died in this way. They were sacrificed, but so much has come out of it."
Bishop Angaelos said he's concerned about persecution of people from all faiths, and not just Christians.
"Of course, the vast majority of persecution falls squarely right now on Christians in the Middle East and that needs to be addressed," he said. "But, as a Christian, I will never be comfortable just safeguarding the rights of Christians. We need to help everyone."
ISIS is an al-Qaeda offshoot which is spreading terror to form an Islamic emirate in the Levant region.
The Sunni group has released videos showing the beheading of five Western hostages – British hostages David Haines and Alan Henning, and U.S. citizens James Foley, Steven Sotloff and Abdul-Rahman Kassig – as well as two Japanese hostages Kenji Goto and Haruna Yukawa.
ISIS has gained control over large territories in Iraq and Syria.
Many Christians in the United States prayed for the Copts Sunday, after award-winning television producers Mark Burnett and Roma Downey; Rev. Samuel Rodriguez, president of The National Hispanic Christian Leadership Conference; Russell Moore, president of The Ethics & Religious Liberty Commission; Gabe Lyons, founder of Q Ideas; and other religious leaders urged Christians to observe a minute of silence.