British Muslims Enlisting to Fight for ISIS; Find Jihadi Sub-Culture 'Cool'
More British Muslims Fight for ISIS Terrorists Than Serve in UK's Armed Forces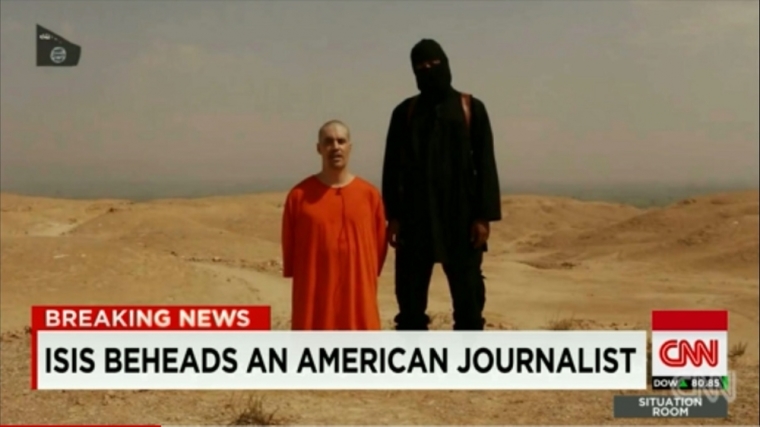 There are now reportedly more British Muslims fighting for terror group ISIS than Britain's military, an issue that some British Muslim leaders have recognized and warned that youngsters are being drawn by the idea that the jihadi sub-culture is "cool."
USA Today reported Thursday that close to 600 British Muslims serve in Britain's Ministry of Defense Armed Forces of 200,000 people, which is less than the estimated 800 British Muslim fighters that have joined ISIS in its war in Syria and Iraq.
United Kingdom Foreign Secretary Philip Hammond noted that the militant who appeared in a recent ISIS video showing the beheading of American journalist James Foley spoke with a British accent.
"This is something we have been tracking and dealing with for many, many months and I don't think this video changes anything," Hammond said. "It just heightens awareness of a situation which is very grave."
Iqbal Sacranie, an adviser to the Muslim Council of Britain, called on Britons across the country to stop young men from joining ISIS and being drawn by its ideologies.
"This sub culture of this 'jihadi-cool' — as they call it in the media — within the margins of society ... that is the real challenge," Sacranie told BBC Radio. "This is a problem that affects all of us and it will only be dealt with more effectively if all of us are working together on this."
He added that Britani's Muslim community, close to 2.7 million people, is taking a stand against ISIS, and that families have been reporting to authorities sons who have enlisted to go and fight for ISIS.
President Barack Obama condemned on Wednesday the beheading of Foley, stating that "no just God" would stand for the violent acts of the terror group.
"So ISIL speaks for no religion. Their victims are overwhelmingly Muslim, and no faith teaches people to massacre innocents. No just God would stand for what they did yesterday, and for what they do every single day. ISIL has no ideology of any value to human beings. Their ideology is bankrupt," Obama said.
"They have rampaged across cities and villages — killing innocent, unarmed civilians in cowardly acts of violence. They abduct women and children, and subject them to torture and rape and slavery. They have murdered Muslims, both Sunni and Shiite, by the thousands. They target Christians and religious minorities, driving them from their homes, murdering them when they can for no other reason than they practice a different religion. They declared their ambition to commit genocide against an ancient people."
The president also promised that despite threats by the Islamic militants, the U.S. will continue military operations in Iraq, including launching air strikes and sending arms to the Kurdish and the central Iraqi governments in the battle against ISIS.
Reuters noted that the video of Foley's beheading caused "particular shock in Britain," however, as it highlights the growing problem of young British men being lured to fight for ISIS.
The news also stirred memories of four British Islamists who killed 52 people in the July 2005 suicide attacks in London.
"It is disturbing that people born and raised in Britain and who have gone to the same schools as us could have been essentially indoctrinated to the extent where they can justify raping women and chopping heads off," added Ghaffar Hussain, managing director of the counter-extremism Quilliam Foundation.
Much like Obama, British Prime Minister David Cameron has so far ruled out sending ground troops in Iraq, but has continued delivering supplies to Kurdish forces and using jets to conduct surveillance.