ISIS in Video: We Beheaded American Journalist
Terror group also demands Obama to stop military operations in Iraq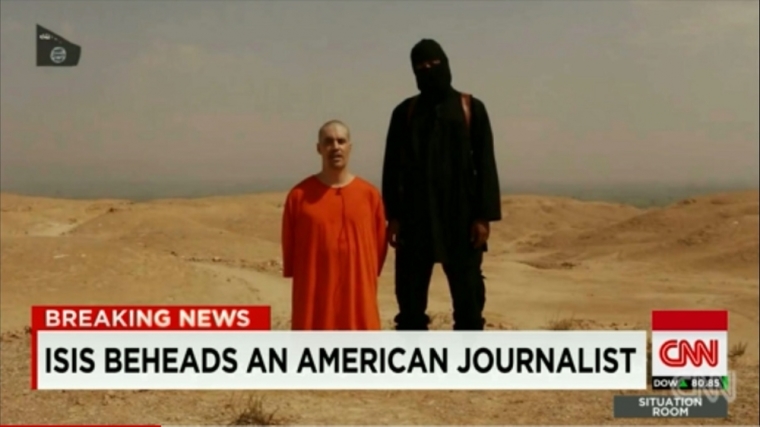 The terror group ISIS released a video Tuesday that seemingly shows the brutal beheading of American journalist James Foley, which included the group demanding President Barack Obama end military operations in Iraq.
"We have seen a video that purports to be the murder of U.S. citizen James Foley by (ISIS)," National Security Council spokeswoman Caitlin Hayden said, according to CNN. "The intelligence community is working as quickly as possible to determine its authenticity. If genuine, we are appalled by the brutal murder of an innocent American journalist and we express our deepest condolences to his family and friends. We will provide more information when it is available."
Foley had disappeared in November 2012 in northwest Syria after he was reportedly forced into a vehicle by gunmen. He had been working for U.S.-based online news outlet GlobalPost.
The video shows Foley wearing an orange shirt, kneeling in a desert area next to a militant dressed in black. He reads a message, believed to be scripted by his captors, saying that his "real killer'' is America.
"I wish I had more time. I wish I could have the hope for freedom to see my family once again," the journalist says in the video.
The footage also shows another American journalist, believed to be Steven Sotloff, who was kidnapped at the Syria-Turkey border in 2013. The unidentified militant in the video says that the U.S. citizen's life depends on Obama's next move.
While the Obama administration is currently working to confirm the authenticity of the video, two U.S. officials told The Associated Press that they believe the video does indeed show Foley's death.
Foley's family has said that they are grieving the loss of the journalist's life.
"We have never been prouder of our son Jim. He gave his life trying to expose the world to the suffering of the Syrian people," reads a Facebook message by Diane Foley, his mother.
"We implore the kidnappers to spare the lives of the remaining hostages. Like Jim, they are innocents. They have no control over American government policy in Iraq, Syria or anywhere in the world.
"We thank Jim for all the joy he gave us. He was an extraordinary son, brother, journalist and person. Please respect our privacy in the days ahead as we mourn and cherish Jim."
The U.S. has launched airstrikes in Iraq against ISIS targets, aiding the government in its battle against the Islamic militants who have taken large territories in Iraq and Syria. The militants have driven over 1.2 million people from their homes, the U.N. has said, and have been accused of horrific crimes, such as beheading children and wide-spread rapes. They have also targeted Christians and threatened them to convert to Islam or face death.
Earlier this week U.S. airstrikes helped Kurdish forces to retake control of the Mosul Dam in Iraq, a key reservoir that supplies water and electricity to large parts of the country.
Obama has said that the U.S. will continue aiding the Kurdish and the central Iraqi governments with arms and airstrikes, but said America will not be sending ground troops into the region to engage in combat.
Obama explained in a letter to House of Representatives Speaker John Boehner that "these military operations will be limited in their scope and duration as necessary to support the Iraqi forces in their efforts to retake and establish control of this critical infrastructure site."
He added: "The failure of the Mosul Dam could threaten the lives of large numbers of civilians, endanger U.S. personnel and facilities, including the U.S. Embassy in Baghdad, and prevent the Iraqi government from providing critical services to the Iraqi populace."
ISIS has been accused of kidnapping a number of journalists in Iraq and Syria, with The Committee to Protect Journalists estimating that there are nearly 20 journalists missing in Syria.
Another American journalist who disappeared without a trace in Syria in August 2012 is Austin Tice, who had been contributing articles to The Washington Post.
Philip Balboni, GlobalPost CEO and co-founder, asked for prayers regarding Foley's apparent murder.
"On behalf of John and Diane Foley, and also GlobalPost, we deeply appreciate all of the messages of sympathy and support that have poured in since the news of Jim's possible execution first broke," Balboni said in a statement.
"We have been informed that the FBI is in the process of evaluating the video posted by the Islamic State to determine if it is authentic. Until we have that determination, we will not be in a position to make any further statement. We ask for your prayers for Jim and his family."
News of Foley's apparent death shocked people in Rochester, New Hampshire, the journalist's home town.
"This is a tragedy which is beyond imagining. There are no words to describe this kind of inhumanity," the Rev. Paul Gousse of the Holy Rosary Church told CNN affiliate WMUR.
Fox News noted that Foley was also held captive along with a small a group of journalists for six week by the Libyan government in 2011. He was released after receiving a one-year suspended sentence on charges of illegally entering the country.
Foley said at the time that despite the experience, he would "love to go back" to Libya and continue reporting.
"Journalism is journalism," Foley told The Associated Press in an interview. "If I had a choice to do Nashua (New Hampshire) zoning meetings or give up journalism, I'll do it. I love writing and reporting."