'Jimmy's in Heaven,' James Foley's Parents Say at Press Conference for Slain Reporter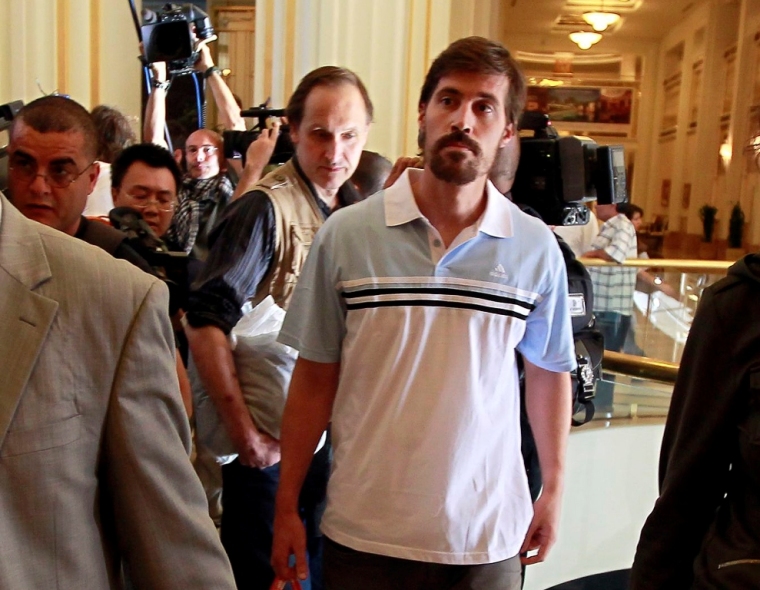 The parents of American journalist James Foley have said that they are "so proud" of their son and know that he is in Heaven, after he was brutally murdered by members of Jihadist group ISIS.
"We know Jimmy's free," John Foley said in front of his family's home in Rochester, New Hampshire on Wednesday. "He's finally free. And we know he's in God's hands … and we know he's in Heaven."
James had been captured by militants while reporting in Syria nearly two years ago. It was revealed yesterday that the Obama administration had authorized a secret military mission to try and recover Foley and other Americans being held in Syria. However, they were unable to locate the hostages after Foley and a number of other abducted journalists were moved just hours or days before.
"We're not sure why they were moved," a Defense Department official told The New York Times. "By the time we got there, it was too late. [It] may have been a matter of hours, perhaps a day or two" since the hostages were moved.
The video showing James' beheading at the hands of an ISIS militant quickly went viral, and has shocked the world. Twitter actually blocked accounts that showed the beheading and "graphic imagery." The request for a block actually came from James' parents.
"We have been and are actively suspending accounts as we discover them related to this graphic imagery. Thank you," Twitter CEO tweeted.
"He was a courageous, fearless journalist," Diane Foley said at the press conference. "He always hoped that he would come home. [He] would never want us to hate or to be bitter. Every time we started to get despondent, we thought of Jim and his courage."
Up to 30 journalists have been captured during Syria's three-year war, according to USA Today. It's something that the Foley family is struggling to comprehend.
"They never hurt anybody," John said. "They were trying to help. There's no reason for their slaughter."
The family also reached out to followers on Facebook and offered further comments about their son's life and the lives of others being held by ISIS.
"We have never been prouder of our son Jim. He gave his life trying to expose the world to the suffering of the Syrian people. We implore the kidnappers to spare the lives of the remaining hostages. Like Jim, they are innocents. They have no control over American government policy in Iraq, Syria or anywhere in the world. We thank Jim for all the joy he gave us. He was an extraordinary son, brother, journalist and person. Please respect our privacy in the days ahead as we mourn and cherish Jim," the statement on Facebook read.
President Barack Obama gave a press conference on Wednesday in which he stated that "ISIL speaks for no religion. Their victims are overwhelmingly Muslim, and no faith teaches people to massacre innocents. No just God would stand for what they did yesterday and what they do every single day."