'God is real': Buffalo Bills put faith front and center in first game after Damar Hamlin cardiac arrest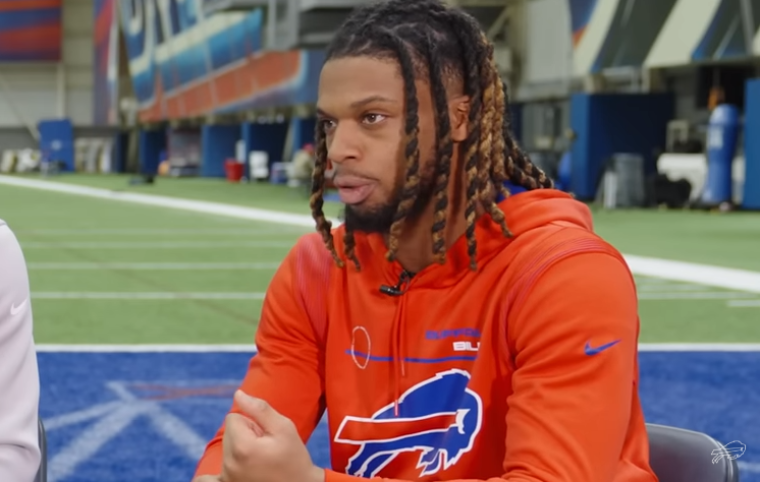 Buffalo Bills safety Damar Hamlin suffered cardiac arrest during a game last Monday and the team has not shied away from talking about God since that frightening incident. 
In the first Bills game since Hamlin collapsed on the field, the Bills defeated the New England Patriots to much excitement. Hamlin suffered from cardiac arrest after a hit on the field during the first quarter of the Bills and Bengals game. In a public statement last Tuesday, the Buffalo Bills confirmed that the young athlete suffered cardiac arrest after the hit.  
Both CPR and a defibrillator were used to revive Hamlin as both teams dropped to their knees in prayer and fans looked on from the stands. Once resuscitated, he was transported to the University of Cincinnati Medical Center by ambulance.
Miraculously, Hamlin's health is improving. The athlete sent his love to his teammates along with a photo of himself and his family in a post on Twitter.  
The Bills returned the love to Hamlin when Bills kick-returner Nyheim Hines scored a 96-yard kick-return touchdown on the opening kickoff. 
After the game, Bills quarterback Josh Allen said it was all God at work. 
Talking about Hines' touchdown to reporters, he said: "You want the truth? It was spiritual. It really was. Bone-chilling. It was special."
"I can't remember a play that touched me like that, I don't think in my life. So it's probably number 1," he continued. "I was going around my teammates saying, 'God's real,'" Allen declared. "Like, you can't draw that one up, write that one up any better." 
Hamlin was also live-tweeting from his hospital bed during the game as he watched Hines' historic touchdown.
In a separate interview days before the game against the Patriots, Buffalo Bills head coach Sean McDermott also acknowledged God and credited His "healing powers" for the defensive back's recovery.
"The amount of faith, hope and love that we saw on display over the last three days has been nothing short of amazing," McDermott said in a press conference three days after Hamlin went into cardiac arrest.
The coach thanked everyone who was helping Hamlin.
"Finally, and just as important as anything, is glory to God for His keeping Damar and his family in the palm of His hand over the last couple of days — and His healing powers," McDermott added.
Although Hamlin could not join his team for Sunday's game, the 24-year-old did say he believed God is using all of this.
"GameDay.. Nothing I Want More Than To Be Running Out That Tunnel With My Brothers. God Using Me In A Different Way Today," Hamlin Tweeted along an older video of himself running out of the tunnel into the football field.