Bullet narrowly misses pastor during watch night service; congregants erupt in worship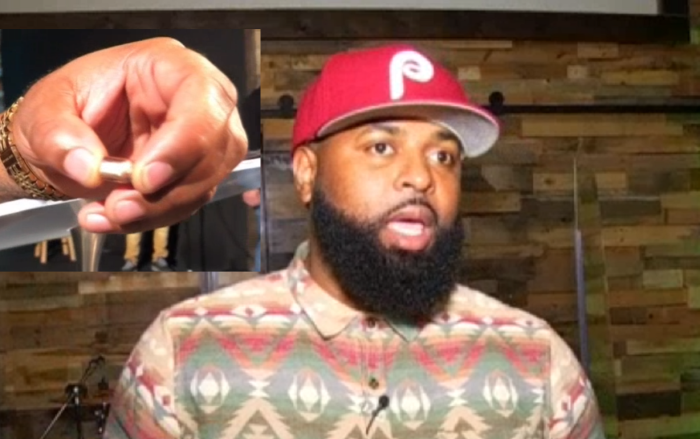 Congregants at the Ramp Church of Texas in Fort Worth erupted in praise shortly after learning their founder and pastor, Evan D. Risher narrowly escaped being shot by a stray bullet while ministering from the pulpit on New Year's Eve.
Risher, who recently celebrated his birthday, told NBC DFW that at about 11:40 p.m. on Monday while he and his congregants were busy welcoming 2019 with worship he heard something that "sounded almost like a whirlwind" coming from the ceiling of his new church.
The congregants were left in confusion as the pastor's armed security guards ran to his aid and rushed him off the stage.
"When they rushed me off the stage and checked the premises they found this bullet on the stage," Risher explained.
It was a .40 caliber bullet that ripped through the roof of the church and landed about two feet away from where the pastor was before the commotion began.
"It hit right here about two feet behind where I was and about two feet in front of our drummer," the Liberty University graduate said.
Police were called in to investigate but they were unable to say where exactly the bullet came from. According to NBC DFW, however, police responded to 63 "shots fired" calls overnight which many suspect may have been gunfire celebrating 2019.
The experience has left the pastor both shaken and grateful.
"I was speechless. I was scared. It shook me, but it didn't break me," Risher told the news outlet. "There has to be another way to have fun, to bring in the New Year."
In an Instagram post with video footage from the incident, Risher noted that he was just "one step" away from moving into the area where the bullet landed when it entered the church.
"Looking at the footage, I thought the bullet went behind my head but if you look closely...I was actually one step away from walking into the space where the bullet actually landed. Thank you Jesus! In tears man...that's crazy!" he wrote, adding in another post, "The devil lost again. Lord, thank you for allowing me to see another year."
Risher also noted that at the time of the incident, he was worried his congregants would be too scared to continue worshiping after the disruption but they stood their ground.
"I was really worried my congregation would be scared and would leave. Instead, it's like the church went up into a celebration of life," Risher told WFAA 8.
And part of the reason the congregants carried on was because Risher continued preaching after the incident with the bullet in his hand, inspiring deeper worship among the approximately 300 people who were in attendance.
"It's kind of ironic to call a moment like this a special moment," said Risher, who has decided to keep the bullet that could have taken his life in his office.
"Whenever I'm ever having a day where I'm feeling ungrateful, I'm going to remember the value of life," he added.