Calif. Pastor Rebukes Christians for 'Worshipping Weapons' Amid Gun Debate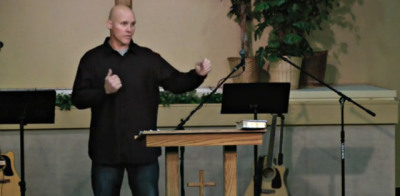 A California pastor has taken his congregation to the Bible in an effort to dispel the fear and anxiety he believes has gripped many people amid the national debate on gun control, while also taking some Christians to task for "worshipping" their weapons.
Shane Idleman, who is pro-gun ownership and pastor of Westside Christian Fellowship in Lancaster, Calif., told worshippers this past weekend that he feels people on both sides of the highly-charged gun control debate have mischaracterized the issue, and that some Christians are twisting Scripture and using troublesome language to support their arguments.
"This issue is, it's becoming pretty big in our culture today," said Idelman, while also sharing that what he's seen on the Internet and blogs is "alarming" and "ridiculous."
"What concerns me is that in the Church we're starting to use language like 'the next Civil War,' and that's scary. The nation is being divided over some of these issues. Some of the terminology out there, even from Christian leaders that I'm seeing is alarming, it's disheartening, it's frightening. Are we actually thinking along those lines?"
"You can have an AR-15 and 15 rounds of ammunition, but if you're scaring your family to death it's counter-productive. Your gun safe is full, but your prayer closet is empty. Really. I hear all about Remington, and Smith and Wesson, and Browning but I don't hear anything about brokenness and humility and surrender. What's going on here? That's what's disheartening."
He also questioned in whom or what Christians should put their trust.
"In Remington, Smith & Wesson … is that what my trust is in? It sounds like it, from what I'm hearing from a lot of Christians. The trust is not in that, the trust is in God and God alone."
Idleman was quick to add, however, that people are sometimes forced into situations in which they must protect themselves, saying, "However, when we use wisdom and discernment, sometimes it involves defending ourselves."
"That's a last resort," the pastor explained. "This shouldn't be something we're excited about. Actually, the direction of our nation is alarming, it's not exciting. Having to defend our homes and even talk about this is not exciting, it's disheartening."
Emphasizing the view that churches need to preach God's word "in its totality," Idleman questioned the selective use of Scripture by some Christians to support their arguments.
"Liberal churches … don't believe in the inerrancy of Scripture … liberal churches a lot of times will pick and choose certain Scriptures at the expense of others, and this is one of those areas," the pastor added.
Idleman insisted, however, "I don't have an axe to grind, I don't have opinions that I want to express. I'm disheartened by this whole debate." He also confessed that he had been praying all day before the 5:30 p.m. service that God would keep him from injecting his own opinions, conjectures or theories into the sermon.
The California pastor, who has been preaching through the Book of Proverbs since January, brought congregants' attention to Proverbs 20:22: "Do not say, 'I will recompense evil'; Wait for the Lord, and He will save you."
"Don't repay evil, let God do it. But what happens though when the whole issue on this gun control and different things is basically self defense?" Idleman questioned before adding, "Defending is not being a vigilante."
Emphasizing his belief that Scripture shows that God created the institution of government "to protect, to administer justice and to defend" as well as to "restrain evil," the pastor said of the gun control debate: "The whole issue is centered on defending. What people don't realize is that because of the cross, my heart is restrained; the majority of your hearts are restrained because of the cross. But because of evil … the hearts of many [are not restrained]."
Leaving the Book of Proverbs, Pastor Idleman then turned to Matthew 26 to show that Jesus affirmed weapon ownership when he rebuked a disciple for pulling out a sword during his arrest.
"Put your sword back in its place! For all who take hold of the sword will die by the sword," Jesus says in verse 52.
"Why didn't he rebuke Peter for having a sword?" Idleman questioned. "'Put it back in its place.' What's it there for – cutting down trees? No, they use an axe for that."
"Jesus didn't denounce it (the possession of the sword), but he clarified it. This is not the time or place for it. Put it back in its place," the pastor added. "In other words, if you take premature action it may cost you your life. That's what he's saying there. ... Those that take the sword, premature action, they get all excited, their emotions are raging and they do it wrongly, they will die by that same sword. That's what happening, we see in our culture today on this topic is that we don't understand the distinction here."
"The Church can speak loudly and the Church can speak boldly on this issue," he added.
However, the followers of Christ should not be screaming about their rights, said Idleman. "We should thank God for it and rejoice in it and be thankful for what He's given us."
Idleman referenced a quote from President Dwight D. Eisenhower: "A people that values its privileges above its principles soon loses both." The pastor cast "privileges" as the right to bear arms and "principles" as a fear of God, repeating, "If we put privileges above principles, we will lose both."
"The role of the church, your greatest weapon is going to be in the prayer closet. I can't get that point across enough," he added.
"Take this topic back to the prayer closet and see what God says to you on this issue," Idleman encouraged listeners.
He also discouraged congregants from spending too much time "with Hannity, and O'Reilly and Fox and Hume" and to instead "get more time with Matthew, Mark, Luke and John."
Idleman is the founder and lead pastor of Westside Christian Fellowship, a nondenominational church in Lancaster, Calif. Idleman is the author of six books, with his latest titled Answers for a Confused Church.