California Church to Build Brewery, Drink Beer During Services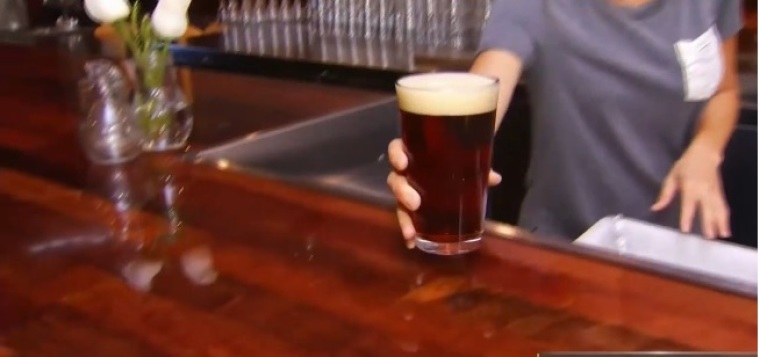 A California church sold their church building and relocated in a new space where beer is served and plans are underway to build a brewery where church services can occur.
"We decided to sell the building, because for us a church is a community and a movement," pastor Chris VanHall, who leads The Greater Purpose Community Church in Santa Cruz, California, told the NBC affiliate in the Bay Area last week.
"It's not brick and mortar."
VanHall's church community ended up in a food lounge complete with several beer options, a move that reportedly gained them new followers.
He added: "There's nothing in the Bible that says you can't drink alcohol in a responsible manner."
Food lounge owner Andrea Mollenauer, whose business is hosting the church thinks it is a great idea.
"Why not serve beer when they're reading Bible verses? I thought it was genius," she said.
Formerly named Garfield Park Community Church, the progressive Disciples of Christ congregation's "About" section on their Facebook page and website explains that they "will embrace you regardless of your faith, personal life choices, race, sex, sexual orientation, gender identity, political preference, social status, or economic standing."
"We love and value all equally and at Greater Purpose Community Church: ALL LITERALLY MEANS ALL! Radical love and unity are sacred in our community."
VanHall came to Santa Cruz to plant a church, according to his bio on the GPCC website, in hopes of creating "a place of safety for those who have justifiably left the church, due to bigotry and hate-filled theology."
The pastor went on to explain that everyone drinks responsibly and that the church in the food lounge is a conversational atmosphere. He is presently converting a downtown bookstore into a brewery that will also serve as a church; VanHall hopes to give 30 to 60 percent of the profits to charity.
"I thought to myself, wouldn't it be great if a church could figure out a way to make a product where they split the profits with local community service organizations, we were like 'hey, we love beer, we love making beer, why not do a brewery?'"
Yet he maintains this is not a marketing trick.
"We don't want to dupe anyone, we don't want to have this bar, and say 'ok come on in' and boom you get a church service," said VanHall. "We don't want that."
But if people come for church, a couple of beers improves the sermon, VanHall joked.
"They can have one or two, as a matter of fact if they have two my sermon's always better," he said.
The idea of attracting people to church with beer is not new. In 2013 NPR reported that a Disciples of Christ congregation in Portland, Oregon hosted monthly Saturday night gatherings called "Beer & Hymns" in which participants consumed "homemade stout from plastic cups — with a two-beer limit" and sang traditional hymns from a projection screen such as "Be Thou My Vision."
In Europe, monks have been brewing beer at least since the 6th century. Some of those monestary breweries are still in operation today, with Chimay in Belgium being one of the most famous.