Calling Gay Unions 'Marriage' is Offensive, Rand Paul Says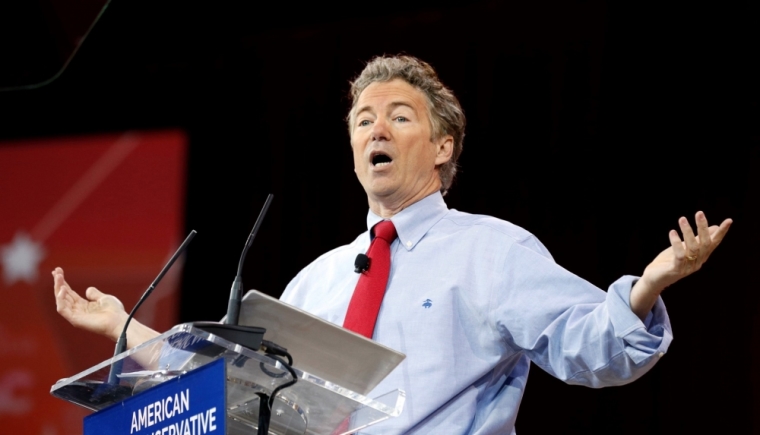 U.S. Senator from Kentucky and possible 2016 Republican presidential candidate Rand Paul said he is "offended" by defining gay relationships with the term "marriage."
The self-described "libertarian conservative" talked with Fox News' Bret Baier in a Sunday interview about the debate over marriage definition in America.
"Ultimately, we could have fixed this a long time ago if we just allowed contracts between adults. We didn't have to call it marriage, which offends myself and a lot of people," said Paul.
"I think having competing contracts that would give them equivalency before the law would have solved a lot of these problems, and it may be where we're still headed."
The son of retired Texas congressman and 2012 Republican primary presidential candidate Ron Paul, Rand Paul has garnered much attention from the conservative movement.
At the 2015 Conservative Political Action Conference held at National Harbor, Maryland, Paul won the major gathering's presidential straw poll for the third year in a row.
"I am humbled by the enthusiastic support and encouragement I received this week at the Conservative Political Action Conference," Paul said in a statement last month.
"The constitutional conservatives of our party have spoken in a loud and clear voice today. I plan on doing my part and I hope you will join me as I continue to make the GOP a bigger, better and bolder party."
Paul's comments come as he successfully got the Kentucky GOP to modify their primary process so as to avoid him breaking a state elections law prohibiting his name to be on the ballot twice.
"To avoid running afoul of the law, Mr. Paul asked the state party to suspend its presidential primary, scheduled for May next year, and hold a caucus instead, a decision the party's executive committee adopted on Saturday," reported the New York Times.
"A caucus would help Mr. Paul in two ways. First, it is likely to be held well before May, meaning it could assist him in building his delegate count early in the Republican nominating contest. Second, because caucuses do not require actual ballots, it resolves the main legal question."