Calvinism Not to Blame for Southern Baptist Decline, JD Greear Says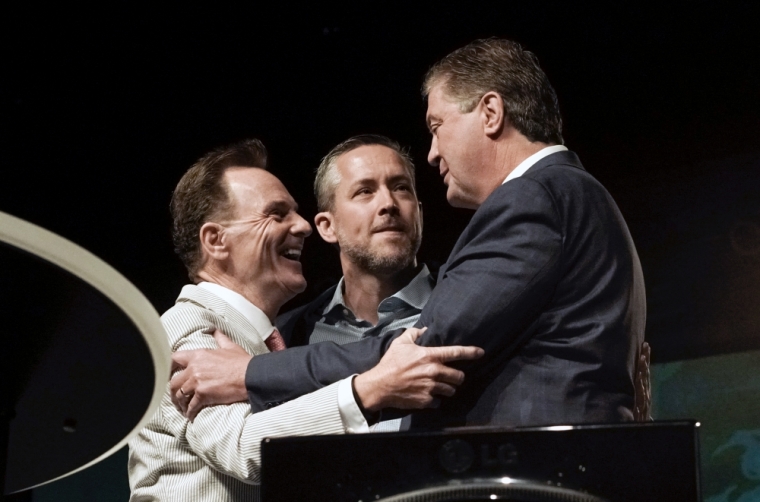 J.D. Greear, who was a strong contender for president at the recent Southern Baptist Convention Annual Meeting, says it's unfair to blame declining baptism numbers in the SBC on a resurgence of 5-point Calvinism in Southern Baptist life. Greear graciously stepped aside in a razor close race with Steve Gaines, pastor of Bellevue Baptist Church in Memphis and a more moderate Calvinist — a contest that many say rested on how 5-point Calvinism affects church growth.
In an interview with The Christian Post last Thursday, Greear, pastor of Summit Church in Durham, North Carolina, said it doesn't matter how many "points" of Calvinism one holds because "Jesus gave every one of us the Great Commission, and if we're not carrying it out, that's just plain unfaithful."
CP also reached out to several other prominent strict Calvinists within the SBC, such as Albert Mohler Jr., Russell Moore, Mark Dever, and David Platt for their comments for this article but all were either traveling or otherwise unable to respond by press time.
A chart highlighting a sizable disparity between the number of Southern Baptist church plants and number of baptisms was circulated last week during the SBC's annual meeting in St. Louis, Missouri, preceding the election for president.
After the first round failed to produce a victor, Greear, a strong Calvinist, threw his support behind Steve Gaines, who is more moderately Reformed.
Using the TULIP acronym as shorthand for the five points of Calvinism, moderately Reformed Southern Baptists believe in major portions of T (total depravity), U (unconditional election) and I (irresistible grace); reject L (limited atonement); and fully embrace P (perseverance of the saints). Moderately Reformed Southern Baptists generally believe everyone can be saved but not everyone will be saved.
Though the voting process ended in a spirit of great unity, sources told CP that the chart was one of the main reason for Gaines' ascension. At issue is the degree of evangelistic zeal and the theological orientation that underpins the historic Southern Baptist emphasis on sharing the Gospel with nonbelievers.
Are critics correct who say 5-point Calvinist theology produces a "frozen chosen" mindset and that stricter Calvinist views yield less outreach and altar calls? Or is that, as others assert, a silly myth?
"In my experience, it's too simplistic (and unfair) to blame one group of people for our collective failure to evangelize," said Greear, noting that he has never been comfortable with "Calvinist" and "non-Calvinist" labels.
Greear added that his own staff and congregation comes down on different places on the theological spectrum, but all of them are sincerely "committed to preaching the Bible, doing the work of evangelism, and giving God all the credit."
The famous chart hailed from Dr. Chuck Kelley, president of New Orleans Baptist Theological Seminary, who also could not be reached for comment by press time. On his website Kelley outlines the crisis Southern Baptists are facing.
"Lostness in North America is having a bigger impact on Southern Baptists than Southern Baptists are having on lostness. Put another way: The world is having a bigger impact on the behavior of Southern Baptists than we are having on the behavior of the world. In addition to the decline in baptisms, we are down in membership, down in worship attendance, and down in Bible Study attendance," his website reads.
Amid the nervous chatter about the waning influence evangelicals have over politics — with some prominent evangelical leaders saying that the Christian Right is effectively dead because of their willingness to support Donald Trump — the discussion about the failure to equip and evangelize is arguably the most important one occurring within evangelical ranks.
American evangelical Christians in general do not appear to be actively sharing the Gospel with nonbelievers, seeing conversions, and baptizing them very much at all and the best available data confirms this.
According to John S. Dickerson, author of the 2013 book The Great Evangelical Recession, not only is evangelical influence overblown — at best they represent 10 percent of the population of the United States and are concentrated in certain regions of the country — most do not evangelize.
Referencing George Barna's Revolution wherein Barna observes that "most churched Christians believe that since they are not gifted in evangelism, such outreach is not a significant responsibility of theirs," Dickerson also highlights the work of Brad Waggoner who conducted a survey of 2,500 churchgoing Protestants and found that over a six month period, only 29 percent had shared how to become a Christian with someone more than twice, and 57 percent had not done so at all.
Of particular concern to some Southern Baptists is the trend of SBC churches forgoing altar calls and invitations to receive Christ for the first time in their public services.
But Greear contends that in a post-Christian context fewer and fewer people are making their way into a church anyway and that most will be reached outside its four walls. The greatest evangelists, Greear adds, are not our staff but sitting in the pews, and expressed the need "to equip them to see their neighborhoods, families, and workplaces as the mission fields that they are."
"We only have so much 'bandwidth' as a Convention, so we should seek to be known for the Gospel and the Great Commission, not for a particular stance regarding Calvinism. What unites us is so much greater than what threatens to divide us. We are united by a Gospel too great and a mission too urgent to let any lesser thing stand in our way," Greear said.