Can Christians Vote for 'Lesser of Two Evils'? Reformed Pastor Has 10 Questions to Ask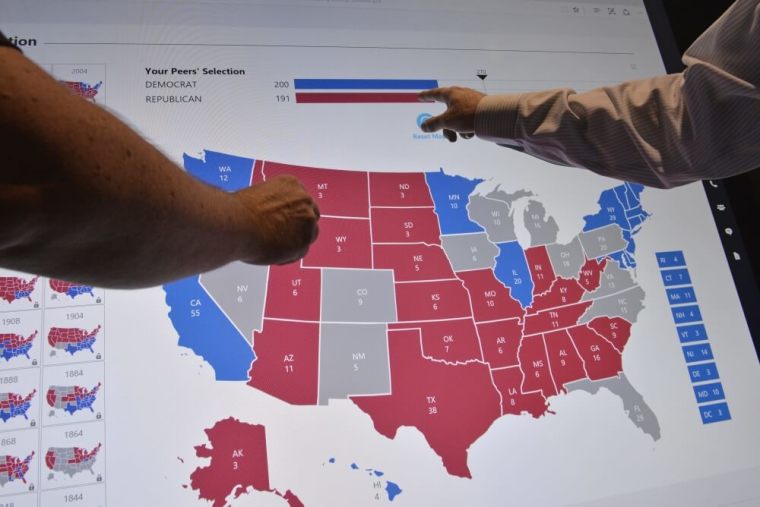 Sometimes American Christian voters have to face situations where none of the candidates are acceptable, Reformed evangelical theologian Kevin DeYoung has said, in which case they need to consider 10 important questions.
DeYoung, who pastors Christ Covenant Church in Matthews, North Carolina, and is board chairman of The Gospel Coalition, said that his list on Monday is not about any specific candidate or contest, but comes after much debate over evangelical support for President Donald Trump and Alabama candidate for the U.S. Senate Roy Moore. 
He argued that sometimes, voting is simple, as one party and its candidate aligns with a believer's political, cultural, and ethical convictions, but in other cases the party puts up someone "you have a hard time liking at all."
DeYoung listed 10 important questions Christians should ask themselves in that scenario, starting with the advice that if the choice is between two evils, Christians should not vote at all.
"Am I saying then we never vote? No. I'm saying that the phrase 'lesser of two evils' may not be the right one. Perhaps we really mean 'the less bad of two bad options.' But if we are really making an evil choice, we shouldn't do it, no matter what party might win with or without our vote," he clarified.
Second, Christians should ask themselves if they believe "that the candidate's character, convictions, and competence are such that I can reasonably expect that he will make good decisions once in office?" he continued.
Third, he said it needs to be considered whether a candidate will actually represent the voter and their beliefs.
"Even if we are pretty confident one candidate will share our beliefs more than another, we have to ask what sort of spokesman and representative he will be for our side," the pastor explained.
He also pointed out that voters should think about what message does it send to one's preferred party if the candidate is so bad that people refuse to vote for him or her.
"If there is no minimal standard of character and competence to be met in order to win someone's vote, over time we will likely end up with worse and worse candidates," he warned.
"Sometimes voting for none of the above or writing in another candidate is better in the long run than voting for one of the two parties that (almost) always wins."
DeYoung said that believers should also think about whether one's vote will "normalize behavior or ideas that should not be tolerated."
"Elected officials, by definition, hold public office. As representatives of thousands or millions of people, they have the potential to inspire us with their courage and thoughtfulness or 'define deviancy down' by their moral bankruptcy," he wrote.
The preacher then warned voters against voting for someone "who will damage the reputation of Christ and may harm the cause of Christ in the world."
"While it is often good to vote for other Christians, we have to consider how someone conducts himself in public as a representative of Christian convictions, ethics, and character," he added.
You can read the rest of DeYoung's points here. 
An Alabama poll released Saturday found that 78 percent of self-identified white Alabama evangelicals support Moore, despite multiple sexual misconduct allegations. In the same poll, about half (49 percent) of self-identified white Alabama evangelicals said officials who commit immoral acts in private can behave ethically in public life. 
A separate national poll released Tuesday found that 30 percent of white evangelicals answered that "there's almost nothing President Trump could do to lose my approval."
In a Dec. 1 post, TGC editor Joe Carter argued that Christians should practice "convictional inaction" when faced with two unacceptable candidates, like Doug Jones and Roy Moore in the Alabama special election for the U.S. Senate. 
"Convictional inaction refuses to support any political candidate, organization, or party that advocates for or turns a blind eye to gross immorality and injustice," he wrote. 
In an October 2016 column, Christian Post Politics Editor Napp Nazworth similarly argued that voters who are unwilling to abandon voting for a major party candidate have become "captured voters" who can no longer influence the party. 
"If you want your vote to matter to a party, you must be willing to abandon them," he wrote. 
Other theologians, such as Desiring God founder John Piper, said in the run-up to the 2016 presidential election between now-President Donald Trump and Democratic candidate Hillary Clinton that Christians are not under an obligation to vote.
"As citizens of heaven, we are not bound in every situation to participate in the processes of human government. We are not bound! This is not our homeland! We vote — if we vote — because the Lord of our homeland commissions us to vote, and he does not absolutize this act above all other considerations of Christian witness!" Piper declared in a message at Bethel College and Seminary in St. Paul, Minnesota.
Others, such as Dr. Richard Land, president of Southern Evangelical Seminary, argued that Bible passages such as Romans 13 do call on Christians to vote.
Land, who is also executive editor of The Christian Post, wrote in an August 2016 CP editorial:
"[S]upporting the civil magistrate 'for conscience sake' includes not only obeying the law and paying your taxes, but voting your values, your beliefs, and your convictions. Your ultimate loyalty must be to Jesus, not any political philosophy or party. Choosing not to vote is disobedient to our Lord's command to be salt and light."