Canadian Megachurch Pastor Says Imprisonment in North Korea Was 'Discipline From God'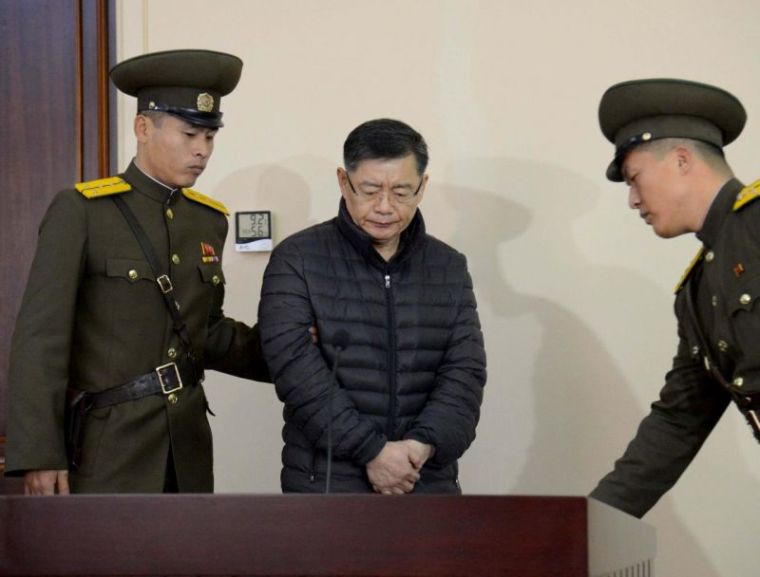 A Canadian megachurch pastor who was imprisoned in North Korea for over two years and recently released has said he believes his imprisonment was "discipline from God."
Hyeon Soo Lim, who ministered at the 3,000-member Light Korean Presbyterian Church in Toronto, sat down for an interview with CBC News earlier this week and said that despite his imprisonment of over two years and seven months in the pariah state, everything is "fine" with his health.
"I had a check with my family doctors two days ago," Lim said, according to a translation. "Everything is fine."
Although Lim traveled to North Korea to provide humanitarian aid, Lim was accused of "subversive plots and activities" against North Korea and was sentenced to life of solitary confinement in a labor camp. However, he was released earlier this month and has returned home.
CBC reporter Rosemary Barton asked the pastor why decided to go to North Korea in 2015 knowing the danger he would be in and the fact that the Canadian government has advised its citizens not to travel there. 
The 62-year-old Lim claimed, however, that he wasn't warned against going to North Korea by the Canadian government and didn't think the trip would be dangerous.
Considering that North Korea is annually ranked as the worst persecutor of Christians in the world by Open Doors USA and is run by the dictatorship of Kim Jong-un, Lim assured that he "never preached in North Korea." He admitted, though, that the idea that had crossed his mind that the regime might see his presence as a religious leader as a negative influence the people.
Although Lim said that he committed no crimes, he was imprisoned and forced to do hard labor.
Lim was specifically asked whether he thought God wanted him to go through the experience
"Yeah, I had never experienced North Koreans, their life," Lim was quoted as saying. "Experience it myself and putting myself in North Korea to actually experiencing their living, I think that's part of God's will."
Lim said that he was not angry with his imprisonment and what transpired.
"I thanked North Korea. I forgive them, and I love them," Lim was quoted as saying. "And I believe this was a discipline from God as I learned so much through this experience."
Barton asked: "A discipline from God?"
Lim responded, "Yeah."
Lim added that through his experience in North Korea, he learned that "I'm the sinner in front of God."
"And through this experience, I will glorify God and serve God more sincerely," Lim said.
Lim, who was forced to confess to crimes against the state publicly before a state-run congregation in the capital city of Pyongyang in August 2015, explained that when he made that confession he simply read words that had been written down for him to say by government officials.
"I did what I was told and obeyed the law as it is their law, despite doing nothing wrong and therefore, not feeling guilty," Lim said, adding that he was never threatened to make the confession.
When asked if his captors hurt him, Lim simply responded by saying, "No."
Lim also described what life was like in the labor camp.
"During the winter, I was digging in the frozen mountains to make an orchard. I dug 50 holes," he said. "The first time is very hard for me, because I never did labor. After two months, my weight was reduced by 23 kilograms. I cannot breathe and I cannot raised my hand, so I asked to go to the hospital. They gave permission for two months, so I restored in the hospital."
He added that he felt very lonely while in the camp.
"Everybody's my enemy, not my friend," Lim was quoted as saying. "For 24 hours, they watched video camera — three cameras — to me in a small room, a very small washroom. Even the washroom had cameras. The army keep guard on me, two guards every two hours. Never freedom."
"Always, 24 hours. When I go sleeping, they're watching me," he continued. "After one month, I'm used to it. I pray every time. I learned in front of God — God knows everything, the same thing. Every time I have to pray. The Bible verse, the meditation, through that kind of quiet time, I overcome every day. The Bible said: 'Do not worry about tomorrow.' So, I never think about tomorrow."
Although he is unsure why he was released, Lim believes that the death of 22-year-old United States citizen Otto Warmbier, who was imprisoned in North Korea in 2016 and died in June 2017 shortly after being released from North Korea, might have had an influence.
He stressed that no ransom was paid for his release.
"I got the news when I was released from North Korea that Otto Warmbier died. So I think that has influenced my release," he was quoted as saying.
Lim said that if he is invited back one day, he will go back to North Korea.