Canadian police arrest teen handing out Bibles during altercation with trans activists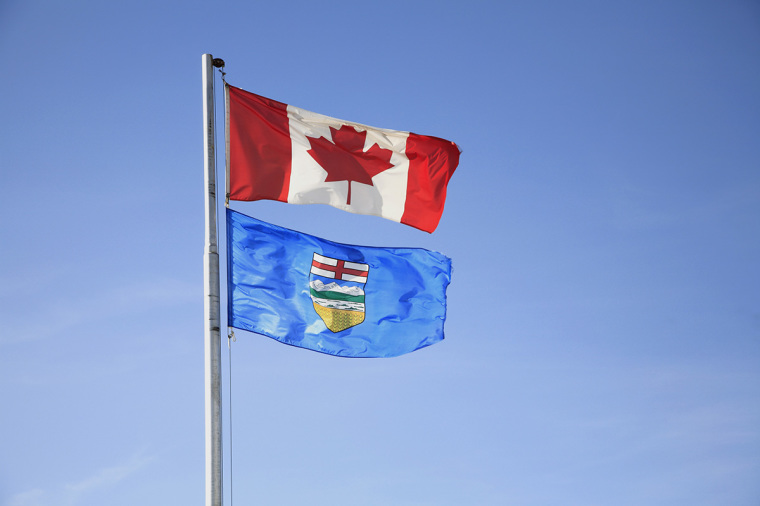 Canadian police arrested a teenage conservative activist handing out Bibles after a violent altercation broke out between his "Save Canada" group and trans activist counter-protesters. 
Josh Alexander, 16, was handcuffed for allegedly causing a disturbance and provoking violence because he approached the activists during an organized "International Walkout" event supported by the conservative Christian group Liberty Coalition Canada, Rebel News reported.
Alexander passed out Bibles on a public sidewalk in Calgary, Alberta, and interacted with a crowd of people holding transgender flags and carrying LGBT-themed signs. Authorities detained Alexander for allegedly causing a disturbance by approaching the counter-protestors, accusing him of provoking violence, Rebel News reported. 
"Today I was handcuffed and put in a paddy wagon for offering students Bibles on a public sidewalk in Calgary," Alexander wrote in a Wednesday tweet. "I was released and told if I returned I would be arrested and charged. I continued handing out Bibles. For I am not ashamed of the Gospel of Christ." 
In a follow-up tweet, the teenager asserted that Calgary police arrested him because his views were "too 'inflammatory to be expressed near the Western Canada [High School]."
"Thankfully some of my assailants were charged after the event," Alexander added. "I will not yield to the pressure of the woke mob or corrupt state. We will continue to spread the truth in love." 
A spokesperson for the Calgary Board of Education told The Christian Post in a Thursday statement that the district did not schedule the protests, nor did CBE support them. Since it was a regular school day, the expectation was that students attend class unless a parent or guardian excused them.
"Schools did not prevent students from leaving class during this time; however, any students who were not present in class were marked as an unexcused absence," the statement read. 
"Every day, we work together with students, parents and staff to create welcoming, caring, respectful and safe school communities where each and every student feels a sense of belonging."
The spokesperson went on to say there was "a wide range of diversity in our community" and that everyone has "the right to be open about who they are, including expressing their sexual orientation, gender identity or gender expression without fear of unwanted consequences." 
This is not the first time that Alexander has been arrested as a result of his actions. 
Alexander was arrested in February for trespassing after he attempted to attend his Automotive Mechanic class at St. Joseph's High School in Renfrew, Ontario, reported The Eganville Leader.
Prior to the arrest, Alexander had been issued a non-disciplinary exclusion by the Renfrew County Catholic District School Board after he organized a protest to stop boys from entering girls' bathrooms. 
St. Joseph's High School did not immediately respond to CP's request for comment. 
"I was not sure if I was going to the police station to be formally charged or what was happening," Alexander told the Leader. "I sat in the back for about 20 minutes and then they let me out. They did not handcuff me but they did give me a ticket and a fine for $65."
In April, the teenager officially filed a human rights complaint against the Catholic school board, alleging that the district discriminated against his religious beliefs. Alexander promised that he would not attempt to enter school property without authorization again. 
"I have a right to physically go to my classes and it is far better than online learning, plus I do better in a classroom. My lawyer is still helping me appeal, but the school board won't even recognize my appeal," he said, as quoted by the Leader.
"That is why I intend to go the Human Rights Tribunal and lodge a complaint because my human rights are being taken away and it's all based on religious discrimination."