SFSU president claims Riley Gaines' speech was 'deeply traumatic' to trans students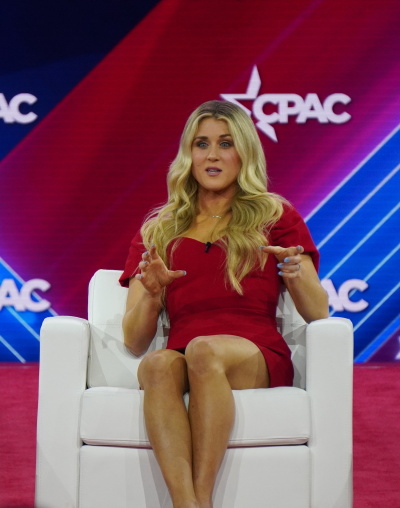 San Francisco State University's president, faculty and student leaders are describing a speech given by former college athlete Riley Gaines Barker as "deeply traumatic" and "discriminatory" as they seemingly defend the violent protesters who surrounded the athlete and punched her after her speech on campus that resulted in her being barricaded in a classroom for three hours. 
Barker, an outspoken opponent of policies allowing trans-identified males to compete in women's sports, has gained national attention after she spoke out about having to compete against a man in a women's swimming championship spearheaded by the National Collegiate Athletic Association.
She gave a speech at SFSU last week where she was "ambushed and physically hit twice by a man," said on Twitter, adding that she was barricaded in a classroom for three hours after the event out of concern for her safety. 
In a statement, SFSU President Lynn Mahoney said the school was "deeply committed to academic freedom, freedom of expression and the right to teach and learn free from censorship," while suggesting that "balancing these with dearly held commitments to social justice is hard and painful."
Mahoney characterized Barker's speech as one that "advocated for the exclusion of trans people in athletics" and called it "deeply traumatic for many in our trans and LGBTQ+ communities."
"The speaker's message outraged many members of the SF State community who value inclusion and social justice," she added. Mahoney praised students and staff who chose to "protest peacefully" and cited the event as an example of a situation where "the First Amendment was honored," enabling Barker to share her views.
Mahoney referred to the violence as "a disturbance after the event" that "delayed the speaker's departure" but did not mention reports of an assault. She vowed that "we are reviewing the incident and, as always, will learn from the experience." 
"Due to the attention this speaker received from national media, you may see or receive communications critical of the University, its employees, and its values," she added. "Please respect their right to voice that opinion, even if it differs greatly from your own as long as you do not feel personally threatened." 
In addition to Mahoney, SFSU Associated Students President, Karina Zamora, released a statement weighing in on the events that unfolded following Barker's speech. Zamora condemned the event for promoting "discriminatory rhetoric towards trans women athletes" and suggested that chaos erupted after the event because many people wanted to attend the address, but "most were stopped at the door" due to a lack of space in the classroom where it took place.
"It was reported to me that students organized and followed the university's Time, Place, and Manner (TPM) guidelines, but during the event, students protesting were coerced and given unwarranted warning cards threatening arrest if they violated the TPM policy," she said. "I believe the 'enforcement' of TPM was weaponized to silence and threaten protesters and the presence of police was both excessive and uncalled for." 
In addition to accusing Barker and Turning Point USA — the group that organized the speech — of spewing "hateful rhetoric," Zamora expressed opposition to their purported "promotion of violence." She concluded her letter to the campus community by calling on Mahoney and her administration "to hold themselves accountable and host a community forum to hear how damaging these tactics have been to our student body."
"I call on campus administrators to work with our students and community to revisit and amend current policies and practices to uplift student voices and protect our student body, including transparency in publicly sharing with the AS Board of Directors how the university plans to move forward with a plausible action plan," she concluded. While Barker vehemently disagreed with some of Zamora's analysis, she said, "At least we can agree that SFSU needs to hold themselves accountable" in a tweet posted Wednesday.
"Presence of police was excessive and uncalled for"

"Violence spread by Riley Gaines"

All for sharing my lived experience of competing against a male and why its harmful to not have sex protected sports...At least we can agree that SFSU needs to hold themselves accountable pic.twitter.com/CX5OWMLt6G

— Riley Gaines (@Riley_Gaines_) April 12, 2023
However, Barker decried Zamora's implication that she had spread "violence" and her assertion that the "presence of police was excessive and uncalled for."
Female athletes such as Barker and other supporters of laws requiring men to compete against male athletes instead of female athletes point to the biological differences between men and women that give men an advantage over female athletes as the reason for the need for such policies.
USA Powerlifting identifies the physiological differences between men and women that give men an advantage over women in sports as "larger bone structure, higher bone density, stronger connective tissue and higher muscle density than women."
A study published in the British Journal of Sports Medicine in 2020 found that trans-identified males maintain an advantage over women in athletics even after two years of taking feminizing hormones. 
Concerns about the fairness of allowing trans-identified males to compete in women's sports to biologically female athletes have led 21 states to pass laws requiring athletes to compete on teams that correspond to their biological sex: Alabama, Arizona, Arkansas, Florida, Idaho, Indiana, Iowa, Kansas, Kentucky, Louisiana, Mississippi, Montana, North Dakota, Oklahoma, South Carolina, South Dakota, Tennessee, Texas, Utah, West Virginia and Wyoming.
While supporters of the measures view them as essential to ensuring fairness in women's sports, trans activists view them as discriminatory. In an appearance on Fox News' "Tucker Carlson Tonight" last week, Barker vowed to pursue "legal action" in response to the assault.