Candace Cameron Bure Fans Reluctant to Watch Daughter on 'The Voice'
Candace Cameron Bure Fans Reluctant to Watch Daughter on 'The Voice'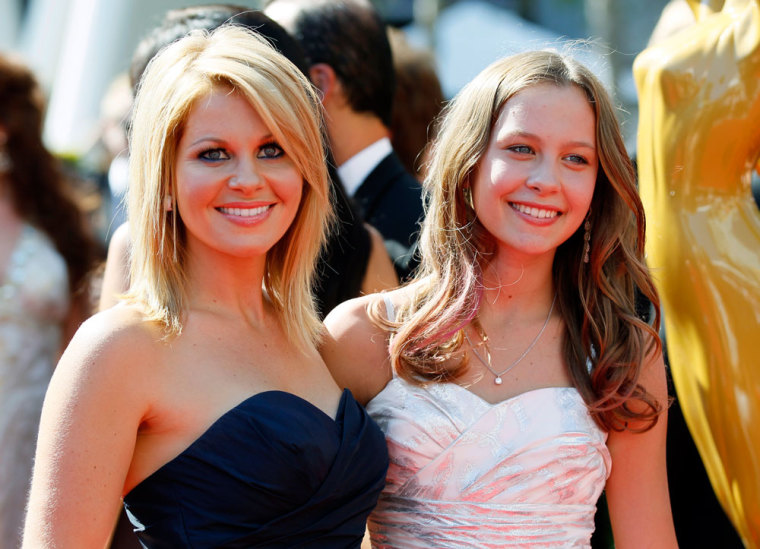 Actress Candace Cameron Bure has confirmed reports that her daughter, Natasha, will be on season 11 of "The Voice," but some of her fans say they refuse to watch because Miley Cyrus will also be on the show.
The "Fuller House" star took to Facebook on Monday to proudly announce that Natasha had auditioned for the show: "It's true! My daughter Natasha Bure auditioned for 'The Voice!' Tune in September 19 to see if she made a team."
Bure, however, probably didn't expect to read the responses that flooded her timeline from fans saying they won't be watching because Miley Cyrus is one of the new celebrity judges.
"I have no interest watching this season with Miley Cyrus as a judge. If you post a clip on your FB I will watch that instead. I pray the best for her," one user responded to Bure's post.
Another said, "I will watch only to see your daughter perform. Really hope she wins. I am not a fan of Miley Cyrus so I probably won't be watching this season at all."
Several commenters echoed those sentiments. A few others, however, said even though they're not fans of the Hannah Montana star, they will watch to support Natasha.
"Honestly, I have never watched the show. Not a huge Miley gone wild fan, but since it looks like good Miley is back! I want to watch," one commenter shared.
Bure regularly posts videos of her daughter singing worship songs in church. But now the 18-year-old is hitting "The Voice" stage where thousands of viewers will see her talent.
Bure, who was on "The Voice" set during blind auditions to support her daughter, according to Us Weekly, was previously asked to confirm if Natasha has auditioned. But at the time she would only reveal that if Natasha were to make it on "The Voice," she would love for her to join either Adam Levine's or Blake Shelton's team.
"I would probably say between Adam and Blake, because the other two judges rotate. So maybe one that is there all the time. But you know, everyone they have on that show is unbelievable. I love watching that show," she told Us Weekly. "Adam's a cutie and so is Blake. They are adorable together."
Natasha first made her singing debut on television during her mother's 40th birthday celebration on "The View." Bure was consumed with tears during the live taping as her favorite band, for King & Country, brought her daughter on stage for a surprise concert.
During the taping the two-time Grammy Award winners for King & Country debuted their new song "Priceless" from their forthcoming movie of the same name. Since the performance was in honor of Bure, Natasha surprised her mom and joined the band on stage to sing the second half.
Bure, who is always emotional about her daughter's talent, just watched and cried. When finished, she ran up on stage and gave her daughter a hug as they cried together.
On Sunday, a post-Olympics sneak preview special of "The Voice" showed singers Miley Cyrus and Alicia Keys making their debut as the newest coaches.
Season 11 of "The Voice." returns to NBC at 8 p.m. ET on Monday, Sept. 19.