Candace Cameron Bure, Raven-Symoné Spar Over Coach-Led Prayer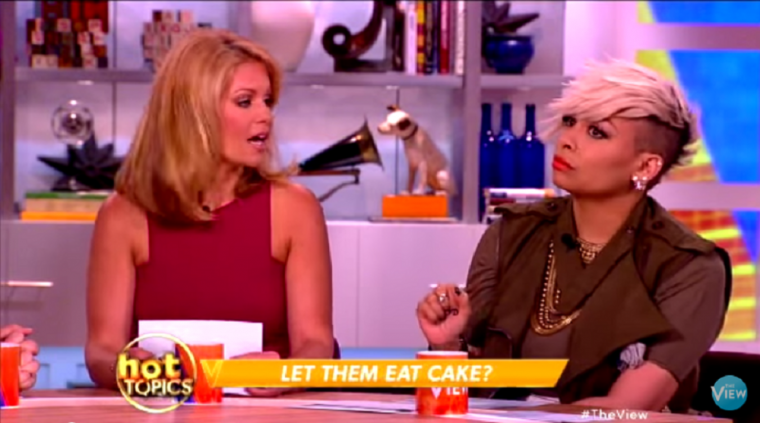 During Monday's episode of ABC's "The View," outspoken Christian Candace Cameron Bure defended a public high school football coach's right to pray with his student-athletes after games, which drew a quick rebuttal from lesbian co-host Raven-Symoné.
The show's "hot topic" over school prayer was in relation to Washington state public high school football coach Joe Kennedy who openly defied an order from the Bremerton School District when he knelt at the 50-yard line to pray after last Friday's game and was joined by his players, and opposing players, even though the district told him it was a violation of federal law.
"The View" co-host Paula Faris asked, "Isn't he violating the federal law that bans prayer in schools?"
"No," Bure asserted, "because our Constitution, separation of church and state, does not mean that we cannot pray publicly. It actually guarantees our free exercise of religion so that, if it is voluntary, we are allowed to pray wherever we would like to."
Symoné responded by asking, "So, why did they take prayer out of the beginning of school and now it is just silence to recognize the other types of [faiths or lack of faith]?"
"I don't know, but I wish they wouldn't have," the "Fuller House" star responded.
The former "Cosby Show" child star shot back saying, "That's not fair to somebody who doesn't pray. ... I shouldn't have to pray."
Bure told Symoné that those who don't want to pray don't have to because prayer is voluntary.
"If people would actually put more effort into prayer than to fight prayer, you would see a whole difference in this country to see the power of prayer," Bure argued, followed by a round of applause from the audience.
Co-host Michelle Collins weighed in saying that the ability to pray at school is why families send their kids to private schools.
"Let me just say one thing. I don't disagree with you, although that is why you have private schools for people of certain religions to go to a Christian school, or whatever your faith is, and then you can have a faith-based education," Collins said.
She then pointed out that, in the case of Kennedy, he didn't force students to join him on the field for prayer.
"I will say that when I first heard this story," Collins said, "I was with Raven, saying it is against the Constitution, against separation of church and state. When I read a little bit more into it — after the games this guy was by himself, closed his eyes and said a prayer that began with 'Lord'… and went into 'Thank you for the blessings of these children being here, and we come in as rivals, leave as brothers.'"
"The message was actually very nice," Collins continued. "He didn't force people to pray with him. I guess, actually an agnostic kid that goes to the school also did. As long as people don't feel left out, that is my one [issue]."
Symoné then quipped that a moment of silence is a better use of time for people of all faiths than just one all-inclusive prayer.
"I don't think this is fair and let me say why. One thing on Twitter said what I kind of am agreeing with. He says, 'Let it be a moment of silence so that people can pray to whoever they pray to so that everyone has their own sense of peace,'" Symoné quoted.
"If you are praying, please do — if that is what you love and that is what you believe in, you should. However, there is a law in this school [district], correct me if I am wrong, where you are not allowed to pray on school grounds — leave, come around, do whatever you need to …"
Bure then asserted that schools need to be hiring more men of faith like Kennedy.
"They need to hire more men like this that are willing to pray for our students, for our athletes, for protection, for safety," Bure said, followed by another crowd applause.
Although at least one Bremerton man would like to see the school district take disciplinary action against Kennedy, the school announced on Monday that the coach will keep his job for the time being, despite his defiance of district orders.
"The district continues to hope that the district and Mr. Kennedy can arrive at common understandings that will ensure that the rights of all community members are honored and the law is respected," a statement from the school district said.