Cannibalism in the End Times? Jim Bakker Says Buy His Food or You'll Be Forced to Eat Human Flesh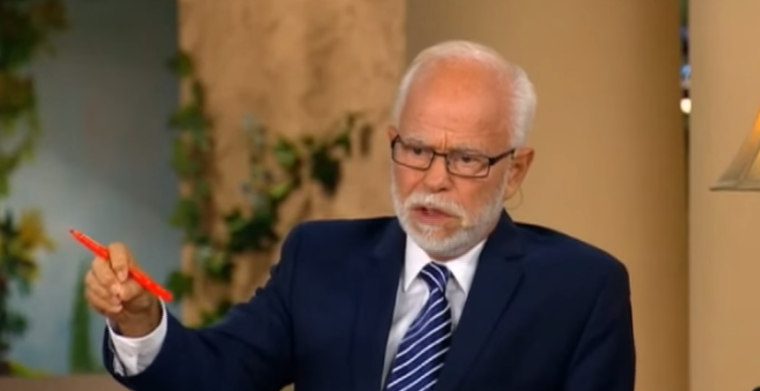 Televangelist Jim Bakker has warned viewers of his program "The Jim Bakker Show," that they'll be forced to eat human flesh during the fast-approaching End Times unless they buy his food buckets.
"The Bible says they're going to eat their arms, the Bible says they're going to eat their babies, then it says they're going to eat their children. That's what people do when they get hungry," said Bakker.
"When you're huddled in a corner with your grandbaby and they're screaming and crying and there's no food — I don't want that blood on my hands."
Bakker further argued that if a person does buy one of his survival food buckets, which purportedly has seven years' worth of meals, that they should not tell their neighbors.
"If you have food, and the gangs know it, they will come for it. Other people, your neighbors, your sweet, sweet neighbors," continued Bakker.
"Don't tell them you got food unless they are part of the team that — your little group of people that you trust. As long as they're being fed, they probably won't turn on you."
During the 1970s and 1980s, Bakker once headed the nationally renowned Praise The Lord Ministries alongside his first wife, Tammy Faye Bakker.
However a series of scandals led to PTL's downfall and eventually landed Bakker in prison for financial wrongdoing.
In 2003, Bakker and his second wife, Lori Graham, started "The Jim Bakker Show" at a studio located in Branson, Missouri.
Bakker's words about cannibalism and the need to buy his survival food buckets come as the facility Bakker uses for his program, named Morningside, hosts a Prophetic Conference.
"Survival Food is getting harder to get and we have finally received three tractor trailer loads of Joseph Storehouse Food for Morningside's own survival supply," reads an ad for the conference at Morningside.
"Whoever attends the conference will be the only partners that will be able to purchase food in bulk from our Old Mill Warehouse for the entire week! This may be [the] last time to get food in bulk for a long time!"