Cardinal Dolan on Pope Francis' God Loving Gay People Comments: 'Jesus Could Have Said That'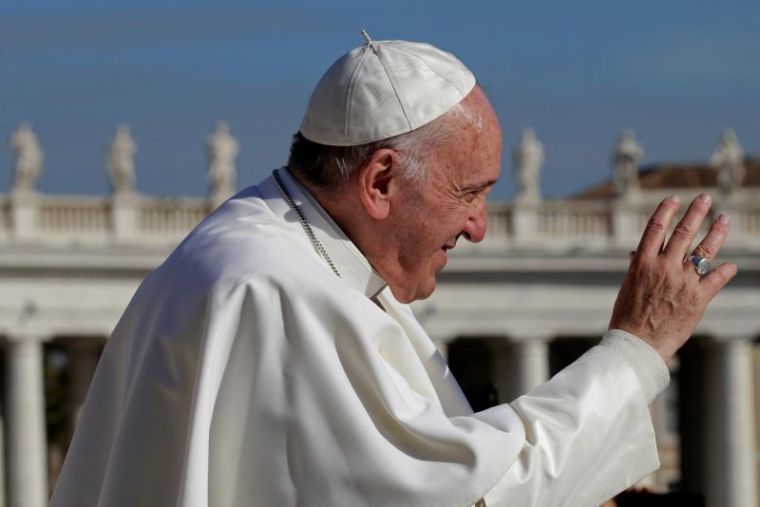 New York Cardinal Timothy Dolan, one of the top conservative Roman Catholic Church leaders in America, mused over Pope Francis' recent comments about God loving gay people by suggesting that Jesus Christ could have said the same thing.
Dolan spoke Tuesday on his commentary show with Carolyn Erstad, director of communications for the Diocese of Brooklyn, about the pontiff's reported remarks to a gay man who had been sexually abused.
Dolan noted that the public has only been given snippets of the conversation Francis had with Juan Carlos Cruz, the sexual abuse survivor in question, though noted that "he's on to something here in reporting what the Holy Father said."
"Keep in mind we got it third hand, so what the pope said to him, he said to the press. So one would want to get a clarification," Dolan positioned.
The cardinal mused that if what Cruz says about his conversation with Francis is true, then it is "beautiful."
"Don't you think that the Holy Father says to this young man, when he says to him, 'By the way, Holy Father, I'm gay,' and he says, 'God loves you and so do I.' Jesus would have said that. That's sort of conservative, traditional, orthodox Catholic teaching, and the Catechism insists on that."
Dolan defended the Catholic position that any sexual expression outside of a marriage between a man and a woman is "contrary to God's purpose." But he added that so is treating anyone, including gay people, with "anything less than dignity and respect."
"That's in the Catechism. So the Holy Father was repeating that," Dolan insisted.
As for the media's focus on Francis suggesting that gay people were made that way by God, Dolan replied: "I've heard, even among professional circles, there's an ongoing debate" over the issue. He added that he doesn't think Francis was necessarily trying to engage in that argument.
Cruz previously told CNN that his conversation with Francis, where he revealed that he is gay, took place in April at the Vatican. He says that the pontiff told him: "You know Juan Carlos, that does not matter. God made you like this. God loves you like this. The Pope loves you like this and you should love yourself and not worry about what people say."
The Vatican has refused to confirm or deny the comments, with spokesman Greg Burke noting that the church does not comment on the pope's private conversations.
While Francis' latest comments have largely been hailed by the LGBT community as inclusive, several evangelicals have suggested that Francis was wrong to make the suggestions that he did.
Albert Mohler, president of Southern Baptist Theological Seminary in Louisville, Kentucky, said Tuesday on his radio show "The Briefing" that Francis' comments amount to a "wink and a nod" that could be very significant.
"When it comes to the Catholic Church, a wink and a nod will be ample permission for many to change their pastoral practice, and for many others to claim this is a doctrinal statement," he noted, accusing Francis of providing more questions than answers in his ministry.
Mohler argued that evangelicals need to "watch these words very carefully," and need to understand "the vital importance of saying the same thing on the record and off the record."
"It makes no moral sense to the Christian worldview to have one moral position in a conversation, and another moral position in terms of official teaching. That would be a matter of confusion, if not intentional confusion. How does one hold two different positions on an issue of such fundamental importance?" he asked, referring to arguments that Francis' personal conversations can be different from his official stance on issues.
He went on to point out that the Catholic Catechism itself makes it clear that homosexuality is a distortion, rather than something natural to be accepted.
Julie Roys, an author, speaker, and freelance journalist, wrote in an op-ed in The Christian Post on Wednesday that Francis' alleged comment on God making someone gay "goes against Scripture and established Christian doctrine."
"This is what happens when compassion is divorced from truth and any hope of transformation. And sadly, it's not just the alleged position of the pope and many in society, but of many evangelicals too. This should not be," Roys asserted.
"I wonder if Christians really believe what the Scripture says. Not only does Scripture proclaim death to those who obey their flesh; it proclaims life to those who obey the Spirit. It does not condemn them to a lifetime of grueling struggle; instead, it proclaims freedom from sin and hope of redemption," she added.
"Though I don't believe that God will make all gays straight, or subscribe to cartoon caricatures of healing ministries that supposedly help people 'pray the gay away,' I do believe in healing and growth. I could not be a Christian and believe otherwise."