Cardinal Timothy Dolan Jokes He Loaned Rihanna Hat for Met Gala, as Catholics Cry 'Sacrilege'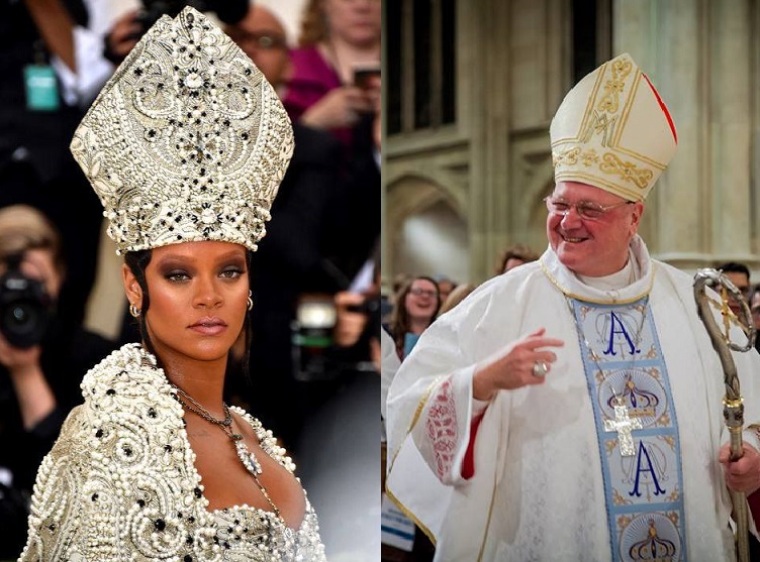 Editor's Note: This article has been updated to note that Dolan was only joking.
Roman Catholic Archdiocese of New York's Cardinal Timothy Dolan joked that he loaned the elaborate headgear worn by popular singer Rihanna at the Catholic-themed 2018 Met Gala on Monday evening.
"The news said she was wearing a tiara," Dolan said in an interview on SiriusXM's The Catholic Channel,  on Tuesday before joking that the miter Rihanna wore at the event belongs to him. "She gave it back to me this morning. ... She was very gracious."
Many news organizations, including an earlier version of this article, reported Dolan had loaned Rihanna the hat, not realizing the remark was in jest. Dolan, who is known for his sense of humor, confirmed with Catholic Herald that he was only joking. 
The theme of the Metropolitan Museum of Art's 2018 Costume Institute exhibit, which celebrated the influence of Catholicism in fashion by featuring Vatican-loaned artwork and vestments, was called "Heavenly Bodies: Fashion and the Catholic Imagination."
Many Catholic critics of how the many celebrities like Rihanna expressed that celebration, however, condemned it as sacrilegious.
"The wearing of crosses/pope garb at the #metgala by people who aren't Christian/Catholic is obviously sacrilegious. Guessing people wearing hijab & caricatures of Muslim clothing wouldn't go over quite as well," tweeted CRTV podcaster and blogger Allie Beth Stuckey.
Dolan, who admitted he was slightly "apprehensive" about the Catholic-themed event which got pre-approval from the church, said event host and Vogue editor, Anna Wintour, had assured him that organizers would seek to limit outrageous fashion choices. He said based on what he saw on Monday, nothing was offensive.
"There were some aspects that looked like kind of a masquerade party, a Halloween party," he said. "I didn't really see anything sacrilegious, I may have seen some things in poor taste, but I didn't detect anybody out to offend the church."
To show how respectful some people who attended the event were, Dolan said: "A number of people came up and spoke about their Catholic upbringing and things they remembered and it was a powerful evening."
In reflecting on the fashion of the Catholic Church, Dolan said it is a reflection of the Catholic imagination which acknowledges God's presence in all of creation.
"The Catholic sensibilities is not something you're taught, it's something you're raised in ... that God's presence, love, grace, mercy lurk everywhere. Everything in this created universe hints at the divine. It's all a metaphor for God. They call that the Catholic imagination or they call it the sacramental imagination. It's almost kind of a sequel to the incarnation ... that if God the son, the eternal word took flesh became part of human creation, all flesh and all creation is canonized and kind of exudes His presence," he said.
"We Catholics know that, so architecture, stained glass windows, smells, flowers, liturgical flowers, liturgical seasons that reflect what's going on in nature ... all these earthly symbols that become mirrors of the divine and we can detect that ... They said even fashion, all these things are of such artistic wonder they lift you up to the beyond."
He acknowledged, however, that some Christian groups like evangelicals disagree with that theology.
"Interesting, theologically our evangelical brothers and sisters would not be [supportive] because remember part of the Protestant Reformation, let's get rid of all this stuff. If you followed Calvin, God is so beyond, God is so transcendent that how dare we believe that creation could reflect him. The Catholics said no problem with creation reflecting the creator," Dolan said.
According to Vogue, guests at the gala were also treated to a rare and on-theme performance by the Sistine Chapel Choir, the world's oldest active choir. The group is made up of boys aged 9 through 13 and adult singers from around the world. The choir often performs underneath Michelangelo's iconic frescos at the Sistine Chapel or in Vatican City's St. Peter's Basilica where the acoustics are said to give the choir its distinctive sound.