Carson Wentz Focusing on AO1 Foundation After Season Ending Injury
Carson Wentz Focusing on AO1 Foundation After Season Ending Injury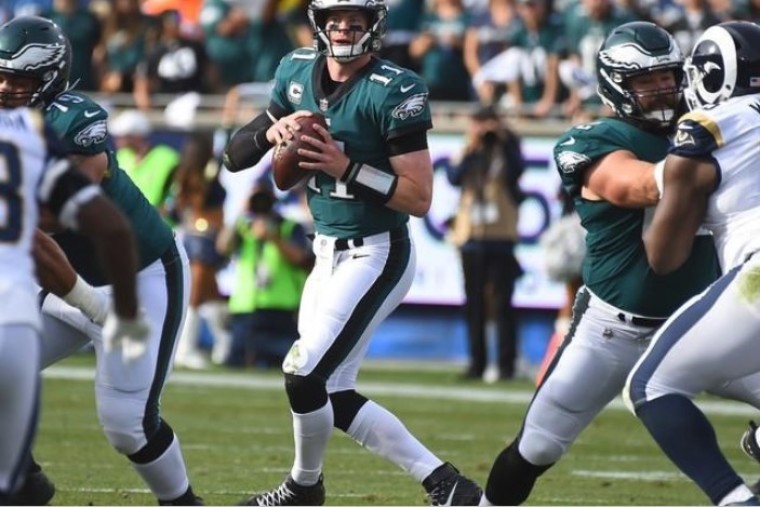 Carson Wentz's knee injury is preventing him from playing for the rest of the season, so the Philadelphia Eagles quarterback is filling time in his schedule by serving others.
While rehabilitating his knee after surgery, Wentz is focusing on his AO1 Foundation's charitable endeavors. This week, the foundation revealed how it changed lives during the holiday season by teaming up with Scheels Sporting Goods and Ronald McDonald House of Philadelphia.
A statement released by the charity detailed how Wentz's foundation was able to bring some joy to people over the holidays by hosting a breakfast and distributing gifts at the Ronald McDonald House which provides housing and comfort for children battling serious illnesses and their families. Over 100 children and their families received gifts and Eagles gear.
Susan Campbell, the executive director of Ronald McDonald House of Philadelphia, spoke about what it meant to partner with Wentz's charity.
"We were excited to partner with AO1 to serve and support the families staying with us over the holidays. Families are traveling to Philadelphia for the best medical treatment for their seriously ill children and are far from home," she said in a statement on the AO1 website.
"The AO1 Foundation sponsored a festive breakfast to kick off the holiday weekend and offered gifts to both the patients and siblings staying with us. The morning brought smiles, comfort, and hope during the most difficult times in our families' lives. We are grateful for the generosity of the foundation and its donors for supporting our mission."
Wentz's AO1 Foundation also took part in an initiative in North Dakota during the Christmas season by distributing $10,000 in gift cards to students in Bismarck and Fargo. According to the website, 98 students were able to use the gift cards to shop at Scheels Sporting Goods.
Wentz's AO1 charity was founded last summer in an effort to spread the love of God, according to the website.
"The Carson Wentz AO1 Foundation was launched in 2017 and its mission is to 'demonstrate the love of God by providing opportunities and support for the less fortunate and those in need,'" the website states.
At the beginning of the 2017–2018 NFL season, Wentz's philanthropic efforts were recognized by the NFL Players Association when he was named the NFLPA Community MVP. During week three of the NFL season, he received the honor after working with Canine Partners for Life to help provide trained service dogs to people with disabilities.
"I am incredibly honored to receive the recognition of NFLPA Community MVP for this week," Wentz said after accepting the honor in September. "My love for dogs and passion for helping those in need recently led me to the folks at Canine Partners for Life. After hearing and seeing the great services these dogs provide to their owners and families, it was an easy decision to partner with them to help make a difference for families in the Philadelphia area."