Catholic and Evangelical Soccer Players Go Down on Knees in Prayer at World Cup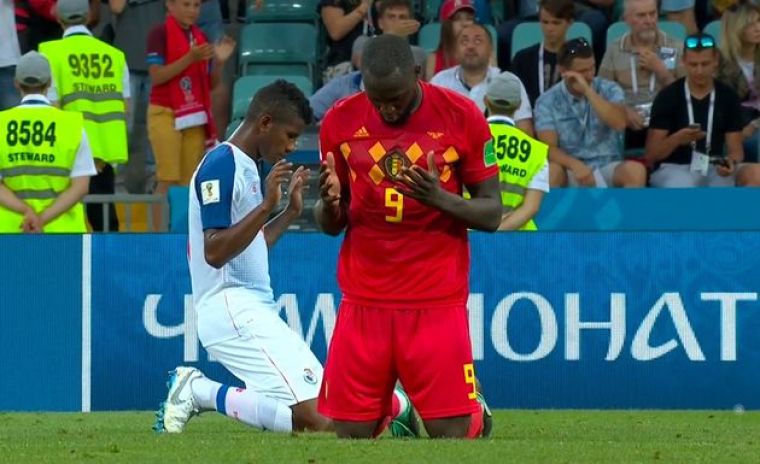 Millions around the world witnessed a rare image on Monday at the 2018 World Cup in Russia, when Belgium player Romelu Lukaku, a Roman Catholic and one of the biggest soccer stars in the world, joined in prayers on the field with his evangelical counterpart from Panama, Fidel Escobar.
Eduardo Soto, the director of communications of the World Youth Day Panama 2019, told ACI Prensa on Tuesday that Escobar is an evangelical, while Lukaku, who is the star striker for Manchester United, one of the biggest clubs in the world, is a Catholic.
At the end of the group match, which Belgium won 3-0, Lukaku and Escobar knelt on the field together to pray. While it is common for players to individually pray, or pray as part of their own team, it is generally rare to see two from opposite teams come together on the field in such a fashion.
A screenshot of the two in prayer was widely circulated around social media.
"Lukaku and Fidel Escobar kneeling and praying at the final whistle was a beautiful moment for many. Both players may represent different religions and had differing results, yet they found peace in what they were doing," wrote Oscar Flex - Kibet, a digital content creator, on Twitter.
"Love for the game, God above all," he added.
Lukaku, who scored two goals in the game against Panama, has spoken out about his Christian faith on a number of occasions, and has shared his devotion to God on Instagram.
In January, the player said that he was considering legal action after the owner of his former English club Everton suggested that he used "voodoo" messages to help him decide to join Manchester United.
A spokesperson for the star told BBC Sports at the time: "Romelu's decision had nothing to do with voodoo. He distances himself from these beliefs and this statement and will now see what judicial steps can be taken in relation to them."
The spokesperson added, "Romelu is very Catholic and voodoo is not part of his life or his beliefs."
Lukaku opened up more about his upbringing on Monday in an article posted on The Players Tribune, recalling that as a child he had nothing but bread and milk to eat.
"[My mother] was mixing water in with the milk. We didn't have enough money to make it last the whole week. We were broke. Not just poor, but broke," he recalled.
"My father had been a pro footballer, but he was at the end of his career and the money was all gone. The first thing to go was the cable TV. No more football. No more Match of the Day. No signal. Then I'd come home at night and the lights would be shut off. No electricity for two, three weeks at a time."
He explained how the struggles fostered in him a conviction to work hard and improve his family's situation.
"I didn't say a word. I didn't want her to stress. I just ate my lunch. But I swear to God, I made a promise to myself that day. It was like somebody snapped their fingers and woke me up. I knew exactly what I had to do, and what I was going to do," he said.