Catholic Association Condemns Pelosi's Assertion That Abortion Is 'Sacred Ground'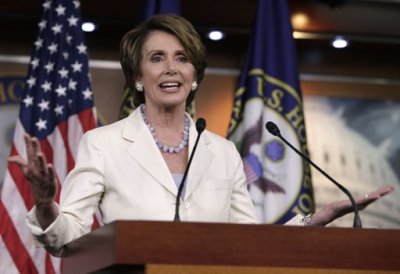 The Catholic Association quickly condemned House Minority Leader Nancy Pelosi's (D-Calif.), opposition to a House bill that would place a federal ban on late-term abortions after 20 weeks gestation, following comments she made in support of abortion during her weekly news briefing with members of the press on Thursday.
John McCormack, a reporter for the conservative-leaning Weekly Standard, asked Pelosi to comment on Rep. Trent Franks' (R-Ariz.), "Pain-Capable Unborn Child Protection Act" that passed the House Judiciary committee earlier this month, following the Philadelphia murder trial of abortionist Kermit Gosnell, whose late-term abortion facility revealed what his defense attorney Jack McMahon and pro-life advocates claim are standard practices in the late-term abortion industry in the United States.
McCormack asked Pelosi about her Republican colleagues' stance that "there really isn't much of a moral difference between what someone like Gosnell did to infants born at 23, 24, 25 weeks into pregnancy, and what can happen at a clinic down the road in Maryland, where a doctor says that he'll perform an elective abortions 28 weeks into pregnancy."
He asked, "So the question I have for you is what is the moral difference between what Gosnell did to a baby born alive at 23 weeks and aborting her moments before birth?"
After chastising McCormack for asking a question about the House bill, Pelosi said her colleagues who seek to limit late-term abortions are "reprehensible" for "disrespecting the judgment a woman makes about her reproductive health."
The minority leader added that she is a "practicing and respectful Catholic" but that abortion, in her opinion, is "sacred ground" and it "shouldn't have anything to do with politics."
Pelosi falsely accused the bill of banning all abortions in the U.S., including first trimester abortions. "It would make it a federal law that there would be no abortion in our country," she said. Likewise, she avoided answering the reporter's question about the "moral difference between 26 weeks elective abortion and the killing of that same infant born alive."
Immediately following Pelosi's remarks on abortion, Maureen Ferguson, senior policy advisor for The Catholic Association, issued a response that was shared with The Christian Post.
"After witnessing firsthand the atrocious human rights abuses taking place inside America's late-term abortion clinics, it is amazing that this did not touch Nancy Pelosi's heart. What we learned from the Gosnell trial, and what we understand is going on inside other clinics, is not only human rights abuse, but it also puts women in harm's way."
Ferguson continues, "The only difference between the Gosnell 'after-birth' abortions and legal late-term abortions is the location of the baby at the time of death. And contrary to Pelosi's extreme claim that the Franks' bill is 'disrespectful' to women, the majority of women are opposed to late-term abortions, according to a recent Gallup poll."
Speaking about his bill last week, Rep. Franks noted that "the trial of Gosnell exposed late-term abortions for what they really are: relocated infanticide. I pray we use this as a 'teachable moment,' in the words of President Obama, and agree that, at the very least, we are better than dismembering babies who can feel every excruciating moment. As a nation we find ourselves at a point at which we don't offer unborn children even the most basic protections – even protections we extend to animals and property."