Catholic Nun, Schoolgirls Arrested in India on False Conversion Complaint by Hindu Radicals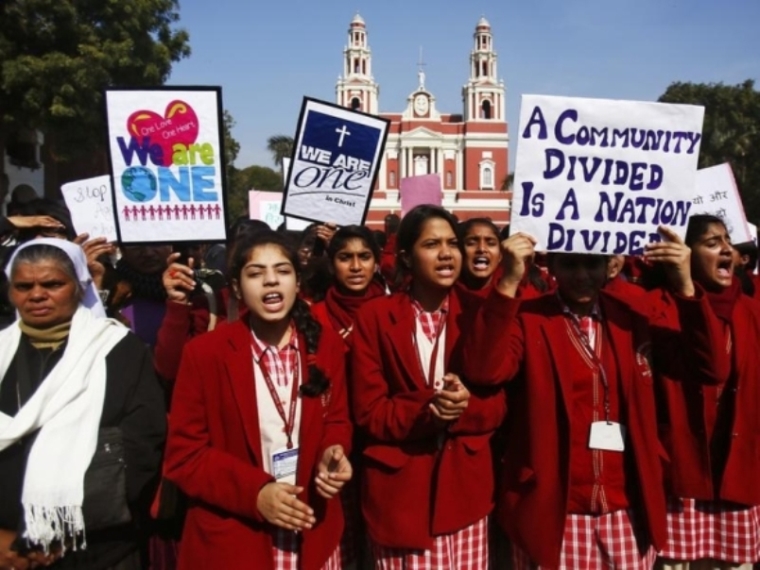 A Catholic nun and four tribal girls were arrested in the Indian state of Madhya Pradesh after authorities received a complaint of forced conversion from a local hardline Hindu activist.
The troubling trend of police officials in the Madhya Pradesh state detaining Christians on grounds that they could be encouraging Hindu children to convert to Christianity has continued this week.
The Asia-based Catholic news outlet ucanews.com reports that a Catholic nun named Sister Beena Joseph and four girls traveling with her by train were detained by railway police at the station in Satna on Tuesday.
Joseph and the girls were detained for 12 hours after Hindu activist associated with Bajrang Dal, a Hindu organization that stands in opposition to Christian ministries, filed a complaint with authorities, a local police officer told ucanews.com.
The complaint alleged that the nun was taking the tribal girls to be converted to Christianity. The news site states that girls traveling with Joseph were also Catholics and were on their way to study at a church-operated school in the state capital of Bhopal.
According to a state law, conversion away from Hinduism that is done through force, allurement, appeasement or fraud is punishable with jail time or a fine.
Joseph, who is associated with the Carmelite Sisters of St. Teresa congregation, told ucanews.com that she and the girls were stopped about 280 miles short of their destination. She was told by police that they needed to be interrogated because of the conversion complaints.
Joseph explained that after being interrogated and held for 12 hours, she and the girls were released around midnight the next day.
The detention of Joseph and the Catholic girls comes after railway police detained a group of 60 Christian children who were being escorted by nine chaperones to a Bible camp in Madhya Pradesh on May 21. On the next day, 11 more children and two chaperones escorting them to the camp were also detained.
The chaperones were arrested on charges that they were trying to convert Hindu children to Christianity. The police relied on the fact that the children's parents are registered as Hindu.
The New Indian Express reports that the parents of the children detained on May 21 have rejected the claim that the chaperones were trying to convert their children because they are already Christians.
However, authorities claim the parents did not follow the legal process to officially change their religion to Christianity. Low caste Indians often face giant hurdles and obstacles in their attempts to legally change their religion, Crux reports.
The June 13 arrest of Sister Joseph and girls marked the third time within a month where traveling Christians have been arrested by authorities in the state. However, Shibu Thomas, the founder of the advocacy group Persecution Relief, told ucanews.com that there have been as many as 80 similar incidents that have taken place in the Madhya Pradesh state.
"We are frightened, we cannot walk freely, we cannot travel freely, we cannot speak our faith freely," Daniel John, a member of the All India Catholic Union, told the website.
As the state law considers conversion through force or allurement to be illegal, John explained that things such as a sermon, providing education or health care can be considered allurement under the law.
India, led by the Hindu nationalist Bharatiya Janata Party, ranks as the 15th worst nation in the world when it comes to the persecution of Christians, according to Open Doors USA's 2017 World Watch List.