'We are ready to worship!': CBS deletes tweet promoting 'Unholy' Grammys number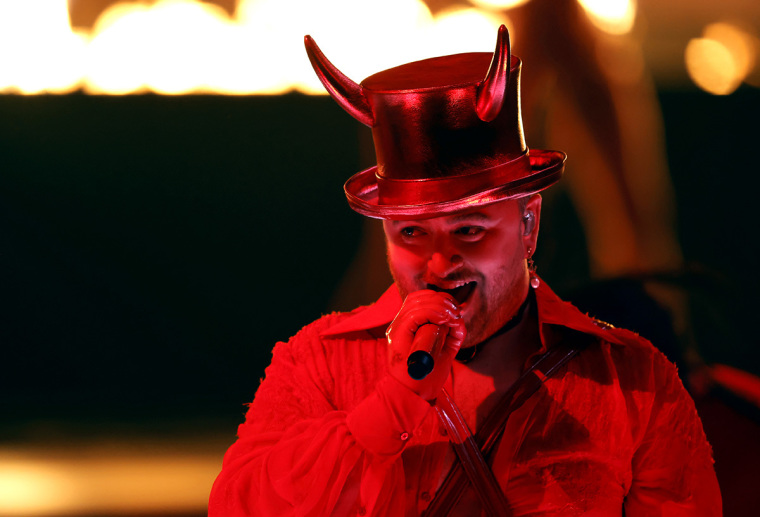 What or whom, exactly, was being worshiped during the 65th annual Grammy Awards?
CBS, which broadcast the awards show Sunday night, posted and then subsequently deleted a tweet that promoted a controversial performance of the hit song "Unholy" by artists Sam Smith and Kim Petras.
Ahead of the performance at the Crypto.com Arena in Los Angeles, Smith tweeted an image of himself wearing a top hat with devil horns and the caption, "This is going to be SPECIAL," to which CBS' verified account replied, "...you can say that again. We are ready to worship!"
Moments later, Smith and Petras, who became the first nonbinary-identified and trans-identified artists, respectively, to win a Grammy, delivered a demonically-inspired performance in which Smith, at one point, donned the top hat with devil horns while dancers gyrated around him while wearing grotesque face masks.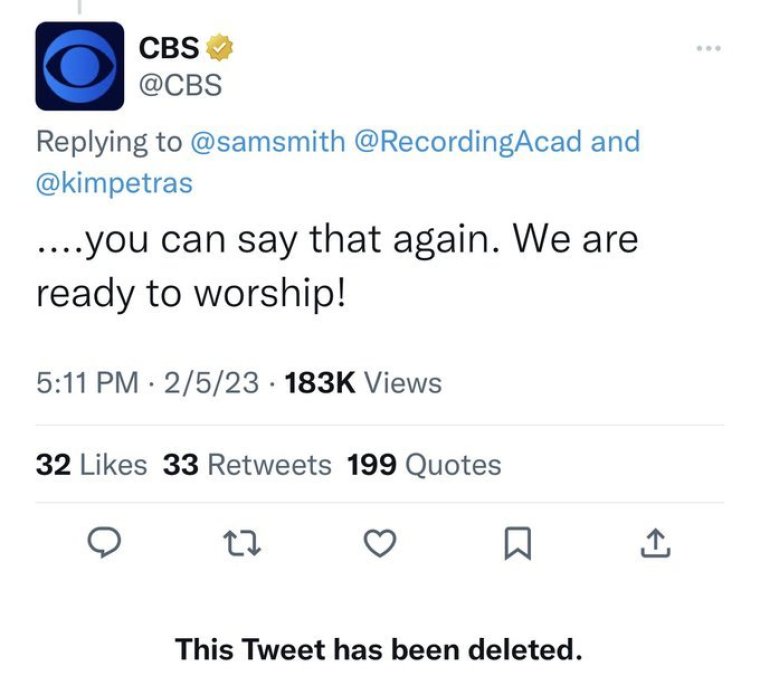 Petras sang from inside a cage as flames roared behind her and performers wearing devilish headgear stalked around the locked cage door.
By Monday evening, the tweet was marked as deleted by the author. 
It's unclear when and why CBS decided to take down the tweet. A request for comment Tuesday from The Christian Post was not returned.
In response, conservative Christian watchdog group Media Research Center tweeted, "Did CBS just admit it worships Satan?"
Viewers also took exception to the segment after a "sponsored by Pfizer" tag was shown on air following the performance.
Pfizer has since stated the sponsorship was for the Grammys broadcast as a whole and not for that specific segment.
In response, the American Family Association launched a petition calling for supporters to urge the company to "distance itself from controversial programs that have a history of offending decency and disrespecting people of faith."
"Pfizer's sponsorship and ads suggest the company wants your body to be healthy but has no concern about souls celebrating hell," the petition stated.
Ratings for the Grammys bounced back to a three-year high with over 12.55 million viewers, according to Nielsen ratings reported Monday. 
While it's a 31% rebound from the audience who watched the 2022 awards, it's still sharply down from 2020, the last pre-pandemic show, according to The Hollywood Reporter.
After the show, Petra told reporters backstage the "Unholy" performance was inspired by "not being able to choose religion."
"I think a lot of people, honestly, have kind of labeled what I stand for and what Sam stands for as religiously not cool, and I personally grew up wondering about religion and wanting to be a part of it but slowly realizing it didn't want me to be a part of it," she said. 
"So it's a take on not being able to choose religion. And not being able to live the way that people might want you to live because, as a trans person, I'm already not kind of wanted in religion. So we were doing a take on that, and I was kind of hellkeeper Kim."
The duo's song reached No. 1 on the Billboard Hot 100 last October.