Devil-horned Sam Smith, 'hellkeeper' Kim Petras' satanic 'Unholy' performance outrages viewers
'Mocking Christianity;' 'Brought to you by Pfizer'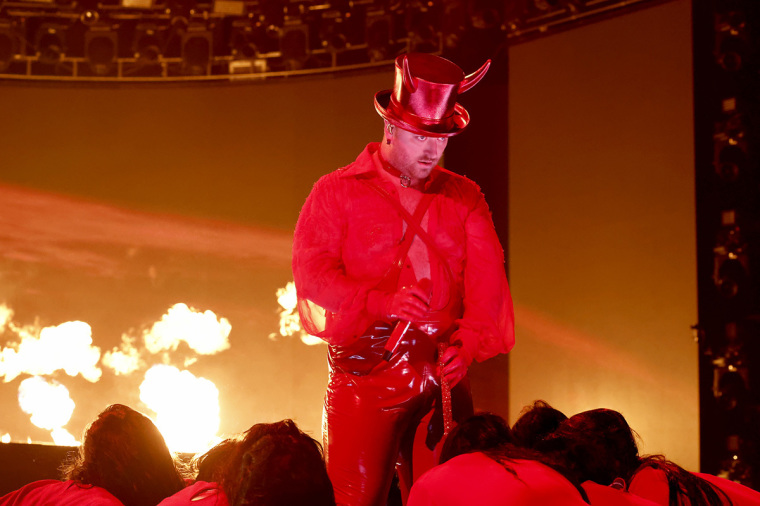 The music industry's biggest night took an "Unholy" turn Sunday after Kim Petras became the first trans-identified artist to win a Grammy and delivered a dark performance of the hit song.
Sam Smith joined Petras for a Hades-inspired performance in which, at one point, he donned a top hat with devil horns as dancers gyrated around him while Petras sang from inside a cage as flames roared behind.
Clad in all-red leather, Smith was flanked by dancing demon-looking figures as Petras was locked in the cage behind chains as several more sinister figures wearing satanic headgear stood guard outside.
The performance highlighted what was a historic night for the Grammys. After winning four Grammys, including record of the year in 2015, Smith became the first artist who identifies as non-binary to win Best Pop Duo/Group Performance, while first-time nominee Petras won the first award for a trans-identified artist.
The duo were introduced by Madonna, who has her own legacy of controversy at the Grammys and who last month sparked outrage after posing for a Vanity Fair cover that some called "blasphemous" for making a mockery of the Last Supper. 
Calling Smith and Petras "two incredibly talented artists" who were "forging a new path and taking the heat for all of it," the 64-year-old Madonna applauded the pair.
"You guys need to know ― all you troublemakers out there ― you need to know that your fearlessness does not go unnoticed," she said. "You are seen, you are heard and, most of all, you are appreciated."
Upon winning the Grammy with Smith, Petras thanked Madonna during his acceptance speech earlier in the night.
At one point in the song, Petras references the troubled Balenciaga brand: "Mmm, daddy, daddy, if you want it, drop the add'y (yuh)/ Give me love, give me Fendi, my Balenciaga daddy."
Last fall, Balenciaga came under fire for an ad campaign that featured disturbing images of young girls holding handbags shaped like teddy bears in fishnet tops and leather harnesses.
After the show, Petra told reporters backstage the performance was inspired by "not being able to choose religion."
"I think a lot of people, honestly, have kind of labeled what I stand for and what Sam stands for as religiously not cool, and I personally grew up wondering about religion and wanting to be a part of it but slowly realizing it didn't want me to be a part of it," she said. 
"So it's a take on not being able to choose religion. And not being able to live the way that people might want you to live because, as a trans person, I'm already not kind of wanted in religion. So we were doing a take on that, and I was kind of hellkeeper Kim."
The duo's song reached No. 1 on the Billboard Hot 100 last October.
Unsurprisingly, Smith and Petras' performance stirred controversy on social media, where some Christians and conservatives were quick to deem the display as satanic.
Becker News CEO Kyle Becker tweeted: "Diabolical vibes at the #Grammys as it descends into satanic themes with the song "Unholy" performed by a debauched gay man. The WEF overlords at Davos were surely pleased by this disgusting display."
Commentator Robby Starbuck also weighed in: "People like Sam Smith who love to mock Christianity and use satanic themes always think they're super edgy artists by doing it. In reality it's not edgy. It's boring, vile, rehashed shock tactics that Hollywood seals clap for because they're evil and stupid."
Some viewers also marked the show's Pfizer sponsorship: "Grammys openly celebrating Satan (Sam Smith singing 'Unholy,' brought to you by Pfizer all while Jill Biden is handing out song of the year. It's a satanic cult. If this doesn't show people I  don't know what will. It's blatantly disgusting! Stop giving the #GRAMMYs the ratings."
Host Trevor Noah even took a fake "phone call" assuring his mother that Smith's performance "wasn't the actual devil" as Jennifer Lopez and Ben Affleck looked on.
While ratings for this year's broacast were not available as of Monday morning, it's unclear whether the awards show topped its dismal 2021 and slightly less dismal 2022 showings.
Last year, the Grammy Awards on CBS returned to a fully in-person show but saw only a slight bump up in viewers, compared with the Grammys' 2021 partly-virtual presentation, which marked a record low in viewership, according to Variety.