Carrie Underwood 'So Honored and Blessed' Over Grammy for 'Something in the Water' Win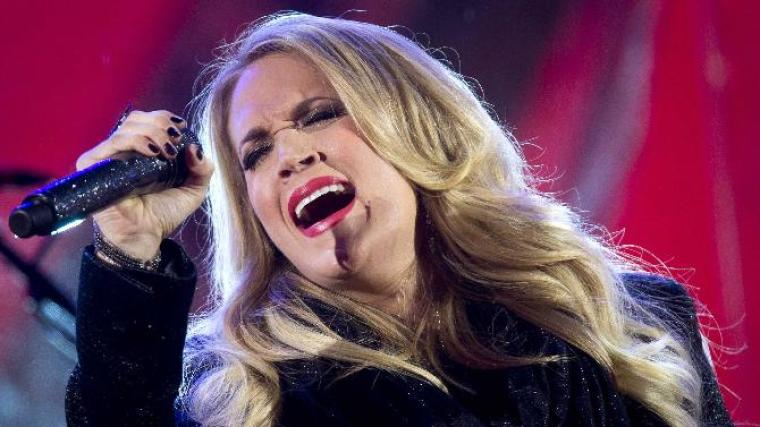 Carrie Underwood thanked fans after earning her seventh Grammy Award with her faith-filled hit song "Something in the Water" on Sunday night.
Although the heavily pregnant singer was unable to attend the awards show in Los Angeles last night, Underwood took to Twitter to say she was "so blessed" to have the Best Country Solo Performance honor.
"I WON A GRAMMY! Watching the telecast now online right now & I'm so happy! Thank you to @TheGrammys and my incredible fans! So amazing," the 31-year-old singer wrote. "I'm seriously so happy that 'Something in the Water' won a Grammy. This song means so much to me… I feel so honored and blessed!"
Underwood beat out Eric Church, Hunter Hayes, Miranda Lambert and Keith Urban in the Best Country Solo Performance category. The singer was also nominated for the Best Country Duo/Group Performance alongside Lambert on the song "Somethin' Bad." However, Underwood previously announced she would not be attending the 57th Annual Grammy Awards due to her pregnancy.
"I wish I would go to the Grammys, but travel is kind of out for me at this point," the singer told E News. "It's tempting, but I can't fly that far away this late in my pregnancy. I'll be in my pajamas watching it from the comfort of my couch."
Meanwhile, "Something in the Water" has not only earned Underwood another Grammy Award, but has also become the singer's longest-running No. 1 song to date after seven weeks at the top. Today, "Something in the Water" remains among the top ten Hot Country Songs on Billboard.
Laden with Christian themes including conversion and baptism, Underwood has referred to the track as a "joyous, uplifting song." Also, in response to criticism of songs such as "Something in the Water" as well as her first single, "Jesus Take the Wheel," Underwood defended faith being the focus of her music.
"Country music is different," the singer told Glamour magazine last year. "You have that Bible Belt-ness about it. I'm not the first person to sing about God, Jesus or faith [or] any of that, and I won't be the last. And it won't be the last for me, either. If you don't like it, change the channel."