Cedarville University students spread the spirit of revival at other college campuses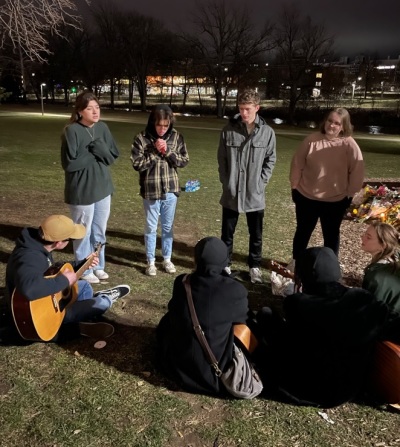 Inspired by the revival worship at their campus, scores of students from Cedarville University in Ohio traveled to campuses across the region to proclaim the Gospel.
Last week, following a Tuesday evening gathering of worship and prayer, students went to various college campuses to evangelize after being encouraged to do so by Cedarville University President Thomas White.
Gabriel Cherry is a Cedarville student who attended the evening service. He helped organize an outreach trip to Michigan State University in East Lansing last Wednesday.
In an interview with The Christian Post, Cherry said a friend felt especially compelled to go to MSU as that campus is grieving the aftermath of a mass shooting earlier this month that left three students dead.
"We talked about it for a few minutes and felt convicted that we needed to find a team and go to MSU to love on a campus that was hurting. After all, what's the point of brokenness and darkness if it is not for the light to shine through?" said Cherry.
"Over the next 14 hours, the Lord provided us with a 15-passenger van, a place to spend the night, a contact on campus at MSU, and 14 people willing to make the trip. It was clear that this was what we had to do."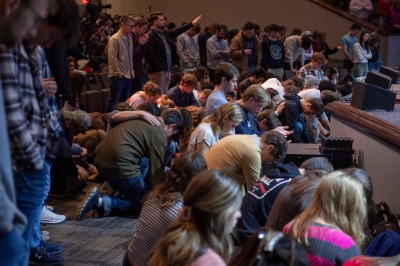 Cherry said six of the 14 who went on the trip were individuals he didn't know personally. The attendees had to go around the van to share their names after they left.
The group left for MSU around 2:30 p.m. on Wednesday afternoon, arriving a few hours later as the campus community held a candlelight vigil in memory of those lost.
"We met up with our contact on campus, who told us what was going on, and then we just started praying for the campus and walking up to people asking how they were doing. There were 18 people who we were able to pray for and get their names, who heard the Gospel in some way," Cherry told CP.
"There were many sobering conversations that we had with students who were going through an unimaginable pain, but we were able to pray for them and encourage them in an eternal hope."
Describing the trip as "incredible," Cherry noted that while "no salvation decisions were made on the spot, seeds were planted, and there was an overwhelming sense of gratitude that we were there just to love the students and community."
"God's name was being lifted up in the midst of darkness, and the students were able to be encouraged, not by our efforts, but by the provision of the Lord," said Cherry.
"We understand that the ministry at MSU is not over. Our trip was one instance where we were able to spread light on the campus, but it did not 'fix' everything. The names of the students are still being prayed for, and additional teams are planning to go to MSU to continue what we started."
Cherry believes the trip to MSU was "a growing and humbling experience to see the Lord provide," saying that God "showed up in every way, including providing someone willing to open up their house that no one on the team had ever met."
"It is sobering to return to campus after an experience like this, but I am excited to continue to pray for the campus, deepen the relationships that were created through this trip, and see what the Holy Spirit has for us next," he added.
Christianna G. Galkin, another Cedarville student, went with friends to Ohio State University in Columbus, where they partnered with Rock City Church for worship.
From there, they split off into small groups who went about OSU to evangelize and pray for people they encountered. 
"I personally interacted with several students and young professionals who were interested in sharing their story and hearing ours," Galkin told CP. 
"Many of those people allowed us to pray for tangible needs, such as exams the next morning or their search for a job or continued success in their field. We were also able to pray for their intangible needs, like their search for significance and community."
Galkin "left encouraged that some were willing to listen about who Jesus is and engage in conversations about their own faith traditions."
"I am praying that the Christian community at OSU would continue serving their community well with truth and love. I hope that by partnering with them in prayer and community outreach, we would all spend more time in prayer and intentional relationship-building," Galkin continued.  
"I am praying that the individuals we met at OSU would continue to search for the truth about God and His Word and that the Lord would bring them to Himself through future interaction with the message of the Bible. I am praying that, in hearing people openly talk about spiritual topics, students would consider their own spiritual state and seek help."
In Christian tradition, revivals are gatherings where individuals come together for prayer and worship, with many seeking forgiveness, confession and sometimes conversion to Christianity.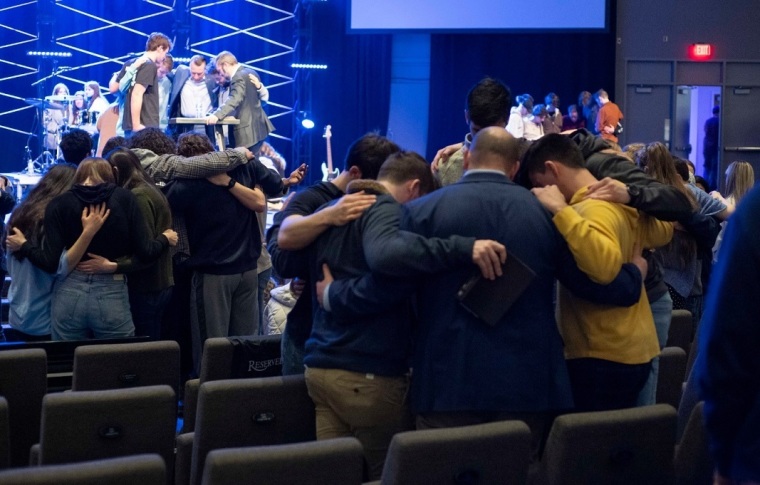 Earlier this month, the revival at Asbury University of Wilmore, Kentucky, appeared to spread to Cedarville. Cedarville President White described it to CP in an earlier interview as "a special outpouring and sensing of the presence of the Lord."
According to White, the outpouring began during Cedarville's morning chapel service on Feb. 13, when approximately 1,000 of the 3,000 student attendees felt inspired to stay after the service ended to continue worshipping.
After that, multiple services were held at the chapel, with hundreds of attendees. One service began at 8 p.m., technically concluding at 10 p.m., but continued for about another hour as students continued praying and worshipping.
Regarding parallels between Asbury and Cedarville, White told CP that the outpouring at his university has not "been continuous" like at Asbury, adding that he felt God was "not working here the same way that He is working at Asbury."
"He works in different places in different ways, and that's great," White continued. "We're just happy He's working all across the country."  
Were you there? Use #MyRevivalStory to share your story.