Centuries of history blend seamlessly in Florida's St. Augustine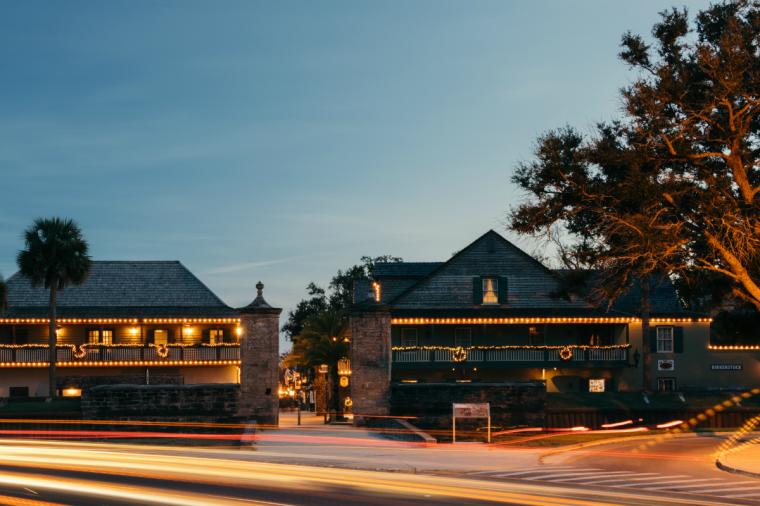 I knew the city in Florida that claims to be America's oldest city had history. I just didn't realize how much until I visited.
Despite all the history, the claim by St. Augustine comes with an asterisk. That's because San Juan, the capital of Puerto Rico, is actually older. On the other hand, Puerto Rico isn't a state (at least not yet). Regardless of which city is actually the oldest, St. Augustine is ancient by American standards.
Spanish explorer Pedro Menéndez de Avilés founded the present-day city on the northeast Florida coast in 1565 — over 40 years before the English settlement at Jamestown — though his more famous predecessor Juan Ponce de León came ashore in 1513 to claim what he called La Florida for Spain.
Spain's flag would twice fly above St. Augustine; once from 1565 to 1763 and again from 1784 until U.S. acquisition of Florida in 1821. Between the two Spanish eras, the city was the capital of the British colony East Florida. This period is interesting — and, sadly, overlooked in the annals of history — as the colony remained loyal to George III during the American Revolution.
Perhaps most impressively, everything from Spanish and British colonial heritage to Gilded Age hotels blends together rather seamlessly, making St. Augustine a nice, family-friendly destination. And if you visit before February you can see the city's incredible Christmas lights, which I'm told number more than 3 million.
What to see
Roman Catholics will be interested in the local religious history, as the first parish was established here. Unlike the English colonies and even other Spanish colonies, which were driven by commercial interests, the church dominated Spanish-era St. Augustine from the beginning, when converting the indigenous population was arguably job number one.
To get a better understanding of this part of history I visited Government House, which today serves as a museum after centuries of use as an official residence of colonial governors and then a courthouse and post office. Here I explored "First Colony: Our Spanish Origins," a free exhibit explaining the history of St. Augustine through the end of the first Spanish period in 1763.
Government House overlooks the Plaza de la Constitucion. The square-cum-park has been at the center of St. Augustine since the late 16th century and takes its name from the short-lived Spanish constitution of 1812, which itself is commemorated by an obelisk that is believed to be the last surviving monument of its kind anywhere in the former Spanish colonial empire.
Flanking the plaza is the Cathedral Basilica of St. Augustine, which traces its lineage as the country's first Roman Catholic parish to 1565. The present church, which was elevated to the status of a cathedral when the Diocese of St. Augustine was created in 1870, is best explored through the daily behind-the-scenes tour.
Directly opposite the Roman Catholic cathedral is Trinity Episcopal Parish, Florida's oldest extant Protestant congregation. Most of what you see today is from a reconstruction in 1902, which was done in the gothicky style. Only the spire and north transept date to the original circa 1830 edifice.
St. Augustine's big draw is its Spanish fort, the Castillo de San Marcos. Built in the late 17th century and under the care of the National Park Service, the remarkably well-preserved fort overlooks Matanzas Bay. Besides historical interpreters, who are authentically dressed as Spanish soldiers from the 1740s, programming and other special events include musket firings, artillery demonstrations, and even the occasional reenactment. (Fort Matanzas National Monument, another Spanish fort, is nearby but visiting can be difficult as getting there requires you to take a ferry.)
Then there is the Fountain of Youth Archeological Park, which admittedly gives off the tourist trap kitsch vibe. It's still worth visiting, if only because purportedly this is where Ponce de León landed in search of the fountain of youth and Menéndez de Avilés established the first settlement of St. Augustine.
I would be remiss if I didn't mention the legacy of St. Augustine's Gilded Age.
Flagler College, which reminds a visitor of a small liberal arts college in New England, is located in the heart of downtown with the circa 1880 former Ponce de León Hotel serving as its main building.
The old hotel, an architectural masterpiece, was the passion of railroad baron and oil tycoon Henry Flagler, who not only revived St. Augustine but developed the entire east coast of Florida, putting the state in a position to become what it is today. Guided tours from students occur twice a day.
If you have time, the Lightner Museum, which occupies part of another former Flagler hotel, and Memorial Presbyterian Church, where Flagler is buried, are also interesting to visit.
Where to stay and eat 
I stayed three nights at Casa Monica Resort & Spa, which despite its name really isn't a resort as it is located in downtown St. Augustine. Even so the location — kitty-corner from Flagler College — is perfect and within walking distance of everything.
The hotel, part of Marriott's Autograph Collection, also dates to the Gilded Age when wealthy snowbirds from New York City and other cities "up north," as locals call the northern states, wintered here. After decades of use as the county courthouse, it reopened as a hotel in 1999.
The exterior architecture, a blend of the Moorish and Spanish revival styles, is fantastically eccentric. I really wanted to like the hotel, but inconsistent service and inattentive management were too much to overlook. It failed to deliver both the consistency one expects with Marriott and the expectations that come with a four-diamond rating from AAA.
You can't go wrong eating at either Meehan's Irish Pub & Seafood House or the Raintree Restaurant. Each restaurant has a menu with something for everyone, including locally sourced seafood.
How to get there
I flew into Jacksonville, which is about 50 miles away by car. St. Augustine's airport has flights, but commercial service is extremely limited compared to the extensive service to and from Jacksonville.
You could rent a car, but parking in St. Augustine can be an inconvenience. Uber is best and the one-way charge ranged between $50 and $65, depending on traffic and demand.
Spires and Crosses, a travel column exclusive to The Christian Post, is published every week. Follow @dennislennox on Twitter and Instagram.
Dennis Lennox writes about travel, politics and religious affairs. He has been published in the Financial Times, Independent, The Detroit News, Toronto Sun and other publications. Follow
@dennislennox
on Twitter.