Chaplain Accused of Lesbian Soldier Discrimination Should Be Charged With Dereliction of Duty: Army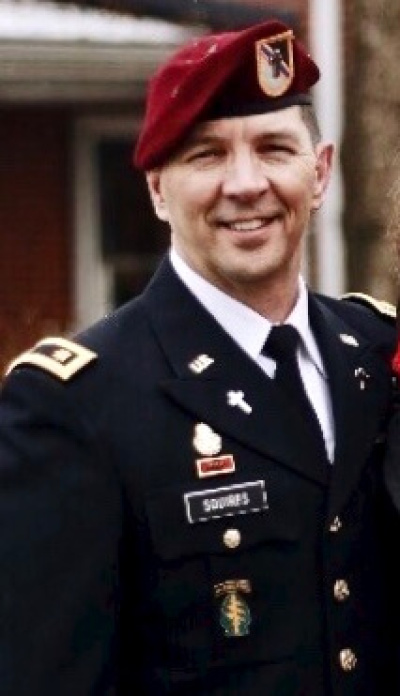 Southern Baptist Army Chaplain Scott Squires should be charged with "dereliction of duty" for rescheduling a lesbian marriage retreat, the U.S. Army has recommended.
First Liberty Institute, which is defending Squires in the case, said that it received the new charges by the Army investigator last week.
"The United States Army, acting under the command of Major General Sonntag, is threatening to punish one of its chaplains because he followed the rules," stated Mike Berry, Deputy General Counsel and Director of Military Affairs to First Liberty.
"The Army, or Congress, must hold Major General Sonntag accountable for allowing this aggressive anti-religious hostility against its military chaplains to occur under his command."
Squires is being investigated for allegedly discriminating against a lesbian soldier earlier this year, for telling her "that his religious denomination did not recognize same-sex unions and since he was the person facilitating this Strong Bonds Retreat, she and her wife could not participate."
The chaplain insists that he did not tell the soldier that she could not participate in the retreat with her wife, however, but that he conveyed "that it was full and that he would ensure that she was informed of the timing of the next strong bonds event and ensure that the facilitator could perform services for [her and her wife.]"
A decision was later made to allow the lesbian couple to sign up for the retreat and have another chaplain host it. The event had to be rescheduled for February 23-25, however, as that chaplain was not available earlier in the month.
First Liberty Institute points out that Squires was following Department of Defense regulations that require chaplains to respect their endorsers' rules and religious tenets, in this case the North American Mission Board of the Southern Baptist Convention.
If the chaplain is court martialed and found guilty of dereliction of duty, he could end up in military prison for up to six months.
"I simply did what I'm required to do under Army regulations and my endorser's rules," Squires said. "I am shocked that I would even be investigated, let alone threatened with punishment, for following the rules."
Berry called on Sonntag to "immediately reject this investigation, if any chaplain under his command is to have the confidence that he or she will be protected when following military policy."
"No chaplain should face the specter of a court martial and military prison for following the rules of their faith and the Army," he added.
Georgia Republican Congressman Doug Collins, who also serves as a chaplain in the Air Force reserves, said in a Monday statement that the case threatens the religious freedom of all U.S. military chaplains. 
"Americans' right to freedom of conscience is Constitutional and non-negotiable. With that in view, the law requires each chaplain to fulfill their duties without violating their conscience or the tenets of the specific faith-group that endorses their chaplaincy. Unfortunately, Chaplain Scott Squires is being subjected to a meandering investigation that could set a precedent for stripping all chaplains of their fundamental legal protections," he said in a press release. 
Back in April, Berry told The Christian Post in a statement that "Squires should not have his career ruined for following the rules of both his faith and the Army."
"Federal law protects Chaplain Squires and prohibits the military from punishing any chaplain who acts in accordance with their religious tenets," he insisted.