Charlie Hebdo: Pope Francis, Patriarch Tawadros Say Insulting Islam Is Wrong; Turkey Warns It Will Not Tolerate Muhammad Drawings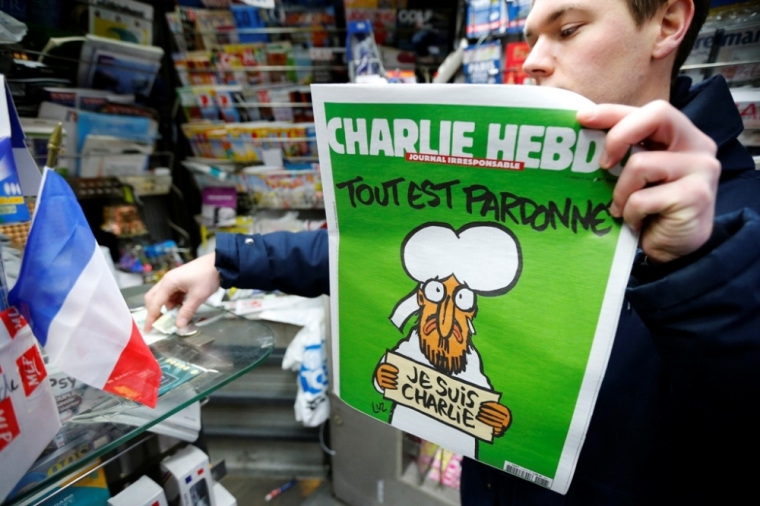 Pope Francis and Coptic Orthodox Patriarch Tawadros II have separately said that while the terror attacks on France last week were wrong, it is not right for people to insult the faith of others. The sentiment has been echoed by Turkey Prime Minister Ahmet Davutoglu, who warned that his country will not tolerate drawings of Muhammad, such as the ones made by satirical newspaper Charlie Hebdo.
"You cannot provoke. You cannot insult the faith of others. You cannot make fun of the faith of others," Francis told journalists when asked about the Charlie Hebdo situation on Thursday, The Associated Press reported.
A terror attack last week on the offices of Charlie Hebdo in Paris left 12 people dead, and 17 in total were killed in other attacks carried out by Islamic extremists. The French magazine was attacked because of its drawings of Muhammad, considered a prophet in Islam, Al-Qaeda's branch in Yemen revealed when taking responsibility for organizing the attack.
Western leaders and millions of people across Europe have united in solidarity with Charlie Hebdo, which has published cartoons taking aim at different religions, and insisted that the magazine deserves to have its freedom of speech protected.
In its first edition following the attack, Charlie Hebdo published a cover with Muhammad holding the popular "Je Suis Charlie" sign, in an act of defiance against intimidation. The edition has already sold millions of copies and has been in massive demand throughout France.
The magazine's decision to continue drawing cartoons of Muhammad has prompted much debate. Religious figures, both from the Christian and Muslim worlds, have said that there are limits to freedom of expression, and that deliberately insulting the faith of other people is not the right thing to do.
On board the papal plane en route to the Philippines, Francis defended free speech as a fundamental human right, but said that there are limits to it.
As an example of something that could cause even the pontiff to retaliate, Francis pointed to his aid Alberto Gasparri.
"If my good friend Dr. Gasparri says a curse word against my mother, he can expect a punch," the pope expressed.
He clarified that he entirely condemns the killings in Paris but recognizes why some people were offended by the cartoons.
"There are so many people who speak badly about religions or other religions, who make fun of them, who make a game out of the religions of others," Francis said. "They are provocateurs. And what happens to them is what would happen to Dr. Gasparri if he says a curse word against my mother. There is a limit."
Tawadros II, the leader of the Coptic Christians, said that offensive material, such as what Charlie Hebdo has published, must be rejected "at all levels."
"I refuse any form of personal insult, and when the insult is related to religions, they cannot be approved neither at a human, nor at a moral and social level. They do not help the peace in the world, and do not produce any benefit," the Coptic patriarch said in a statement.
Anba Antonios Aziz Mina, Coptic Catholic Bishop of Guizeh, told Fides News Agency that although the cartoons are being used as an expression of freedom, "true freedom is always responsible."
"It does not offend gratuitously, it does not hurt others, especially when speaking of religion and faith. Maybe one should not give importance to these derisions, and not have reactions that are then manipulated and misrepresented as obscurantism."
There have been different reactions from the Islamic world to the Muhammed cartoons, though Turkey's Davutoglu said on Thursday that such drawings would most certainly not be permitted in his country.
"Freedom of the press does not mean freedom to insult," Davutoglu said in Ankara, AFP reported.
Turkey, where a majority of the population is Muslim, has also condemned the attacks in Paris and said that it stands against terrorism, but the prime minister insisted that Turkey would take insults toward Islam just as seriously.
"We do not allow any insult to the prophet in this country," Davutoglu said. "As the government, we cannot put side by side the freedom of press and the lowness to insult."
He added: "We are determined to protect the honor of the prophet the same way as we are determined in our stance against terrorism in Paris ... It is not correct to link this to the freedom of the press."