Charlie Hebdo to Feature Muhammad on Front Cover of First Edition Since Paris Massacre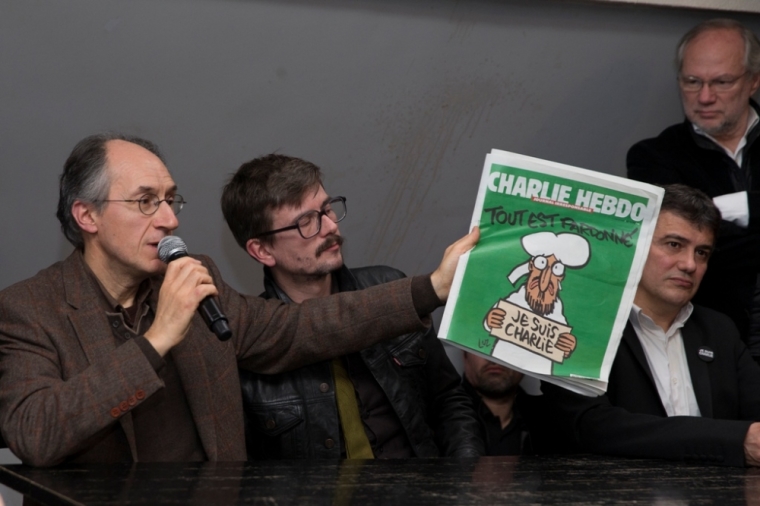 French satirical magazine Charlie Hebdo is set to feature the Muslim prophet Mohammad holding the sign "Je suis Charlie" on the cover of its first edition since the terror attack on its offices last week that killed 12 people. Drawings of the Islamic holy figure are largely believed to be the reason why Muslim gunmen targeted the newspaper in the attack.
Reuters reported that the magazine is planning to print 3 million copies of Wednesday's edition, which is many times more than its regular run of 60,000 copies. Beside the drawing of Muhammad, the cover includes the text "Tout est pardonné," meaning "All is forgiven."
Two gunmen killed 12 cartoonists in the attack on Charlie Hebdo's offices last week, while 17 people in total died in related attacks across the city. The magazine has a history of publishing drawings of Muhammad, seen as offensive by many in the Islamic world, and has seen its offices firebombed in the past.
Over 40 world leaders — with the exception of U.S. President Barack Obama — and millions of French people marched in Paris and across several cities on Sunday in a sign of unity and defiance against terrorism. The "Je suis Charlie" phrase has been posted countless times on signs, billboards, photos, and social networking means across the West to stand behind the magazine's freedom of expression.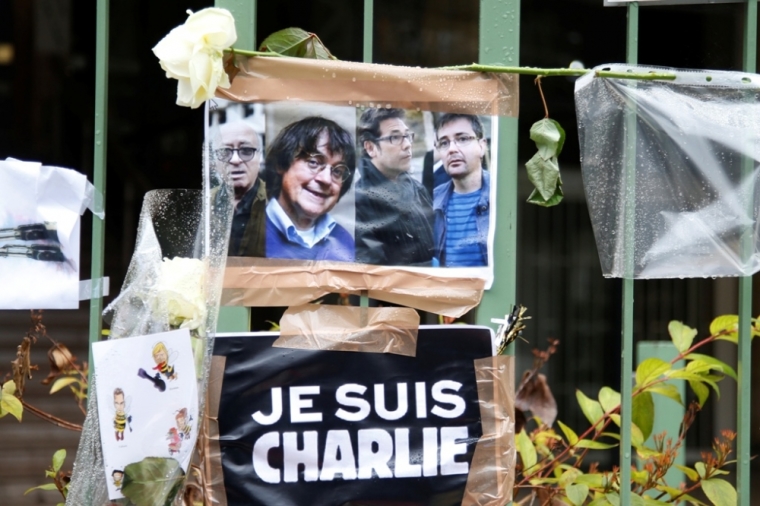 Not everyone has been supportive of Charlie Hebdo's publications, which often take aim at a variety of religions. Leaked emails from staff at the Qatari government-run news outlet Al Jazeera revealed a rift between its western staff and their Middle East counterparts on the subject.
"You don't actually stick it to the terrorists by insulting the majority of Muslims by reproducing more cartoons — you actually entrench the very animosity and divisions these guys seek to sow," wrote Salah-Aldeen Khadr, executive producer of Al Jazeera English.
"Defending freedom of expression in the face of oppression is one thing; insisting on the right to be obnoxious and offensive just because you can is infantile. Baiting extremists isn't bravely defiant when your manner of doing so is more significant in offending millions of moderate people as well. And within a climate where violent response — however illegitimate — is a real risk, taking a goading stand on a principle virtually no one contests is worse than pointless: it's pointlessly all about you," he added.
Catholic League President Bill Donohue also wrote in a statement that "Muslims are right to be angry" over Charlie Hebdo's controversial cartoons. He argued that the cartoonists "abused freedom" with the the offensive material they choose to publish, which has included "nuns masturbating and popes wearing condoms," along with Mohammad being shown in pornographic poses.
The French magazine has said, however, that it will not be backing down despite the terror attacks, and will continue its work.
"We will not back down, otherwise none of this has any meaning," its lawyer, Richard Malka, told French radio. "If you hold the banner 'I am Charlie,' that means you have the right to blaspheme, you have the right to criticize my religion."
Muslim leaders in France have urged for calm and have called on the Muslim community to respect the right of freedom of expression.
"What is uncomfortable for us is the representation of the prophet," Abdelbaki Attaf explained.
"Any responsible Muslim will find it hard to accept that. But we shouldn't ban it," he added.
Meanwhile, French President Francois Hollande promised that France would "never yield" to terror, AFP reported.
"Our great and beautiful France will never break, will never yield, never bend" in the face of the Islamist threat that is "still there, inside and outside" the country, Hollande said while honoring the three police officers killed in the attack.