Chelsea Clinton May Follow Parents Into Politics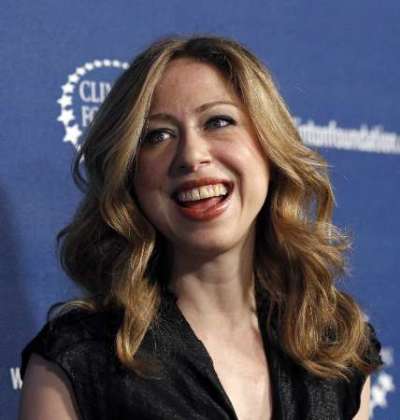 Chelsea Clinton, the daughter of former President Bill Clinton and former secretary of State Hillary Clinton, might make it a political trifecta for the Clinton dynasty.
The former first daughter who currently works as a "special correspondent" with NBC, told that station in an interview on Monday that if she feels at some point in her life that she could make an impact on America, she would consider running for political office.
"Right now, I'm grateful to live in a city and a state and a country where I strongly support my mayor, my governor, my president and my senators and my representative," said the former first daughter who lives in New York City on NBC's "Today." "If at some point that weren't true and I thought I could make a meaningful and measurably greater impact, you know, I'd have to ask and answer that question."
The young Clinton also addressed mounting speculation surrounding the presidential ambitions of her mother Hillary Clinton who recently signed a major book deal with Simon & Schuster to publish her memoirs as secretary of State. The book is expected in June 2014.
"I deeply respect and appreciate all of the admiration and respect and gratitude for my mother's service," Chelsea Clinton said. "As a daughter, I very much want her to make the right choice for herself. I know that will be the right choice for our country, and I'll support her in whatever she chooses to do."
In March, results of a national Quinnipiac poll showed that if presidential elections were called then, Hillary Clinton would win in match-ups against potential GOP candidates Sen. Marco Rubio of Florida, U.S. Rep. Paul Ryan of Wisconsin and New Jersey Gov. Christopher Christie.
The former secretary of State beat Christie, 45-37 percent; Rubio, 50-34 percent; and Ryan 50-38 percent.
"Former Secretary of State Hillary Clinton would start a 2016 presidential campaign with enormous advantages," said Peter A. Brown, assistant director of the Quinnipiac University Polling Institute in a statement on the results. "She obviously is by far the best known and her more than 20 years in the public spotlight allows her to create a very favorable impression on the American people. But it is worth noting that she had very good poll numbers in 2006 looking toward the 2008 election, before she faced a relative unknown in Barack Obama," he added.
Chelsea Clinton's "Today' interview was part of an ongoing roll-out of her public persona. Last week, she hosted several panels at the Clinton Global Initiative. She was also featured on the cover of Parade Magazine on Sunday.