Boko Haram Kidnapped Chibok Schoolgirls Are 'in God's Hands,' Say Grieving Fathers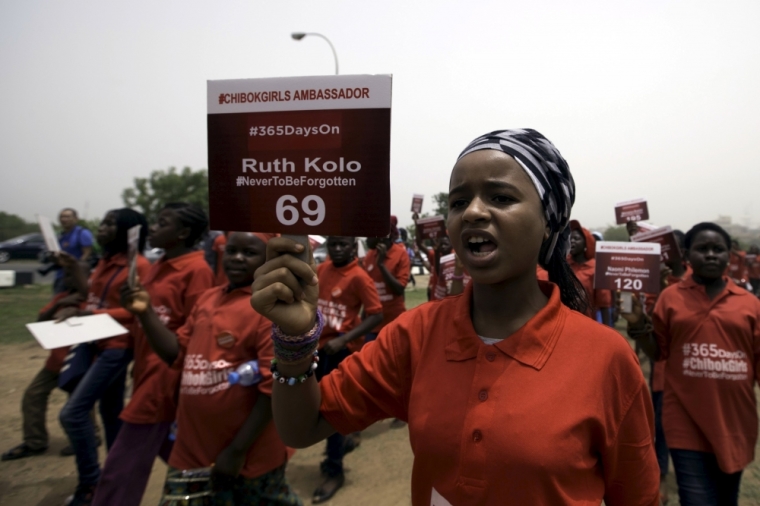 Wright said that despite the initial media focus on the kidnapped Chibok girls last year, the families are disappointed that there has not been further help from the international community.
"These families, in many cases, feel incredibly forgotten by the international community, because there is sort of this one moment of media attention, and then most of these families remain in an incredibly isolated town," without much information and with little security, she said.
"So many people forgot about it. After it happened, and the #bringbackourgirls campaign, it sort of drifted out of the international spotlight, and there was definitely this sense from the fathers that the situation hasn't changed for them. Their daughters are still missing, there is still urgency."
Open Doors has been one of the few NGOs providing direct help on the ground to the Chibok families, and to other victims of violence throughout northern Nigeria. The relief group has been reaching out with trauma counselings for the grieving parents, and has also been providing much needed basic supplies.
A number of the families in Chibok have found themselves on the brink of financial disaster, as many of their food supplies have been destroyed by subsequent Boko Haram raids.
President Muhammadu Buhari has vowed to eradicate Boko Haram from Nigeria, and his army has been battling hard the Islamic militants throughout 2015. Wright said that the fathers have hope that Buhari will be successful in the end.
"They feel hopeful about the new president, hopeful that he can make a difference in the area," she said.
"I also did see the reality on the ground, and the fathers attested to this, that Boko Haram is being pushed back in many areas."
At least 150 Boko Haram militants were killed in heavy fighting in the Madagali and Gwoza areas on Tuesday, The Associated Press reported.
Self-defense fighters said that they recovered guns and explosives from the terrorists that could have been used to launch another large attack, like the many bombing operations Boko Haram have carried out in the past few months that have killed hundreds.
U.S. President Barack Obama also promised Buhari during a visit to the White House in July that America will continue aiding Nigeria in its battle against terrorism.
Obama pledged $5 million in funding to Nigeria's military, and praised Buhari's integrity, saying that the Nigerian president has "a very clear agenda in defeating Boko Haram extremists of all sorts inside his country."
Wright asserted that great challenges remain in Chibok, however.
She noted that many of the fathers are Christians, and have been looking to their faith to give them hope and courage through these dark times.
"I can see personally from spending a day with these men the toll that the kidnapping of their daughters has taken on their lives, and the lives of their families. One man even told me, 'I would prefer to not even live my life.' But he added, 'We have to abide by the word of God, we have to have patience. God promised that all that happens is known by Him.' And he said, and most of the fathers agreed with him: 'We have faith that our girls will come home.'"
Wright added: "That's something I definitely did see — that there is hope that the girls will return one day."