Chick-fil-A Appreciation Day: Faithful Go on Meal-Buying Frenzy
SANTA ANA, Calif. – Stanley Magana and his wife became emotional as they arrived at the Chick-fil-A restaurant that they chose to drive to from 30 miles away on Wednesday.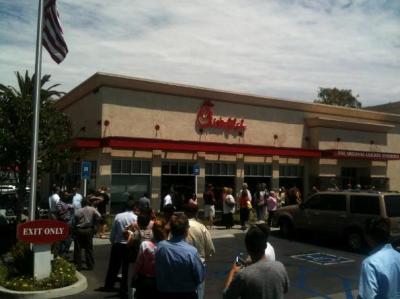 Cars from every possible direction, like a cluster of clogged arteries, were lined up to enter the parking lot of the national chain's "OC Metro" location in the city of Santa Ana. The Maganas, who drove from neighboring Riverside County to Orange County in order to support friends, also saw that the line of people to enter the restaurant wrapped alongside the building and out to the parking area.
"When my wife and I came here we wanted to cry. My wife was crying. We see that we are not alone. Really it's glory to God. It's for Him. We are showing our support for our Christian fellowship, our friends out here, that they are not alone," said Magana, who had already been standing in line for 20 minutes with about 30 people in front of him.
Chick-fil-A franchises from coast to coast were reported to have massive crowds during all three mealtimes as Chick-fil-A Appreciation Day, led by former presidential candidate Mike Huckabee, appeared to be a huge success. The Fox News show host asked Americans to demonstrate solidarity with the restaurant following the fallout over gay marriage.
Chick-fil-A was pulled into the eye of the storm regarding gay marriage after its president, Dan Cathy, a devout Christian, confirmed the company's commitment to the traditional family unit and said that same-sex marriage was bringing God's judgment on the nation.
"I support Chick-fil-A for their position on marriage as being between a man and woman and their freedom of speech," said Magana, 39. "You know [the same-sex marriage advocates] have their right to their own opinion. We don't force our beliefs on anybody and they should not force their beliefs on us. I think it's just right to support Chick-fil-A. We are out here so that others know they have backup."
Huckabee created a Facebook event page last week in which more than 600,000 people said they would be supporting Chick-fil-A Appreciation Day. However, the numbers of people buying a chicken sandwich and waffle fries on Wednesday could be far greater because of support from influential Christian leaders, including evangelist Billy Graham.
Last week, Graham called Chick-fil-A founder Truett Cathy and his son and company president Dan Cathy "good friends" whom he has known for many years. And he applauded the Cathys for being able to grow their family-owned chicken sandwich restaurant without "compromising their values."
For its part, Chick-fil-A attempted to steer clear of the controversy by issuing a statement prior to the event.
"Chick-fil-A Appreciation Day was not created by Chick-fil-A," said Steve Robinson, executive vice president of Marketing for Chick-fil-A, Inc. "We appreciate all of our customers and are glad to serve them at any time. Our goal is simple: to provide great food, genuine hospitality and to have a positive influence on all who come into contact with Chick-fil-A."
On Wednesday, a Chick-fil-A spokesperson told The Christian Post that she presently did not expect any more statements to come from the company in regards to the event – and no customer numbers or purchase dollar amounts.
The manager of the Chick-fil-A in Santa Ana was too busy cooking during lunchtime to step away for any media requests. One line of cars approaching the restaurant on the right side of the street extended for more than two blocks.
Reports from around the nation were coming in the form of Facebook comments on Huckabee's events page.
"Our family of 10 who were coming back home from vacation found one in Wentzville, MO to eat at. We started yelling with excitement when we saw the enormous outpouring of support. The walls were elbow to elbow in the restaurant. I'm glad to support them," Dawn wrote.
At the Santa Ana location, Tess Lai was waiting in line with her friends and co-workers.
"We're here to support the tradition of marriage as being between a man and a woman and great Christian values. We're here to also support the freedom of speech," Lai said.
Aug 1, 2012 Chick-fil-A Appreciation Day
Chick-fil-A Appreciation Day Traffic