Chick-fil-A 'Free Food Day' in 2016 – The Rules, Menu Entrées and Restaurants Near 'Me' Since Kids Eat Free, No Breakfast, Lunch or Dinner Fee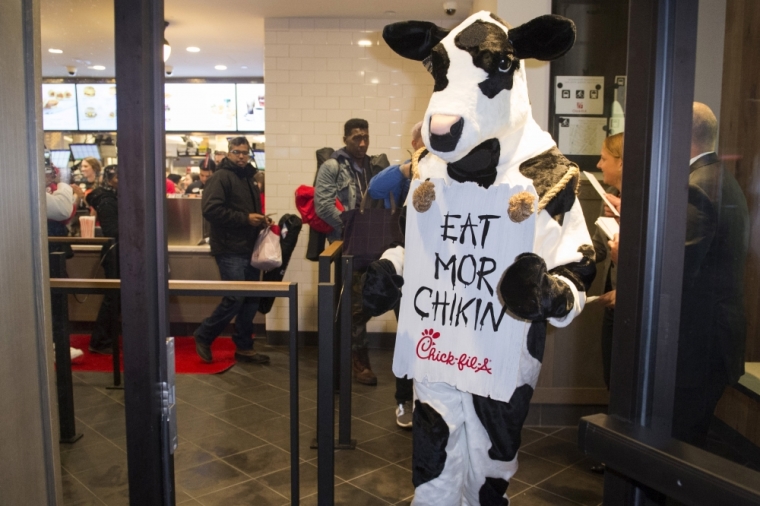 On July 12, 2016, Chick-fil-A will be giving away free food as part of the annual Cow Appreciation Day celebration.
People are required to present themselves at any Chick-fil-A branch nationwide wearing any form of cow attire in order to qualify. As long as a person wears any cow-like accessory, he/she will be given a free entrée of his or her choice. Children can also receive free Kid's Meal if they dress in any cow costume. The freebie is good from 6:30 a.m. on Tuesday, up until 7:00 p.m..
"Cow Appreciation Day is the one day where it's okay to dress 'udderly' crazy and get rewarded for it," Chick-fil-A's senior vice president and chief marketing officer Jon Bridges said.
Surely, not all of us would be curious enough to ask where we get the milk we drink, butter, and cheese we consume when we eat, but Cow Appreciation Day can somehow be helpful for us to realize how cows have become fundamental parts of our lives, and as well as our history. They occupy a unique role in our history and have been domesticated since early Neolithic age. Their roles in the past shows how they've become very helpful in the food survival of human in the early times.
Chick-fil-A Restaurant Locator - Near 'Me'
Click here to intantly discover all the Chick-fil-A restaurants near you.
The Menu
Guests in cow attire may select any breakfast, lunch or dinner entrée. Kids dressed like a cow may select a Kid's Meal.
Breakfast:
Breakfast Entrée includes:
Chick-fil-A® Chicken Biscuit
Chick-fil-A® Spicy Chicken Biscuit
Sausage Biscuit
Chick-n-Minis™ (3 or 4-count)
Chicken or Sausage Breakfast Burrito
Chicken or Sausage, Egg, and Cheese Bagel
Bacon or Sausage, Egg, and Cheese Biscuit
Multigrain Oatmeal
Greek Yogurt Parfait
Cinnamon Cluster
Breakfast items may not be served at all locations and are served during breakfast hours only.
Lunch/Dinner:
Lunch or Dinner Entrée includes:
Chick-fil-A® Chicken Sandwich
Chick-fil-A® Chicken Deluxe Sandwich
Chick-fil-A® Spicy Chicken Sandwich
Chick-fil-A® Spicy Chicken Deluxe Sandwich
Grilled Chicken Sandwich
Grilled Chicken Club Sandwich
Grilled Chicken Cool Wrap®
Chick-fil-A® Nuggets (8 or 12-count)
Chick-fil-A® Grilled Nuggets (8 or 12-count)
Chicken Salad Sandwich
Chick-n-Strips™ (3 or 4-count)
Chick-fil-A® Grilled Market Salad
Chick-fil-A® Cobb Salad
Chick-fil-A® Spicy Southwest Salad
Small Iced Coffee, Small Frosted Coffee or Small Frosted Lemonade
Kid's Meal:
Chick-n-Strips Kid's Meal (1 or 2-count)
Chick-fil-A® Nuggets (4 or 6-count) Kid's Meal
Grilled Nuggets (4 or 6-count) Kid's Meal
The Cow Campaign History:
In case you are wondering how the Cow Campaign started, it was first launched by the restaurant in 1995. Here is a brief history provided by Chik-fil-A:
1995 – A renegade cow, paintbrush in mouth, painted the three words "EAT MOR CHIKIN" on a billboard.
1997 – The cows had their first appearance on TV.
1998 – The very first cow calendar was created.
2000 – The cows toss their hooves into the political arena.
2002 – The cows created their first "giant wall" advertisement.
2006 – The cows enter the big leagues.
2008 – The cows painted their first water tower with the "Eat Mor Chikin" slogan.
2009 – The cows have embraced the digital age and launched their website eatmorchikin.com
2011 – The cows prove everyone that they are sociable creatures, earning over 500,000 fans and followers on Facebook.
Since it first started cows have been arguably receiving more attention in mainstream media. The occasional water tower also became one of America's most popular advertising icons. It also became a member of New York's Madison Avenue Advertising Walk of Fame.
In preparation of the occasion, customers can visit the Cow Appreciation day website. Cow Appreciation Day Snapchat filter will also be available for people to share their moments in this occasion. Fans can also share their pictures on social media with the hashtag #CowAppreciationDay.