Chick-fil-A Manager Inspires Customer With Prayer for Homeless Man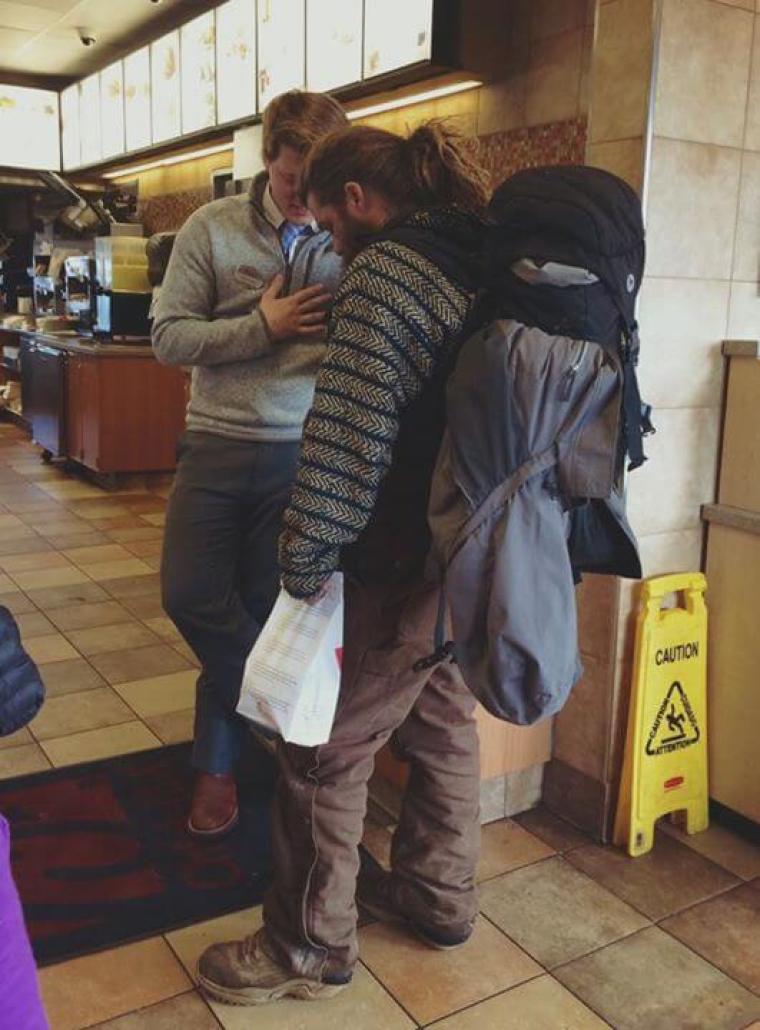 A Chick-fil-A customer in Murfreesboro, Tennessee, says he's inspired by the restaurant's "principles and purpose" mission statement after witnessing a store manager pray with a homeless man.
Joey Mustain shared the inspirational moment on Facebook earlier this week, saying that witnessing the two men in prayer captured Chick-fil-A's "principles and purpose" as a business. 
In the Facebook post, Mustain said he and his young daughter went to the restaurant on one of their routine lunch dates. As Mustain and his daughter ate their meal, he recalls witnessing the manager of the fast food chain not only offer to provide a full, heated meal to a homeless customer, but also said a prayer with him.
"Mud was wet and caked on his well-traveled shoes. His hair was matted, and his beard wasn't a statement as much as it was a necessity and a sign that he doesn't get to shave as often as most of us do," Mustain wrote in his Facebook post Monday. "People near him kept their distance, but that didn't stop him from being kind."
Mustain writes that as he and his daughter ate their meals, he overheard the manager of the restaurant offering to give the homeless man a full, hot meal of food and a prayer.
"All I could pick up on of the conversation was the manager saying that he'd love to give him a full, warm meal-— not just scraps or extras — and the only thing he required was that the man let him pray with him," Mustain recalled, adding that the "manager stopped then and there, laid his hand on the man, and proceeded to pray. I heard love in that prayer."
"The homeless man wasn't some untouchable stain on business. He was the reason that store opened its doors this morning (or any morning)," Mustain added.
The father and husband then shared his appreciation for Chick-fil-A, writing that witnessing such an inspirational moment made him realize that the fast food chain "truly [uses the] business to minister."
"In a time when companies are trying to win in the market by neutralizing any possibility of offense, [Chick-fil-A] is thriving because they unwaveringly cling to their principles and purpose," Mustain added.
Chick-fil-A, founded by Southern Baptist S. Truett Cathy, has long held a reputation as a Christian business, from its views on same-sex marriage to its decision to close its restaurants every Sunday to observe a day of rest.
The Southern-based restaurant has been in the media before for its acts of faith and charity in local communities throughout the country. Last December, the manager of a local Chick-fil-A in Tennessee partnered with a local church to provide a single mother of two with a new car after her vehicle caught fire.
Todd Hunley, the owner of the Chick-fil-A in Madison, Tennessee, who helped donate the vehicle, told The Christian Post that he believes the giving spirit is part of Chick-fil-A's Christian culture.
"The big thing is that whether this happened at my store or at any Chick-fil-A in the United States, I would bet almost 100 percent there would have been the same response because that is just how we are," Hunley said. "It's the coolest thing in the world when God gives you these opportunities. It was really neat just to be part of it."