Children 'Burned Beyond Recognition' in Barrel Bomb Attacks Killing 200 Syrian Civilians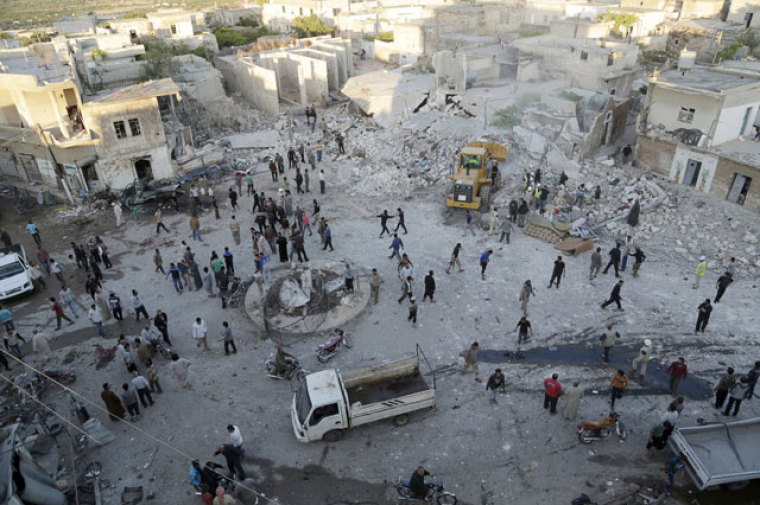 Close to 200 civilians in Syria have died from barrel bomb attacks throughout the weekend allegedly carried out by the army of President Bashar al-Assad, activists have said. While Assad has continuously denied responsibility, a U.N. envoy has condemned the bombings as "totally unacceptable."
The Syrian Observatory for Human Rights said on Sunday that at least 184 people were killed in several provinces over the weekend, though the actual death toll is believed to be higher. The activist organization said that 71 civilians, including women and children, were killed by bombs dropped by Assad's helicopters on Saturday in the northern province of Aleppo alone.
"The news of aerial bombing by Syrian helicopters on a civilian area of the Aleppo neighbourhood of Al-Shaar deserves the most strong international condemnation," U.N. envoy Staffan de Mistura said in a statement in response to the latest attack.
"The use of barrel bombs must stop," he said. "All evidence shows that the overwhelming majority of the civilian victims in the Syrian conflict have been caused by the use of such indiscriminate aerial weapons."
Mistura added that it was "totally unacceptable that the Syrian air force attacks its own territory in an indiscriminate way, killing its own citizens."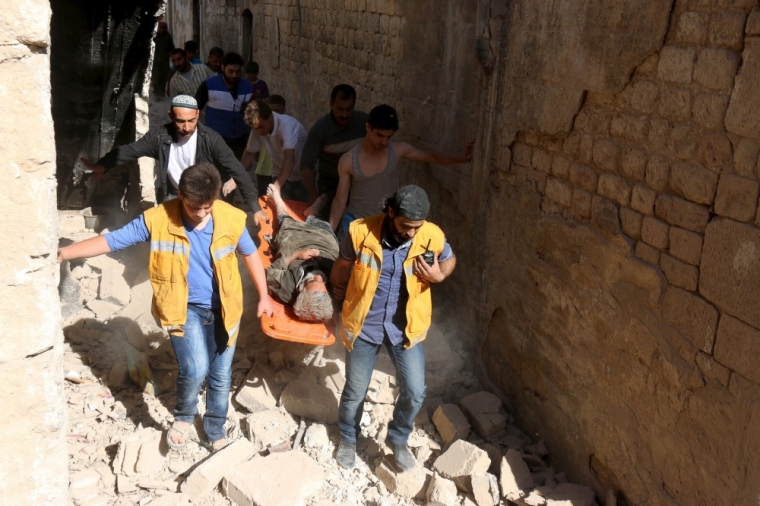 BBC News reported that many of the victims "were blown to pieces or burned beyond recognition" by the bombs in Aleppo.
The bombs reportedly consist of steel drums packed with explosives and shrapnel, as well as sometimes chlorine, making them very deadly but also highly inaccurate.
Another humans rights group, Amnesty International, estimated that between January and Mach, at least 3,124 civilians in Aleppo were killed due to barrel bombings alone.
CNN points out it is difficult to confirm the death toll reports in the war-torn country, and said that Assad continues to deny that his government is using barrel bombs.
Civilians in Syria, including the minority Christian population, are caught in the ongoing war between Assad, various rebel groups seeking to remove him from power, and terror group ISIS, which has captured significant territory in the country.
All sides have been accused of carrying out atrocities, with ISIS executing at least 400 people in the city of Palmyra that it captured in May.
Assad's government has been accused by the SOHR and the U.N. on a number of occasions of using barrel bombs on areas where rebel groups are believed to be hiding out. The bombs have caused widespread destruction, however, with many reports of high civilian death tolls as a result of the strikes.
More than 220,000 people are believed to have been killed in total since the civil war broke out in Mach 2011.
"We are under bombs every day. I think many Christians will flee from Aleppo and seek shelter in the coastal area, but they will do it when schools and universities close, after the exams. In the disaster in which we live, even this year schools and universities remained open in the central districts of Aleppo," The Chaldean Bishop of Aleppo Antoine Audo said last month.
"Many still believe that studying is important for the future although one lives in a city that seems to have no future."
SOHR has urged the U.N. Security Council to issue a binding resolution to prohibit the targeting of civilians in Syria, who are massacred every day "under the nose of the international community which do not make any step to stop the ongoing violations committed against the Syrian people who dream of establishing the state of democracy, justice, freedom and equality."