Christians 'Under Bombs Every Day' in Aleppo; They 'Have No Weapons and Are Afraid' Says Bishop
Syrian Bishop Warns Characterization of 'Christians vs. Muslims' Conflict in Civil War Seeks to Exploit Suffering for Military Gain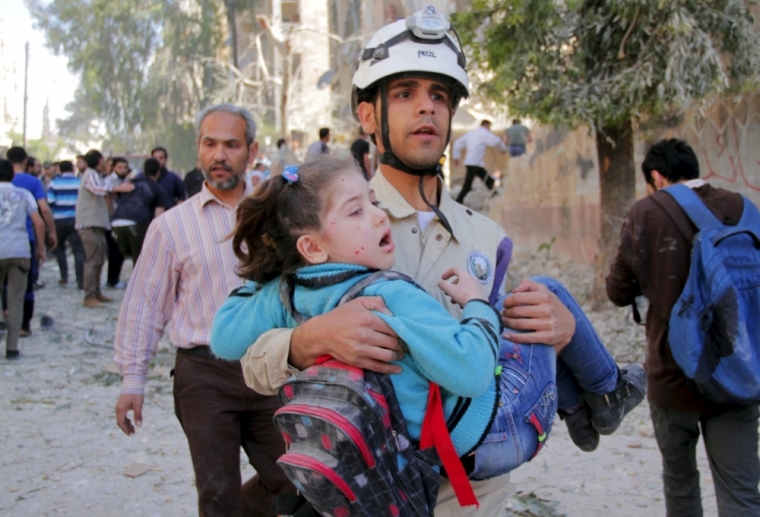 The Chaldean Bishop of Aleppo has revealed that Christians are living "under bombs" every day in the war-torn city of Aleppo, Syria, and are among the most defenseless people because they have no weapons to fight back. The bishop warned, however, that factions trying to characterize the conflict as Muslims against Christians are often simply looking to take a hold of territory.
"We are under bombs every day. I think many Christians will flee from Aleppo and seek shelter in the coastal area, but they will do it when schools and universities close, after the exams. In the disaster in which we live, even this year schools and universities remained open in the central districts of Aleppo," Syrian Jesuit Antoine Audo told Fides News Agency on Friday.
"Many still believe that studying is important for the future although one lives in a city that seems to have no future."
Aleppo has suffered greatly in the five-year civil war in Syria, which has killed over 220,000 people, according to humanitarian agencies such as Oxfam International.
Last week, Amnesty International released a report detailing the "unthinkable atrocities" and hellish scenes taking place in the city.
A 30-year-old factory worker shared about the aftermath of an attack on the al-Fardous neighborhood in 2014: "After the bombing, I saw children without heads, body parts everywhere. It was how I imagine hell to be."
Amnesty has accused both the government of President Bashar al-Assad and the various rebel groups fighting in Syria of carrying out war crimes, such as using barrel bombs that have decimated the civilian population.
"Civilians in opposition-controlled areas of Aleppo have been bombarded in their homes, hospitals, schools, public markets and places of worship in air attacks launched by government forces. The majority of attacks in this campaign have involved the use of 'barrel bombs' — large, improvised explosive devices, which are delivered from helicopters and consist of oil barrels, fuel tanks or gas cylinders that have been packed with explosives, fuel and metal fragments to increase their lethal effect," the report stated.
Audo warned, however, that those seeking to characterize the conflict as one between Christians and Muslims, or between Shiites and Sunnis, are sometimes seeking to exploit the suffering and justify military presence in the region.
The Syrian bishop offered as an example an incident in April, where "heavy attacks were carried out by armed anti-government groups against targeted districts where Christian Cathedrals are concentrated and then also against Suleimanya district, home to many Christians."
He said: "Perhaps the intention was just to impress international public opinion and justify military responses."
Audo added: "Of course, Christians are the most defenseless group, they have no weapons, they are afraid. But certain slogans and certain driven interpretations only serve to hide the real reasons and the real dynamics of the war. There are those who want to divide the whole area into small sectarian entities, as they tried to do in Iraq, in order to continue to dominate everything."
Aleppo also suffered heavy damage over the Orthodox Easter period, leading Christian leaders in the region to cry out at the ongoing slaughter of men, women and children.
"During the Easter period, our city and our people suffered intense pain, anguish and discomfort during the night when neighborhoods in the city were hit with rocket-propelled grenades, with a destructive capacity that we had never heard and seen before," the heads of churches and Christian communities in Aleppo said in a statement.
They also asked whether Easter is "the time of the resurrection of the Savior or the funeral of his disciples?" and called on all "people of conscience" to stop the ongoing massacre in Syria.