'Children Without Heads, Body Parts Everywhere' — Syrian Civilians Describe 'Unthinkable Atrocities' in Ongoing War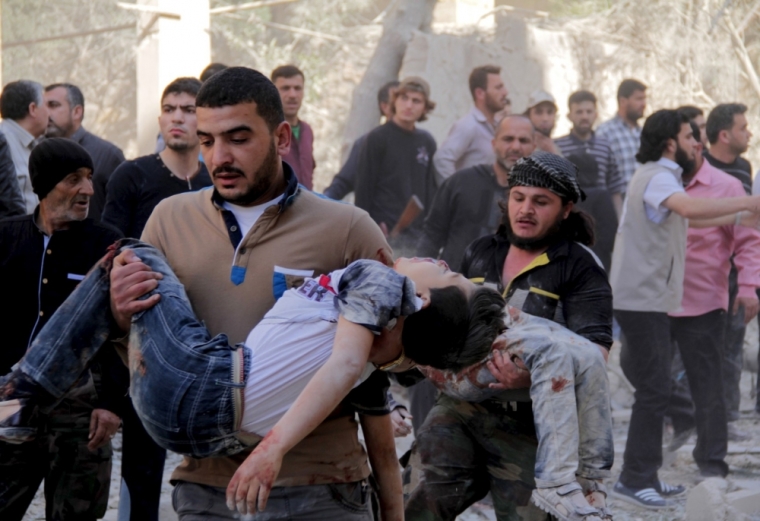 Human rights group Amnesty International has released a new report describing the "unthinkable atrocities" taking place in the ongoing civil war in Syria. Some civilians shared of hellish scenes such as "children without heads" in the city of Aleppo.
Several witnesses to the various attacks on civilians in the past months and years shared their testimonies with Amnesty International in the detailed 74-page report, revealing horrific occurrences.
"After the bombing, I saw children without heads, body parts everywhere. It was how I imagine hell to be," said a 30-year-old factory worker, talking about the aftermath of an attack on the al-Fardous neighborhood in 2014.
A number of different factions are battling each other for control in the war-torn Syria, from forces loyal to President Bashar al-Assad, to terror group ISIS, and a host of other rebel groups intent on taking the government out of power.
In March, humanitarian agency Oxfam International noted that over 220,000 people have been killed in the civil war so far, which has raged on for over five years.
"This spiralling catastrophe is a stain on the conscience of the international community," Oxfam wrote in its report.
Amnesty's research alleges that both government forces and the various rebel groups are committing war crimes on a daily basis, with civilians caught in the middle.
BBC News reported that the latest attack occurred on Sunday, when a barrel bomb hit a nursery school in the Saif al-Dawla district and killed at least 10 people, including four children and a teacher.
Assad has repeatedly denied that his forces have used barrel bombs or chemical weapons on its own people, but has been accused of doing so by the U.S. government and other western leaders.
U.S. Secretary of State John Kerry has backed efforts looking to broker peace in the region, and revealed earlier this year that he's willing to hold talks with Assad on the issue.
"We have to negotiate in the end," Kerry said. "What we're pushing for is to get him to come and do that, and it may require that there be increased pressure on him of various kinds."
Amnesty alleges that between January 2014 and March of this year, government aircraft launched continual attacks using barrel bombs on rebel bases in Aleppo. The bombs reportedly targeted at least 14 public markets, 12 transportation hubs, 23 mosques, 17 hospitals and medical centers, and three schools.
The human right's group said in its executive summary that the violations committed both by government and rebel forces in Aleppo go against U.N. Security Council resolutions aimed at stopping the violence, and constitute war crimes.
"In some cases, the actions of the Syrian government amounted to crimes against humanity," the group said.
"Civilians in opposition-controlled areas of Aleppo have been bombarded in their homes, hospitals, schools, public markets and places of worship in air attacks launched by government forces. The majority of attacks in this campaign have involved the use of 'barrel bombs' — large, improvised explosive devices, which are delivered from helicopters and consist of oil barrels, fuel tanks or gas cylinders that have been packed with explosives, fuel and metal fragments to increase their lethal effect," it added.
"Amnesty International has also concluded, based on cases examined in this report and prior work, that many non-state armed groups have engaged in abductions and hostage-taking, as well as the arbitrary detention, torture, and other mistreatment of prisoners in Aleppo. Such acts would constitute war crimes."