10-Y-O Syrian Girl Cares for Four Younger Siblings After Assad Regime Dropped Bomb Killing Parents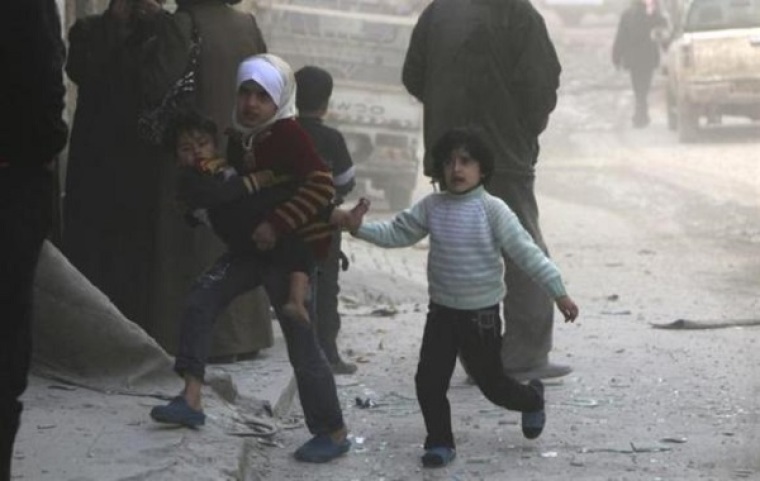 A 10-year-old Syrian girl in the town of Aleppo is now tasked with raising her four younger siblings after the children's parents were killed by shrapnel from a barrel bomb dropped by a Syrian government war planes last October.
Lost in the shadows of the Islamic State's takeover in Syria are the effects felt by Syrian citizens in the country's on-going civil war. A highly controversial tactic used by the government forces of Syrian President Bashar al-Assad of dropping improvised explosives called "barrel bombs" out of helicopters has led to the killing of numerous innocent citizens.
In the heavily bombarded Aleppo neighborhood of Baedeen, a frightened and unprepared Rana has been forced to take on the parental role for her younger siblings all while trying to continue her education and make ends meet because her parent's lives were taken as a result of Syrian government's tactics.
In an interview with Syria Deeply, Rana explained that one October morning when her parents went to the marketplace to pick up a few things, the kids heard a loud explosion just a few minutes after their parents left the house. About an hour later, their neighbor came to the house to inform them that their parents were killed by a barrel bomb. Not wanting to believe the neighbor's news, the children did not accept the reality of their parents death until the next day when their Aunt Hanaa came to the house to inform them of the sad news.
Rama, Yousef, 8; Maher, 5; Rama, 4; and Gahith, 2; all became orphans.
"At noon my aunt showed up crying. She said that my mother and father had gone to heaven and are not coming back," Rana explained. "As the days went by, my siblings started to slowly forget my parents, especially since we stayed at my aunt's in the beginning. I couldn't forget my parents, not even for a moment. I wish my siblings and I would all die so we can be with my parents in heaven. I miss them a lot."
Although the children would stay at their aunt's house, which was about a 15 minute walk from their house, for the first few weeks following their parents' death, Rana felt the need for them to return home since their Aunt Hanaa had seven kids of her own to support.
Seeing as how it is a tall task for a 10-year-old kid to pay all the bills and provide the money needed for the kids' to survive, the family was assisted with monthly donations from thier aunt and their neighbors, Rana added. However, the donations were not enough to provide the kids with everything.
"Our neighbor Abu Abdo also helps us and he hasn't left us. He passes by every morning, buys us bread and brings us food his wife has cooked," Rana said. "My aunt gives me 2,000 Syrian pounds a month and the neighbors give 3,000. The neighborhood council also gives us a food basket every month. I try to live off the money we're given, but it barely covers the milk we buy for my youngest brother, Ghaith.
"Sometimes, Rama asks me to buy her biscuits, chocolates and chips, but I can't because there isn't enough money to go around," Rana added. "Our neighbor, Umm Abdo, cooks for us and sometimes my aunt when she visits, but I miss my mom's cooking."
A month after her parents' death, Rana said her neighbor enrolled her and the 8-year-old Yousef into a school in order for them to continue to the education. They worked it out so that Rana would go to class in the morning, while Yousef looks after the rest of the siblings. Then in the evening, Yousef would go to class, while Rana looks after the siblings.
Although Rana is excited to go back to school, she is not confident in what the future holds for her, her siblings, or anybody else in Aleppo. She added that she is concerned for her 2-year-old brother Ghaith because he has gotten sick and jaundiced.
She asserted that its hard to look forward to the future when her whole family could be killed by the on-going violence at any moment.
"No one thinks about their future here. At any moment a barrel could drop and we would all be killed," Rana said. "Yesterday, a jet dropped [barrels] and 45 people from Baedeen were killed. All I think about now is how I am going to carry on without my parents and how my siblings are orphaned."