Obama Says the US Is Not Losing War Against ISIS, but Admits Flaws and Predicts War Will Stretch on for Years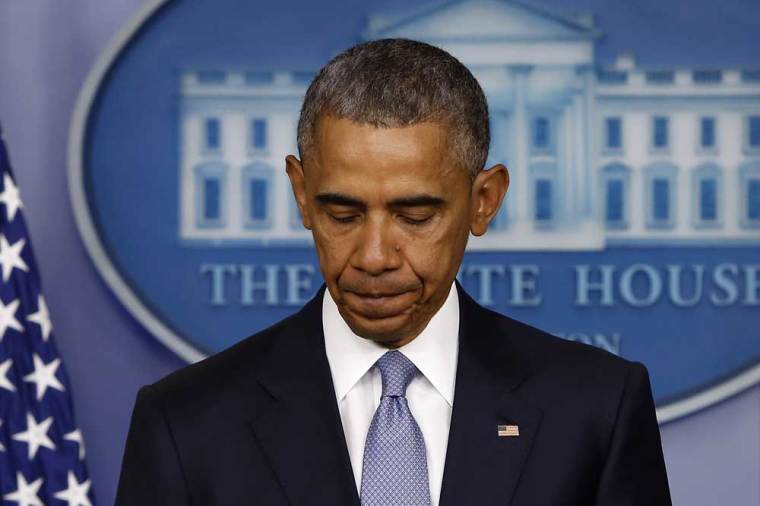 President Barack Obama has said that despite recent setbacks, such as ISIS capturing the city of Ramadi in Iraq, the United States is not losing in the war against the terror group. Obama admitted, however, that there have been flaws in the U.S.'s approach to the conflict, which he said will be a "multi-year" campaign.
"I don't think we're losing," Obama told The Atlantic in an interview days after the fall of Ramadi.
"There's no doubt there was a tactical setback, although Ramadi had been vulnerable for a very long time, primarily because these are not Iraqi security forces that we have trained or reinforced.They have been there essentially for a year without sufficient reinforcements, and the number of ISIL [ISIS] that have come into the city now are relatively small compared to what happened in [the Iraqi city of] Mosul."
Republicans such as Sen. John McCain, R-Ariz., have been highly critical of the failure to keep Ramadi out if the terror group's hands, calling it "one of the most disgraceful episodes in American history."
McCain, who is also the chairman of the Senate Armed Services Committee, added in a separate speech on the Senate floor: "Where is our morality? Where is our decency? Where is our concern about the thousands of people being slaughtered and displaced and their lives destroyed? And we shouldn't set our hair on fire? Outrageous."
Obama's request for military authorization to continue the fight against terror also received a setback earlier this week when House Speaker John Boehner, R-Ohio, said that the president has failed to present an effective strategy on winning the war.
"The president's request for an authorization of the use of military force calls for less authority than he has today. I just think, given the fight that we're in, it's irresponsible. This is why the president, frankly, should withdraw the authorization of use of military force and start over," Boehner said on Tuesday.
While the Obama administration has attempted to minimize losses in Iraq and Syria, analysts such as retired U.S. Army Col. Peter Mansoor have noted that development, such as the capture of Ramadi, are a "huge setback to Iraqi forces and to the U.S. strategy to degrade and ultimately defeat ISIS."
In his interview with The Atlantic, Obama repeated that the U.S. will not be sending ground forces into the region, and instead will focus on continuing to launch airstrikes alongside a broad coalition of international allies. He admitted, however, that more needs to be done to help Iraq recapture its territory, and said that the training of Sunni fighters needs to improve.
"There's no doubt that in the Sunni areas, we're going to have to ramp up not just training, but also commitment, and we better get Sunni tribes more activated than they currently have been," Obama said.
"So it is a source of concern. We're eight months into what we've always anticipated to be a multi-year campaign, and I think [Iraqi] Prime Minister [Haider al-]Abadi recognizes many of these problems, but they're going to have to be addressed."
Obama added that he believes it was a mistake for the U.S. to invade Iraq 12 years ago, which brought about the fall of dictator Saddam Hussein, but praised American troops for their dedication.
"Despite that error, those sacrifices allowed the Iraqis to take back their country. That opportunity was squandered by Prime Minister [Nouri al-] Maliki and the unwillingness to reach out effectively to the Sunni and Kurdish populations," he added.