Children's Bible named 'Bible of the Year' at Evangelical Book Awards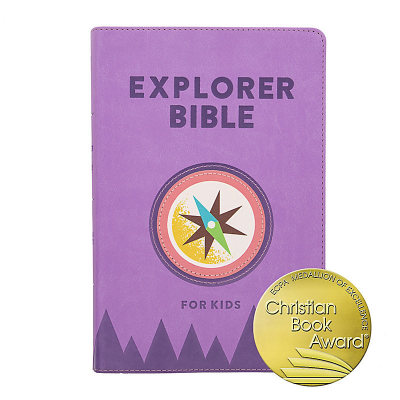 The Evangelical Christian Publishers Association honored CSB Explorer Bible for Kids as the "Bible of the Year" at their annual Christian Book Awards ceremony. This accolade marked the first time in 18 years that a children's Bible has received this prestigious accolade.
Produced by Holman Bibles, a branch of Lifeway Christian Resources, CSB Explorer Bible for Kidsintertwines the content of the Christian Standard Bible — the second bestselling Bible translation as of April 2023, according to ECPA data — with child-friendly designs and layouts.
The award-winning Bible was envisaged to facilitate children's interaction with Scripture in an engaging and meaningful way. The creative layout, complete with vibrant full-color designs and a plethora of supportive visual aids such as images and illustrations, was lauded by Andy McLean, a publisher for Holman Bibles.
"We are honored that the CSB Explorer Bible for Kids has been recognized and awarded Bible of the Year," Christian Headlines quoted McLean as saying. "It affirms what we set out to accomplish — creating a compelling way to help kids engage with the history, culture, and meaning of the text of scripture."
Further enhancing its interactive element, the Bible incorporates QR codes linked to online videos, discussion topics and printable activities, thereby augmenting its utility for home studies as well as in school or church classes. Its introductions to the 66 books of the Bible elucidate the chronological context of God's relationship with humanity, aiding children to understand biblical narratives.
The event, held earlier this month in Nashville, Tennessee, also recognized Lifeway Christian Resources with the Spanish Bible of the Year Award, for The Thematic Study Bible (Biblia Temática de Estudio), awarded by the Spanish Evangelical Publishers Association. This self-supporting nonprofit organization, stationed in Middle Tennessee, has distinguished itself as the largest provider of Spanish-language Bibles known to date.
Other winners at the ceremony included a varied array of Christian literature. Mariam Ibraheem and Eugene Bach's audiobook, Shackled: One Woman's Dramatic Triumph Over Persecution, Gender Abuse, and a Death Sentence took home the audio books prize, while J. Christopher Edwards' Early New Testament Apocrypha: Ancient Literature for New Testament Studies won in the Bible reference work section.
In the category of Bible study, Nancy Guthrie's work, Blessed: Experiencing the Promise of the Book of Revelation, published by Crossway, clinched the top prize.
The biography and memoir category was won by the book Seasons of Sorrow: The Pain of Loss and the Comfort of God by Tim Challies, published by Zondervan Reflective.
A tie occurred in the children's book category with two winners — The Biggest Story Bible Storybook, by Kevin DeYoung with illustrations by Don Clark, from Crossway, and Our God is Bigger Than That!, a collaboration between authors Michelle Medlock Adams and Eva Marie Everson, with artist Anna Jones bringing their words to life, published by End Game Press.
James K. A. Smith's How to Inhabit Time: Understanding the Past, Facing the Future, Living Faithfully Now, published by Brazos Press/Baker Publishing Group, was the winner in the Christian Living section.
The Devotion & Gift section accolade was bestowed upon Zondervan's When You Don't Know What to Pray: 100 Essential Prayers for Enduring Life's Storms by Charles F. Stanley.
In the faith and culture category, Greg Johnson's Still Time to Care: What We Can Learn from the Church's Failed Attempt to Cure Homosexuality, published by Zondervan Reflective, earned the winning title.
Mark Sayers' A Non-Anxious Presence: How a Changing and Complex World will Create a Remnant of Renewed Christian Leaders, published by Moody Publishers, claimed the top honor in the ministry resources category.
The new author category awarded its first prize to Jennifer Tucker for her book, Breath as Prayer: Calm Your Anxiety, Focus Your Mind, and Renew Your Soul, published by Thomas Nelson Gift.
Finally, in the young people's literature section, the winning title was How to Pray: A Guide for Young Explorers by Pete Greig with Gemma Hunt, published by Hodder & Stoughton and NavPress.
The Christian Book Award program, which culminates at the industry's Leadership Summit each Spring, celebrates outstanding contributions to Christian literature across 12 categories.