Christian author repents for using 'sinful' transgender pronouns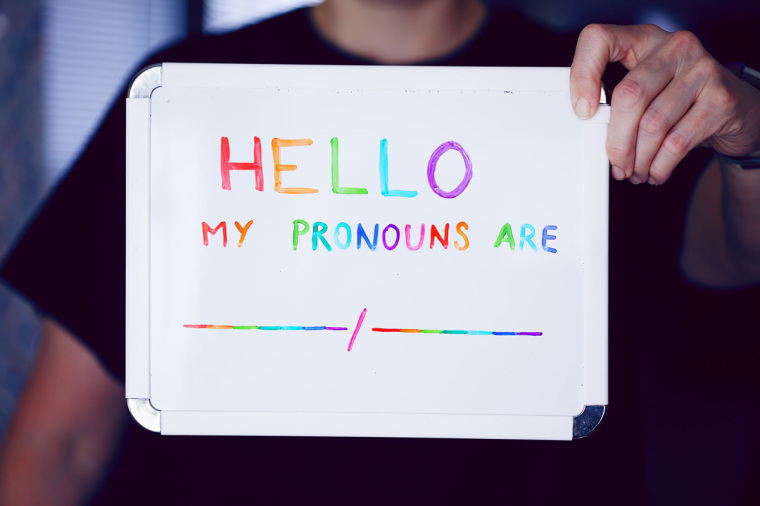 A Christian author who once advocated for using people's preferred pronouns after her conversion to the faith condemned her previous use of them as a sin. 
Rosaria Butterfield, a former lesbian Syracuse University women's studies professor who came to Christ over two decades ago, wrote an article published Monday by reformation21, which publishes a "[r]eformed perspective on current issues." The author of The Secret Thoughts of an Unlikely Convert wrote that she has "publicly sinned on the issue of transgender pronouns." 
She condemned herself for "carelessly" using trans pronouns in books and articles and for advocating for their use in interviews. She said she continued to use them despite converting because she "wanted to meet everyone where they were and do nothing to provoke insult."
Butterfield is married to a Reformed Presbyterian pastor in North Carolina and serves as a homeschooling mother, speaker and author. She came to faith after an article she wrote in 1997 against a men's Evangelical group led to a meeting with a Presbyterian pastor. In 1999, she started reading the Bible for research and eventually converted. 
Despite her conversion, the former professor said in a July 2015 Family Life interview that she had friends who identified as transgender and that she continued to use their preferred pronouns.
The interview described her relationship with Ken Smith, the Presbyterian pastor who, along with his wife, welcomed Butterfield into their home and encouraged her conversion.
Butterfield claimed after the U.S. Supreme Court's 2015 decision in Obergefell v. Hodges declared state laws banning gay marriage unconstitutional, the "danger of [her] position started to come into focus." She contends the "codification of gay marriage and LGBTQ+ civil rights" launched a "collision course between LGBTQ+ and the Christian faith." 
"The LGBTQ+ movement's understanding of itself as ontological and morally good conflicts with the biblical account in Genesis 1:27," Butterfield wrote. The verse reads: "So God created mankind in his own image, in the image of God he created them; male and female he created them."
"Which is it? Which side was I on? Is LGBTQ+ a normal option in the ever-expanding menu of sexual orientation and gender identity, needing a little Jesus to aid human flourishing?" Butterfield asked. "Or does LGBTQ+ come from Satan as a reflection of the world, the flesh, and the devil? Is it part of God's creational design or rebellion against the creation ordinance?" 
 "It's one or the other because the Christian faith is inherently binary, not non-binary," she added. "And getting this wrong is not a matter of personal liberty." 
The author outlined how using transgender pronouns is "a sin against the creation ordinance." Butterfield argues that using such pronouns violates the ninth commandment, which prohibits bearing a false witness. She also contends that using incorrect pronouns encourages people to break the 10th commandment, which states, "You shall not covet."
"Christians who use the moral lens of LGBTQ+ personhood are not merely a 'soft presence' in the enemy camp," the Christian convert wrote. "Their malleability makes them pudding in the enemy's hand."
"They make false converts to a counterfeit gospel that bends the knee to the fictional identity of LGBTQ+," she continued, writing that these Christians "reject" the clarity of God's word and replace it with "garbage."  
"By doing so, they have rejected the gospel truth that Jesus is the only way to salvation," Butterfield argued. 
She concluded that those who have "promoted this sin must stand up and repent," offering to be the first to do so.