Supreme Court Says States Must Recognize Gay Marriage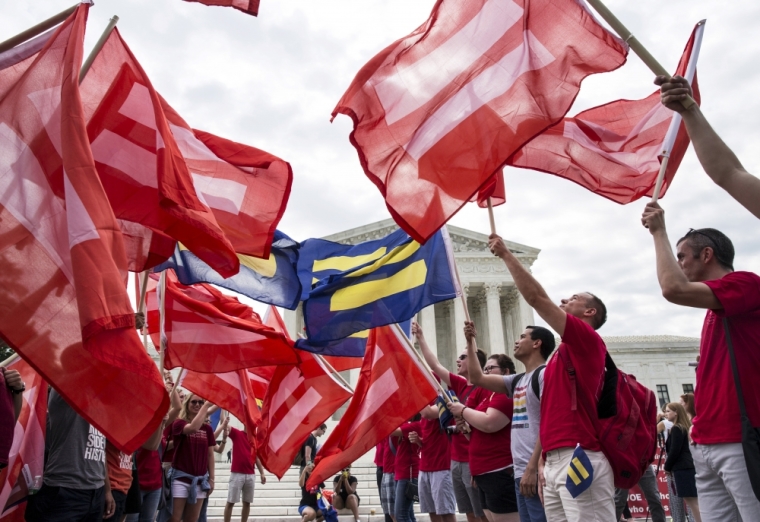 The U.S. Supreme Court struck down four state constitutional amendments defining marriage as between one man and one woman in a landmark decision.
After years of refusing to take up the matter, the highest court in the land ruled 5-4 Friday in Obergefell v. Hodges that state-level gay marriage bans are unconstitutional, concluding that 14th Amendment requires a state to issue marriage licenses to same-sex couples.
Justice Anthony Kennedy wrote the majority opinion, reversing the ruling in the Sixth Circuit Court of Appeals that ruled such bans constitutional.
Chief Justice John Roberts was one of the dissenting judges, along with Justices Antonin Scalia, Clarence Thomas, and Samuel Alito.
From 1998 to 2012, electoral majorities in 30 states passed constitutional amendments banning same-sex marriage, the last one being North Carolina.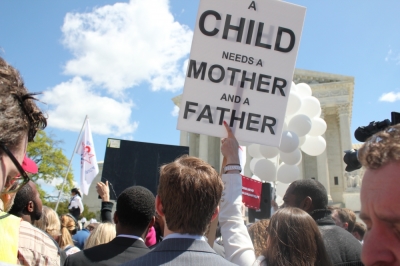 From 2003 to 2013, several states and the District of Columbia legalized gay marriage, the first being Massachusetts via a state supreme court decision.
In 2013, the U.S. Supreme Court ruled in Windsor v. United States that a key component of the Defense of Marriage Act was unconstitutional.
The high court also ruled in 2013 against California's Proposition 8 in Hollingsworth v. Perry, arguing that the group bringing it to trial lacked standing.
Although neither the 2013 ruling specifically addressed the constitutionality of state-level gay marriage bans, following the two rulings a wave of lower court decisions ruled various state amendments unconstitutional.
By the end of 2014, over two-thirds of Americans lived in states where gay marriage was legal, with the vast majority of this shift coming through judicial activism.
On April 28, the Supreme Court heard oral arguments regarding four state level bans that were upheld at the Fifth Circuit level.
During the arguments, court watchers did not note a clear indicator as to how the court was going to rule. Justice Anthony Kennedy, the swing vote who was integral to striking down the DOMA component, had expressed doubt about a decision striking down all state-level bans.
This is not the first time the Supreme Court has rendered a decision in favor of gay rights on June 26. On that day in 2003, the Court ruled 6-3 in Lawrence v. Texas that anti-sodomy laws were unconstitutional and on that day in 2013, ruled in Windsor against a crucial component of the Defense of Marriage Act.
The announcement of the Court's decision brought immediate celebrations among LGBT groups, communities, and allies while garnering the denunciations of social and religious conservatives.
In advance of the Supreme Court's decision, many conservative politicians and groups entertained the idea of resisting the ruling via civil disobedience and the enacting of expanded religious liberty protections for government employees.