China Campaign Against Church Crosses Intensifies, Conditions 'Deteriorating' as Christians Cry Out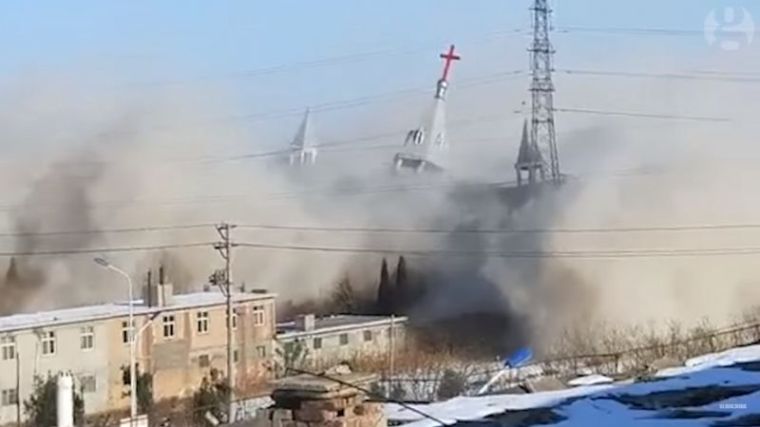 Christians in China are pleading for prayers as Communist party authorities continue to intensify their campaign against church crosses, targeting both officially sanctioned churches and underground congregations.
"The condition is deteriorating, but the obstacles tie the house churches together and direct them to God," a believer with the surname Li from a house church in Nanyang said in a ChinaAid article on Tuesday.
Another believer with the surname Cao said that in the central Hanan province, officials demanded the outdoor cross of a newly constructed Three-Self Church be taken down.
Although Three-Self churches are sanctioned by the government itself, they have not been spared from the years-long cross removal campaign that has swept several provinces.
Cao explained that the cross cost around $3,183.20 USD, with officials arguing that it violated regulations.
The church members do not want their newly built house of worship to be destroyed, and have asked for other Christians to pray for them about what they should do.
ChinaAid sources noted that occasionally international media attention does put on hold government plans to confiscate crosses, such as at a recent case at a church in Zhecheng, but then they target other churches.
As watchdog groups have warned, China's revised Religious Affairs Regulations on February 1 have unleashed a renewed wave of persecution against believers, with the government seeking to control every aspect of citizens' life.
One specific focus has been on "Sinicizing Christianity," or pushing the faith toward compliance with the Communist Party's agenda.
Last week Christians in China were left outraged after the government banned the sale of Bibles at online bookstores across the country, also as part of the renewed regulations.
As the Communist party has explained, it wants Chinese faith communities to move "to the direction of localizing the religion, practice the core values of socialism, develop and expand the fine Chinese tradition and actively explore the religious thought which accords with China's national circumstances."
Warren Wang, a Christian who immigrated to Australia from Shanghai in 2012, said that believers could sense that officials would be targeting online stores.
"I'm not that surprised that they're taking the Bible off the shelves now," Wang said.
"This is a lot like something China would do — the Communist party teaches atheism and since Xi Jinping is becoming increasingly powerful — this is expected," he added, referring to the Chinese president.
Xi recently saw the Communist party eliminate presidential term limits, allowing him to stay in power indefinitely, which has also worried believers.
A Christian woman traveled to Beijing last month in an attempt to preach to Xi, holding out a sign stating that God is "calling out" to the president, but she was later arrested.