Chip and Joanna Gaines tell Oprah how God communicates with them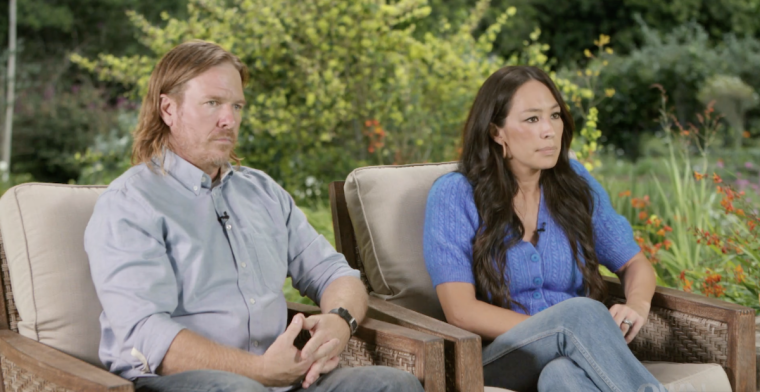 "Fixer Upper" stars Chip and Joanna Gaines were featured on Oprah Winfrey's "Super Soul Sunday" show last weekend and detailed how God interacts with them individually. 
The home renovation experts are gearing up to launch their Magnolia Network in July on Discovery+ and sat down with the media mogul to candidly share about their success and family life.
During the long chat, Oprah, impressed by Joanna's ability to hear from God, asked the designer to explain how she hears God's voice. She inquired whether it was a "voice in your head, is it a feeling, is it prayer?"
Joanna responded: "all three of those things, for sure," along with an overwhelming "presence of peace." 
"I will say there probably been five pivotal moments in my life where I can say that was God's voice, that was Him, and I felt the sense of peace, almost like that moment where you get chills and you know there's something else," Joanna Gaines explained of the difference between her mind and God's voice.
"That's something that since I was a little girl, I've experienced God in that real way, very relational," she emphasized.
The professing Christian and mom of five told Oprah she stays away from religion because she believes God's connection with His creation is very relational. 
"With the idea of religion, I shy away from that, my relationship with God, it's like no one else's," the 42-year-old explained. "God is so creative that I can't impose what my belief. ... He shows up in beautiful unique ways for all of us."
"I'm very realistic. I need to hear it. I'm literal. And so that's how He shows up for me," Gaines noted, pointing out that it's very different for her husband.
Chip Gaines, 46, opened up to Oprah about the unique way God speaks to him.
"God shows up for me in very practical real ways. Like I work, that's how I meet with God," he stated. "When I sweat, and when I'm lonely, I'm sad, I'm mad about something. I mean, when you chop firewood, or [on] demo day. You don't have to have any talent to be good at demolition. You just want to break stuff." 
Chip maintained "that those very childlike, very natural, very simple ways" are how God speaks to him.
The Waco, TX resident went on to say that despite his faith-filled upbringing, he never considered himself to be well versed in scriptures. 
"I'm not a theologian. I don't understand. We both grew up in pretty conservative Christian families, and we were brought up in Church in the very traditional sense. But I didn't love to open the Bible and read the Bible for hours a day," he admitted.
"Then I would go out at my granddad's ranch and I'd get on a horse, or I'd get thrown off of a horse, or I'd go try to wrestle a cow, or I'd go see a cow being born. And I would really feel like I experienced God in those moments."
During the interview, the couple also talked about how they dealt with their success.
"I want to speak on Jo's behalf because she would never say things like this, but she is so incredibly wise, so incredibly grounded — all the things that you just described is who Joanna is," Chip shared on behalf of his wife.
However, he confessed that he had struggled with fame and the limelight after several years of success. They explained why they decided to end the first installment of "Fixer Upper," which aired on HGTV from 2013 to 2018. 
"That year off, I really think Jo and I were able to hunker down and really kind of try to unpack what it was about fame that seemed so incompatible with my personality," he recalled.
Now in July of 2021, the new series titled "Fixer Upper: Welcome Home" will be returning on their very own new cable network, Magnolia. 
The network will also air other shows featuring several other hosts, including chef-restaurateur Erin French, Floret Flowers owners Erin and Chris Benzakein and others.